Florence and the Machine's debut album, Lungs, made an international star of the Brit goth pop glamour queen. Now she's released a follow-up and announced concert dates in Auckland in the New Year. She talks to Tom Lamont.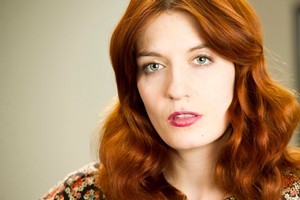 Of the "10 Florence commandments" once pinned to the wall of a recording studio by Florence Welch (this list of rules-for-living drawn up by the musician when she was still a precocious teen, teasing out demos), number eight was pragmatic. Appreciate your feet, it ordered in boxy handwriting - a bit of self-counsel from an accident-prone girl who'd too often gone to hospital bleeding into her shoes.
Today, descending a grand staircase, I can see the 25-year-old has entirely failed to follow her old edict.
The giant diamante heels she is wearing look not just painful but potentially lethal. Distinctive in most elements of her appearance - skin milky white and hair always washed some conflicting shade of red - Welch is not especially tall. But today, she's been pushed well above the six-foot mark by these sparkly chair legs trussed to her feet, and - fittingly for an artist who records under the name Florence and the Machine - she has to tackle the stairs with a series of mechanical swivels, as if she's a robot fresh off a production line; she's on a conveyor belt of sorts herself promoting new album, Ceremonials.
It's the follow-up to her 2009 debut, Lungs, a star-making record that spawned ubiquitous single Dog Days Are Over, lovesick anthem Drumming Song and the stunningly recast Candi Staton cover, You've Got the Love. Most of Lungs was written in the wake of a failed relationship, and was one of the best break-up albums in years. It was heady and wounded and raw, and it established Welch's utterly distinctive sound, something she describes fairly well as "big, tribal goth pop".
Lungs sold well around the world and won Welch a diverse roster of fans, including fashion kingpin Karl Lagerfeld who had her sing inside a giant clam shell at his Paris fashion week show in October.
But it's a tricky thing, the album that chases a wildly successful first, and generally needs a lot of talking up. So Welch has been doing that, for hours and hours.
This morning there was a bit of filmed promotion and, later, there will be some glad-handing at a party hosted by Anna Wintour; thus the shoes and the vintage silk dress above them.
In person Welch is quietly spoken, a marked contrast to the singer who once climbed 9m of stage scaffolding mid-show at the Reading festival to dangle among the spots in her hot pants; who used to tell a story about getting so drunk she woke up, one morning, on the roof of a pub wearing only a paint-speckled Captain America costume.
How's it possible to go from being that muted, meek thing to the convulsing, crowd-surfing sprite fans know from her live shows? To the chest-flexing nun in the video for Drumming Song, or the writhing geisha in the one for Dog Days - exuberance personified?
Welch ponders the question, um-ing so softly the sound is lost and eventually points to the example of her mum, an art history academic. "She's not a performer. But when she gets on stage to give a lecture she becomes this heightened version of herself. She can suddenly hold the whole room rapt. I think that's where it comes from."
Other factors might be at play. Welch seems to have become more disciplined since emerging, three years ago, as a 22-year-old who would cheerfully babble to interviewers about believing in werewolves or collecting Scottish broadswords. Three years at the industry's front edge seems to have taught Welch to hold herself back a bit; to get through each promotional marathon by staying quiet when she can. In the same self-governing spirit she's trying hard not to get as almightily pissed as she used to.
A recent month-long tour in support of U2, she says, passed totally soberly. "I used to think it was all part of the performance to go out there, go on tour, and get as drunk as possible. Like, oblivion. Oblivion. Living almost out of control. And I think, now, I feel a bigger sense of responsibility to the fans. To the people who come to see me play."
On that list of commandments, knocked up when she was 18 or 19, Welch had written (number six) "Never know the actual details" - the kind of cheerful boast a kid makes about being flaky and getting away with it. Now she's in her mid-20s, hardly old but no invulnerable teen either.
She's a moneymaker in an ailing industry, with a band and a touring choir and a small orchestra to be accountable for. She's got a long-term relationship to tend, and she's trying to buy a house.
"It's partly what the new album's about. Do I want to be stuck in teenage land, where everything's free and easy? Or do I want to become more responsible? You know, is it time to grow up?"
Lungs was about a boyfriend she got together with around 2005. "We knew each other through friends." His name was Stuart and he worked in a bookshop; Welch fell in love. By mid-2008, she'd been dumped, and was distraught. With her friend and musical collaborator, the producer Isa Summers, she holed up in Summers' small London recording studio where they recorded some career-shaping tracks.
"Enthusiasm over skill," says Welch, who can't read music very well, has only a self-taught half-grasp of the piano, and came up with the irresistible skew-whiff drumbeat for Dog Days" by bashing her hands against a tea tray.
"I'm quite glad I never learned to play the guitar, because I think I'd write songs that were more classically structured. As it is, I've had to create my own way of writing, which isn't typical. Everything's a big crescendo."
But on the new album, Ceremonials, one of the standout tracks is an introspective ballad called Lover to Lover, in which Welch sings about "losing sleep ... setting myself up for a fall". Is that what it's like, I ask, producing a smash album and then trying to do it again? Welch, hunched, sipping, nods vigorously. "I've been given such amazing opportunities. And it can feel like I'm definitely gonna manage to completely **** it up."
This is second-album talk. Because it can go either way at this point; look at the example of her contemporaries. Adele's second effort, last spring's 21, confirmed her as music royalty. Duffy's second, the desperately ho-hum Endlessly, seems to have stunted, if not sunk, a promising career. "I'm more satisfied with this one than the last," says Welch. "But I'm still nervous about it. You're never completely happy, otherwise you wouldn't ever make the next one." Earlier, recalling her summer on the under-card of the big U2 tour, she'd said: "It's funny, in a way, I almost prefer being the support band. There's just less expectation."
On Ceremonials, Welch sounds really quite chuffed. Track one kicks off with a muffled giggle. By track five's foot-tappy harpsichord twangs, the mood is absolutely jaunty. The video for recent single Shake It Out even cast a giddy-looking Florence in the middle of a game of blind man's buff.
"I think the first album feels almost desperate. Being really desperate for someone. I was definitely in a more settled place for the second, which was helpful for my concentration because I wasn't, like, crying all the time."
More settled, in part, because she was back with her chap. She and Stuart, the villain of Lungs, patched things up not long after that album was released. Welch has been very funny, in the past, about the "erm, sorry" moments they went through together as her singles trickled out in 2009 and 2010.
We all know what it's like to make incautious comments about an ex, our own or someone else's, and the awkwardness that follows should that break-up be reversed. Welch's thoughts on the jilting came blasting out every day on the radio.
I put it to her that after Lungs, the break-up record, Ceremonials is the happily-ever-after record.
"It does feel more joyous, but I wouldn't say happily-ever-after. It's not completely a case of 'everything's fine, now!' because everything's still ... Even if you're in a relationship things are complicated.
"Touring, and being in a band, it's almost like the other stuff, the other parts of life, get put on hold. And I'm kind of waiting, really longing, for that part of my life to start." It almost sounds, I say, like she's anticipating retiring. Embracing the growing-up plan and settling down.
"But I love singing. So I wouldn't want to give it up. I just think, hopefully, I would be able to fit all that in. At some point."
Who: Florence Welch
What: New album Ceremonials, out now
Where: Florence and the Machine play at Auckland's Vector Arena on Monday May 28 (tickets from Ticketmaster)
- TimeOut/Observer