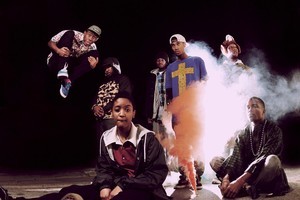 The controversial rap crew kicked off the Big Day Out bill because of their homophobic and misogynistic lyrics will perform a show in Auckland the night before the one-day festival.
Odd Future - led by 20-year-old hip-hop brat and mastermind Tyler, The Creator - play the Powerstation on January 19.
Following a complaint early last month by Calum Bennachie from Wellington, who objected to the group's derogatory lyrics, and the intervention of Auckland councillor Sandra Coney, Big Day Out organisers cut the rising stars of hip-hop from the line-up.
The Odd Future concert will now be part of the Big Day Out's Big Night In shows held the night before the main event.
BDO ticketholders are eligible for discounted tickets to the show (that's $37.50 down from the full price of $73).
Odd Future - short for Odd Future Wolf Gang Kill Them All (aka OFWGKTA) - range in age from 17 to 25.
The collective are known for their riotous live shows, confrontational lyrics, and lippy attitude which whips up controversy wherever they go.
Formed in 2007, they have already released a number of mixtapes and studio albums for free on their website, and this year Tyler put out his sinister sounding, yet excellent second album Goblin.
He was also awarded Best New Artist at the 2011 Video Music Awards and the video for Yonkers (brace yourself for some dark stuff) has been viewed more than 30 million times.
For more info go to ticketmaster.co.nz. Pre-sales start tomorrow with general tickets on sale Dec 5.
-TimeOut