Hours before Black Sabbath played their first New Zealand show at the Great Ngaruawahia Music Festival in January 1973, young Kiwi promoter Barry Coburn was summoned to the caravan the band were using as a makeshift dressing room. In his thick Midland accent, Ozzy Osbourne said, "When we come on, we want a burning cross - make it happen". Wanting to please the band on the first date of their tour, the young promoter agreed.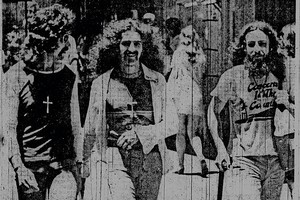 I was 22 when I promoted Led Zeppelin's show at Western Springs in February '72. The year before I had negotiated the deal with their manager, Peter Grant, in the UK.
In 1972 I travelled through Japan, Beirut and Germany, not only sourcing acts for the forthcoming festival but also plugging Split Ends to radio stations I had written letters to. I took sick along the way, and my diabetic condition didn't help. I landed emaciated in the UK, and in need of medical attention. A friend put me on to William Burroughs, who in turn organised a hasty appointment with a Harley St professional specialising in naturopathic medicine. He advised me that I needed to book myself in to get better.
Once I had recuperated, I made an important business appointment. Going to a mansion on the edge of Wimbledon Common, I saw vans were loading in lush purple carpet. I noticed that the carpet had been perfectly cut with perfect gold trim. This opulence didn't go unnoticed, and I was greeted by a mouthy young woman in her late teens.
"Did my daughter, Sharon, look after you?" was how Black Sabbath's manager, Don Arden, greeted me. "I need to make it clear I am only interested in you taking Sabbath if you can do Australia as well." I agreed. I hadn't toured acts in Australia before, but if it meant securing Black Sabbath for the Ngaruawahia Music Festival, I would do it. Don insisted the deal had to be contracted in New York through Sabbath's agents, so I travelled to New York and cut a deal.
I scheduled Black Sabbath to play midnight on the Saturday of the festival, 'coincidentally' after Split Ends who I was managing. Earlier that day I was summoned by Black Sabbath with the request for the burning cross. I contacted the festival carpenter. We found wood, scrub, wire and whoever could help. We took the parts for the cross to the top of the hill and hastily erected a cross that would burn at midnight.
It was like a pagan ritual. At midnight the cross was lit as the band took the stage. Sabbath played most of their early material - Iron Man, Sweet Leaf and closed with Paranoid. The crowd were also treated to a rarely performed song, Changes. They loved it.
The original Black Sabbath line-up of Ozzy Osbourne, Tony Iommi, Bill Ward and Geezer Butler has reunited and will release a new studio album produced by Rick Rubin in 2012, followed by a world tour.