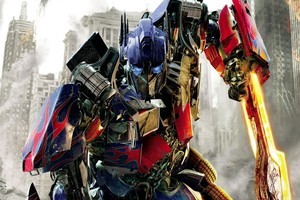 By now, director Michael Bay has well exceeded any goodwill left over from the actually-quite-good original Transformers film.
The smart in-jokes, deft comedic touches, well-developed plot and intergrated CGI that made 2007's Transformers so enjoyable was largely absent from 2009's sequel, Transformers: Revenge of the Fallen.
They're also AWOL in the third instalment.
Instead, Bay chooses to bash viewers into submission throughout Dark of the Moon's two-and-a-half hour marathon length that mostly involves giant robots crashing into each other at dizzying speeds.
Yes, there's a plot that takes quite some time to pick up and get going - something involving an object being hidden on the moon that could allow the Decepticons to destroy mankind.
It's up to the Autobots, and hapless human Sam Witwicky (Shia LaBeouf, who looks a bit over it all too) to get there first.
Aside from a bit of Autobot-Decepticon double-crossing and a new bad guy (Patrick Dempsey), the only other notable change from the first two films is supermodel Rosie Huntington-Whitely pointlessly replacing rogue actress Megan Fox.
Will there be a fourth film? Almost certainly. But if they keep repeatedly smacking us in the forehead with CGI robot porn, it's never gonna match the class of the original Transformers film.
Extras: None.
Rating: 2/5
- Herald online