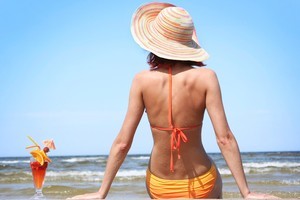 Allison Pearson's witty novel about the trials of juggling motherhood and a career, I Don't Know How She Does It, was adapted by The Devil Wears Prada screenwriter Aline Brosh McKenna. Unfortunately, in relocating from London to Boston the novel's sense of humour has been somehow misplaced.
The working mother should be fertile subject matter, but this treatment is straight and safe. There is little to dislike about the characters - which means they're bland - but what also surprises is the lack of real insight into their lives.
The movie is peppered with scenarios that working mums the world over will recognise. Kate Reddy (Sarah Jessica Parker) struggles to balance her stressful job as a financial analyst with being a loving wife to her husband Richard Reddy (Kinnear) and mother to their two kids. She is introduced to us by a variety of people talking straight to camera in an interview style. Kate also narrates us through "how she does it", which comes down to writing lists and not sleeping, until it all starts to unravel.
This is when she must decide how much she is going to sacrifice for a promotion running her own hedge fund. She must also deal with patronising male colleagues, and advances from a new workmate, Jack Abelhammer (Pierce Brosnan), but even this is done so politely it fails to make much of an impact.
Of the cast Kinnear is understanding, Brosnan encouraging, and Kelsey Grammer underused as Kate's boss, while Olivia Munn livens things up as Kate's assistant. An uptight and quirky career woman, Munn gets the wittiest lines, and makes them work.
Working mums already know the "work/life juggle" requires energy, organisation, compromise and composure - and no matter how much this cast tries to charm us they're unable to offer anything beyond this. This film does provide some light relief, and the comforting feeling that we're all in the same boat, although unfortunately without the consolation of Parker's to-die-for shoes.
Stars: 2/5
Cast: Sarah Jessica Parker, Greg Kinnear
Director: Douglas McGrath
Running time: 89 mins
Rating: PG (coarse language and sexual references)
Verdict: Disappointingly bland
- TimeOut