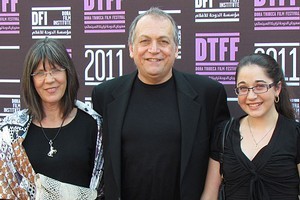 It's not every day a humble visual effects supervisor from New Zealand gets to meet a royal highness from Arabia.
Then again, this is the visual effects supervisor who's won four Academy Awards and who hangs out on set with Stephen, Peter and Jim. And that's Stephen Spielberg, Peter Jackson and James Cameron to you lot, film buffs.
Joe Letteri, a partner in Wellington-based Weta Digital, the company behind the special effects in films like Lord of the Rings, Avatar, King Kong and currently The Hobbit, and also a senior visual effects supervisor there, was in the capital of the small Arab gulf state Qatar this week for the third annual Doha Tribeca Film Festival.
The film festival, which finished on Saturday, is supported by the Qatari royal family and the princess who has the most to do with the festival after she interned at the Tribeca festival in New York in 2006 - Sheikha al-Mayassa bint Hamad bin Khalifa al-Thani, the 14th child of the current Emir of Qatar - wanted to meet Letteri.
Besides trying to promote films and documentaries made in the Middle Eastern and North African region, the Doha Film Institute is getting into co-producing and financing films too.
Which is why, apart from a light sprinkling of big name film stars like Antonia Banderas, Frieda Pinto, Robin Wright and Omar Sharif, who went from air conditioned party to air conditioned five-star hotel in the steaming sunlight, there was also plenty of networking going on between film industry insiders from Europe, the USA and the Middle East.
So did Letteri come back from his royal audience with any kind of deal? The Pennsylvania-native, who worked at California firm Industrial Light & Magic, the special effect company founded by Star Wars director George Lucas before moving to New Zealand, just laughs at the suggestion.
"It was very nice meeting her," he says. "She's just very interested in film in general and we were just talking about those kinds of things. She also has kids - we both have kids - so we talked about that too."
Letteri was invited to the Qatari royal family's palace later that night and he also got front row seating, next to the Sheikha throughout a screening of the movie that Weta has just finished working on, The Adventures of Tintin.
The movie has opened in two locations so far but won't open in New Zealand until later this year. Before the screening Letteri gave a talk on how Tintin was made.
Much of the film, with the main characters played by Jamie Bell, Daniel Craig and Andy Serkis, ended up being shot in New Zealand; only six weeks of filming was done in Los Angeles and the movie, which began shooting in 2008, took almost three years to complete.
The finished product is a family-sized hoot: the characters in Tintin are obviously not real - they're smooth skinned like Wallace and Gromit but far closer to human than that - and they race, blunder, bumble and fight through a series of mad, fantastical adventures that includes everything from flaming pirate ships to errant sea planes, camels, cats and exotic countries.
The full house at the special screening in Doha, which included plenty of children despite the more adult jokes about how Tintin's partner-in-adventuring had a drinking problem, enjoyed the show, laughing and gasping at all the right moments.
But not everyone's pleased about the way the film turned out. A film critic in the British newspaper, The Guardian, said there was "something flat and robotic and a little bit aimless about this Tintin".
Although he described the film as "visually sumptuous", another writer in the same newspaper, who was clearly a rabidly devoted fan of the books, said he was "too stunned and sickened to speak" upon emerging from the press screening. Cripes.
So what does Letteri think of that kind of talk? "I mean, put it this way," he replies, "I know the flaws more than anybody. But at some point you have to let go, you have to put the movie up on the screen and go "this is what we've got". The human face is so intimately detailed," he continues, "and we are so used to seeing it, there's still a lot we don't know. We think we've learned a lot but every time you get to a certain point, you have to go back and start over. It was a learning experience for us."
Happily for Letteri, maddened Tintin fanboys are few and far between in Doha. And in fact, so far most reviews have been mostly positive.
Another New Zealander was also screening his film at Doha, although this time the special effects and superhuman feats were all real.
William Trubridge is a world champion free diver - that means he dives without breathing apparatus and tries to make it as deep down as possible on one breath. It's something of an extreme sport and with a dive he completed on December 16 last year in the Bahamas, travelling 101 metres on a single breath, Trubridge became a world champion.
The Hectometer, which is a term for a hundred metres, was filmed during Trubridge's first world record where he dived a mere 100 metres.
"The first motivation for making [the film] was to give a sense of what it's like," Trubridge explained why he made the short movie. "And then there's another agenda: trying to raise awareness for the Hector's Dolphin."
The short film, which had its world premier in Doha, follows Trubridge into the depths and tries to give an indication of the state of mind he is in as he dives. It ended with a plea to help the Hector's Dolphin, which is indigenous to New Zealand and close to extinction; the audience gave the film a solid round of applause. Afterwards several locals congratulated Trubridge enthusiastically.
"I think because it's about an underwater world that is such a different environment that it's almost a fantasy for people," Trubridge tried to explain the appeal of his short film after the screening. "That fantasy of being able to move around freely underwater, and I think maybe seeing a free dive is a way of experiencing that vicariously."
The Hectometer will be shown at two more film festivals in the USA before it eventually goes up online but Trubridge, who spends most of his time training and teaching in either the Bahamas or Europe, with occasional stints back in New Zealand, doesn't think he will be making any more films.
-Herald online