After an amazing resurrection from near death, New Zealand's venerable independent label Flying Nun Records celebrates its 30th anniversary next month in fine style.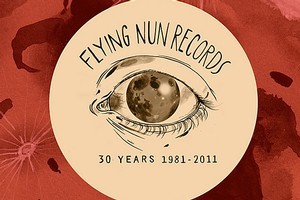 Just two years ago there was consternation over the future of what had been New Zealand's most celebrated independent label.
Flying Nun Records, founded in Christchurch in 1981 by Roger Shepherd, was in 2009 an insignificant and dusty corner of Warner Music. Much of its celebrated catalogue of classic New Zealand music was long out of print, while the people who'd created them became increasingly concerned about their legacies.
But due to Shepherd somehow seizing the label back from Warner in December 2009, Flying Nun has survived to see another day.
"I can't think of a more reliable master of the ship," The 3D's and Ghost Club guitarist David Mitchell said at the time. "Roger's got a really good spirit about music still, and I think it's a great debacle about to start all over again."
There were spirited events marking the label's 10th, 15th, and 20th birthday anniversaries. To illustrate Warner's indifference, the 25th wasn't celebrated, and so Shepherd and co are going all out for Flying Nun's 30th anniversary in November.
Throughout the month there are shows across the country, with performances from acts associated with the label from the beginning through to their most recent signing.

The Clean's Tally Ho single was the second release on Flying Nun in 1981, and the trio are playing four shows as part of the anniversary. Other veterans of various vintages performing include The Bats, HDU, Ghost Club, Shayne Carter, The Subliminals, and The Verlaines.
While that's all exciting, perhaps even more so are the New Nun Nights in Auckland and Wellington, which showcase the young talent Flying Nun has signed since Shepherd took the helm again.
Badd Energy, Popstrangers, T54, Grayson Gilmour and Surf Friends are those acts, and they represent what should be a bright future for the label.
"It's just an absolute honour, it's awesome," Surf Friends' Brad Coley says. "Those gigs are going to be the first time we're going to be together and we get to do a little roadie from Auckland to Wellington, so it'll be the first time we bond, I guess."
When Shepherd discussed his plans for Flying Nun after buying it back from Warner, he said along with signing new acts, an intensive reissue programme was the priority.
This has certainly ensued; numerous out-of-print records are now back in circulation, with artists including Bailter Space, Straitjacket Fits, The 3D's, The Verlaines and The Bats benefitting.
Along with having their classic Couchmaster and Daddy's Highway albums re-released by Flying Nun, The Bats' new Free All the Monsters has just been released by the label.
Robert Scott is a member of both The Clean and The Bats, and so he's certainly facing a busy November, with eight shows between those two bands.
He's been around long enough to remember previous Flying Nun anniversary celebrations.
"They've all been slightly different and equally good fun," Scott says. "In 1991 a few bands got together and did 'Roger Sings the Hits'; that was a fun evening. In 1996 they flew a few journalists over so there was quite a big media contingent around it. I think The Clean had just got back from overseas in 2001. John Peel was at that one and I got to meet him so that was nice."
He also has memories of the legendary Roger's Ruin, a special brew created by Mac's Brewery for the 1996 celebrations. To keep up the tradition of one-off beers, this year Auckland's Epic Brewing Company is making the 30 Year Ale. It's a nice touch, showing that what was special about Flying Nun through the 1980s and '90s remains to some degree. Although Scott says it would be a stretch to say the label retains the naïve spirit it had during its early years.
"It was fresh and new and nothing had been done like that in the country before," he reflects of the label's genesis. "There was an explosion of activity and releases. And there wasn't a lot to compete with it, whereas now there's so much stuff online that things are kind of swamped. When something's been going 30 years it's hard to keep up that level of excitement."
However, with 30th anniversary celebrations which include Shayne Carter's Last Train to Brockville career overview, the always compelling Ghost Club, rare shows from HDU and The Clean, an unexpected reunion from The Subliminals, and the new band showcase, there's still cause for a lot of excitement where Flying Nun Records is concerned.
Dialling a prayer
"I said something about how I'd really like to start a label," Flying Nun Records founder Roger Shepherd said of the label's beginnings. "I put myself in the situation where I talked about it enough that I felt obliged to follow through."
The Christchurch-raised Shepherd certainly followed through, often in a manner that ran counter to prevailing attitudes in the music industry.
The early Nun was built around a community of like-minded musicians and music lovers, and the success of The Clean's early recordings Tally Ho! and the Boodle Boodle Boodle EP. These and other early releases on the label were distributed on foot in Auckland by the be-jandaled Chris Knox.
From these charmingly humble beginnings Flying Nun became New Zealand's pre-eminent independent label through the 1980s and into the '90s. Along the way Shepherd signed a distribution deal with WEA, and later partnered with Australia's Mushroom Records.
While these deals allowed the label to grow and bands to have larger recording budgets and tour overseas, the results weren't always favourable.
"There became all these commercial pressures," Straitjacket Fits' Shayne Carter said."It was kind of a clash of two cultures."
After moving to the UK in the mid-1990s, Shepherd finally left the label, which went into a slow decline, eventually becoming a forgotten part of the vast Warner Music empire.
But now Flying Nun is back under Shepherd's control, and looking like it's again going to be a vital part of New Zealand's cultural landscape.