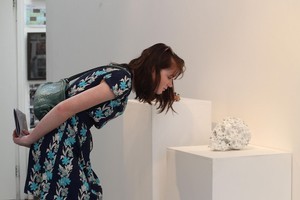 The second annual Auckland Art Week will launch on Thursday. More than 100 events and exhibitions will take place in 70 galleries and venues, including an Art Feast at Whitespace Gallery in Grey Lynn, and Art Speed Dating in St Kevin's Arcade on K Rd. This year, social media will play a big part in communication. Location-based Smartphone app 'Foursquare' has been introduced, designed to encourage participants to engage in online discussions so they don't just look at art, they talk about it. We roamed the upper North Island in search of 10 of the best galleries to visit, not just during Art Week, but on any given Sunday.
Auckland Art Gallery
Toi O Tamaki
Cnr Kitchener and Wellesley Sts, Auckland Central, ph (09) 379 1349, open daily 10am-5pm, aucklandartgallery.com. Admission free
Fresh from its $121 million makeover, the Auckland Art Gallery now has 128 per cent more gallery space, enabling an additional 800 art works to be exhibited at any one time.
The gallery's art collections include New Zealand historic, modern and contemporary art, indigenous works by Maori and Pacific Island artists, European artworks including paintings, print collections and sculpture dating back to the 13th century, and several extraordinary private art collections gifted to the city of Auckland by philanthropists. Also on display is the Julian and Josie Robertson Promised Gift, which includes paintings by Dali and Matisse. The renovated gallery interior covers four levels, including exhibition spaces, an auditorium, classroom, boardroom, learning centre, research library, amphitheatre, cafe, gallery shop and a members' lounge The gallery's diary features free weekly events, including tours by volunteer guides, creative family activities each Saturday, and collection highlights presented by curators.
Corban Estate Arts Centre
426 Great North Rd, Henderson, ph (09) 838 4455, open daily 10am-4.30pm, ceac.org.nz. Entry to exhibitions free
Located at the historic Corban's Estate a 30-minute drive from the CBD, this arts centre has a revolving selection of exhibitions, a gallery shop and studios where up to 20 artists, performers and community groups work on site. The centre has an extensive programme of classes and workshops for all ages and a changing programme of free, art-related youth workshops. Art courses for children run each term and in the school holidays, and adult workshops include bread-making, jewellery, weaving, textiles and painting. Summer School classes include woodcarving, creative writing, glass casting, and even graffiti art. School visits are welcome and the centre's pop up cafe is open Tuesday to Saturday.
Te Tuhi Centre for the Arts
13 Reeves Rd, Pakuranga, ph (09) 577 0138, open Sunday 10am-4pm, weekdays 9am-5pm, tetuhi.org.nz. Admission free
This centre was named with reference to the legend of Manawatere, a Maori explorer and voyager who landed at Howick's Cockle Bay on the back of a taniwha and made his tuhi, or "mark", on a pohutukawa tree as a sign to those who followed that he had chosen this place. Ngai Tai iwi granted the name Te Tuhi to the arts centre. The gallery has eight exhibition spaces and a range of rooms that provide event venues for local community groups, including an education programme designed for school students from years one to 13. The gallery conducts after school and holiday programmes, adult classes, workshops and the Nanette Cameron School of Interior Design, which has been operating for more than 30 years. The gallery's cafe functions Monday to Saturday and the gift shop stocks an eclectic mix of contemporary designs.
The Depot
28 Clarence St, Devonport, ph (09) 963 2331, open Sunday 10am-4pm, Monday noon-5pm, Tues-Sat 10am-5pm, depotartspace.co.nz. Admission free
This innovative centre's three gallery spaces, with exhibitions revolving every two to three weeks, and the artists' retail space, are just a tip of a creative iceberg. It also has the ArtsLab, which offers workshops, seminars and mentoring, a recording studio, a community web-based radio station (Jam radio), Morph magazine, a Creative People's Centre and Cultural Icons: filmed and documented conversations with people who have contributed to New Zealand's creative landscape. The Depot also hosts musical events on Sunday afternoons and next month recitals will include the Intrepid Music Project (a fusion of poetry and classical music) and the Devonport Chamber Orchestra. Sundays also feature the Depot's exhibiting artist on site in the gallery to interact with the public. A nearby villa houses an artist's studio, self-managing exhibiting spaces and opportunities for theatre and literary events. Across the Harbour Bridge in Newton, The Depot's satellite gallery features The Vernacular Lounge, a place of discussion, debate and celebration relating to cultural identity and the arts in New Zealand.
Wallace Art Gallery
167 Thames St, Morrinsville, ph (07) 889 7791, open Tues-Sun 10am-4pm, morrinsvillegallery.org.nz. Admission free, donations welcome
This gallery was opened in October last year partly to encourage visitors to the area. New Zealand arts patron James Wallace was committed to the project from its inception. He secured naming rights for the new gallery, and pledged to loan work on a permanent basis from The James Wallace Arts Trust's extensive collection. The gallery has three large exhibition spaces and a gallery shop. The largest of these spaces exhibits works from the Trust, with each exhibition changing bi-monthly. The additional two exhibition spaces have been assigned to distinct groups. One space is set aside for work by residents of Matamata-Piako District, in which displays change every two weeks, enabling a large number of amateur artists, including schools and college groups, to exhibit in a professional venue for no charge. The remaining main gallery space showcases New Zealand artists and exhibits change monthly. The gallery also hosts creative events showcasing music, theatre,and dance and a team of local volunteers help to fundraise to keep the gallery running smoothly.
Whangarei Art Museum
The Hub, Dent St, Town Basin, ph (09) 430 4240, open Mon-Sun, 10am-4pm, whangareiartmuseum.co.nz. Entry by gold coin or larger donation
The only public gallery in Northland, this museum recently had a change of venue and a significant upgrade. Its collection consists of contemporary and heritage artwork and several significant bequest collections. The art museum features two galleries: the Mair Gallery and the Younghusband Gallery, both named in acknowledgement of two major bequests to the WDC collection, which are housed beside the Whangarei Art Museum Collection. The museum's other collections include the Selwyn Wilson Collection, the Iseke Collection and the Arboretum Trust collection, a nationally significant collection of New Zealand heritage works. Nationally recognised for its outstanding curatorship, the museum maintains a busy schedule of touring and internally curated exhibitions, ongoing research, documentation of artists in the surrounding regions, showcasing of the museum's permanent collection, publishing exhibition catalogues, and an ongoing relationship with Northland schools and other educational institutions.
Tauranga Art Gallery
Toi Tauranga Cnr Wharf and Willow Sts, downtown Tauranga, ph (07) 578 7933, open daily 10am-4.30pm, artgallery.org.nz. Admission free, donations welcome
Situated in the heart of the CBD, this gallery hosts a mix of touring exhibitions and artists' projects, as well as a variety of education and visitor programmes, teacher and student workshops, and Young Friends of the Gallery - a multi-faceted interactive programme for secondary school students. The gallery's exhibiting spaces host 20 or more exhibitions each year, and include The Atrium, specifically designed for large-scale artist projects, musical events and private functions; The Vault, a smaller gallery suited to installations, compact exhibitions, and new media; The Cube, ideal for moving image and installations; and the Education Studio, for school groups and lectures.
Bounty Gallery & Store
644 Pollen St, Thames, ph (07) 868 8988, open Monday-Saturday 9am-4pm, Sundays in Dec-Jan, may open earlier, check facebook
Coromandel local Fiona Cameron and her partner Steven Shakespeare own this contemporary design store and gallery in Thames. Cameron has previously owned several design stores, including Kina NZ Design and Art Space in New Plymouth. Bounty has a definite Anglo-Pacifica theme, reflected in the work of the artists featured. Andrew Van Der Putten's earthy and lusciously-glazed pottery and Jeannie Van Der Putten's batik fabric textiles are tactile and vibrant. Nelson weaver Maureen Harte's skilfully woven and dyed flax koru explode with colour; artist Liz McAuliffe's beautiful pohutukawa leaves, carved from swamp kauri and painted, pay homage to the Hokianga where she lives, and Aucklander Karin Smal's black and white photographs of old scrabble pieces have a distinct retro feel. Bounty also features an amazing selection of NZ designed and made giftware, including jewellery, soaps, candles, vintage fabric cushions and many other lovingly crafted collectables.
Smyth Galleries & Art Consultancy
41 Jervois Rd, St Mary's Bay, ph 021 174 7962, open Tues-Sun 10am-5pm, ksmyth.com. Admission free
"Art washes from the soul the dust of everyday life" - Pablo Picasso. This quote presides over the entrance to Smyth Galleries, a unique space in the stylish suburb of St Mary's Bay. The gallery features exhibitions of established and emerging artists and also offers an art consultancy service. Gallery owner Kieran Smyth, who has been collecting art for the past 30 years, has combined experience and passion to provide a gallery atmosphere that welcomes dialogue and an independent consultancy business that offers advice for the novice collector and seasoned, private and corporate clients. Artists featured at Smyth Galleries are predominantly from New Zealand and Australia, and include works by Michele Bryant, Rob Tucker (a rising star in the New Zealand art scene), Australians David Bromley and Anthony Bennett, Paul Hartigan, Debra Britten and Daniel Smith as well as prints by Dick Frizzell, among others. The gallery also offers a wonderful array of interest pieces, including rare French vintage posters, New Zealand lithographs, and exclusive limited-edition photography.
TSB Bank Wallace Arts Centre
The Pah Homestead, 72 Hillsborough Rd, Auckland, ph (09) 639 2010, open Sat-Sun 10am-5pm, Tues-Fri 10am-3pm, tsbbankwallaceartscentre.org.nz. Admission free
The historic 130-year-old homestead that houses this arts centre is steeped in history and the story of its origins and restoration is as fascinating as the art within its walls. Set at the highest point of the tranquil, 15ha Monte Cecilia Park, it's a beautiful, relaxing place to visit on a Sunday. Walk up through one of the finest collections of exotic trees in Auckland, enjoying views back towards One Tree Hill, until you reach the stately mansion which is now home to The James Wallace Art Trust's extensive and magnificent collection of New Zealand art, including paintings, sculpture, film and installations. There is a changing programme of free exhibitions and touring regional exhibitions. The centre also accommodates an artist-in-residency programme in conjunction with the University of Otago and is developing an education programme aimed at secondary schools. The Pah Homestead's cafe is fully licensed, and visitors can sit outside on the terrace overlooking the park. The gallery's shop stocks a wonderful selection of jewellery, glass, ceramics, design, books, music, and stationery.
Auckland Art Week - October 13-23
This showcase spans 10 days, six neighbourhoods, and 70 venues and galleries, and features 100 events and exhibitions. Go to artweek.co.nz to find out more.