He's been dead 20 years, but Freddie Mercury's legend lives on in music, books, a musical and a new film. Cliff Taylor talks to Lesley-Ann Jones, a friend of Mercury's and author of a biography on the rock legend.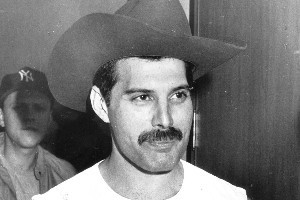 Few people who saw the band Queen play at the Live Aid gig at Wembley Stadium in 1985 could doubt that they had witnessed one of the greatest 18 minutes of rock music ever performed on stage.
Queen were hailed as the undisputed stars of the 16-hour fundraising extravaganza.
Their lead singer, Freddie Mercury, who held the 80,000-strong audience and the hundreds of millions watching worldwide in the palm of his hand, emerged that day as the most charismatic rock frontman of his generation.
Just six years later, Mercury was dead - a victim of Aids. He was 45 years old.
One person watching from the wings on that famous afternoon at Wembley was music journalist Lesley-Ann Jones. She, like everyone else, was astonished by the power and control of Mercury's performance.
"Everybody backstage just stopped talking and stared at the monitors with their jaws hanging down," she recalls.
Jones has spent years exploring the extraordinary life, the legacy and the enigma of the Queen frontman. A new version of her book, Freddie Mercury: The Definitive Biography, has been released to coincide with the 40th anniversary of the band this year.
A film, starring Sacha Baron Cohen (of Borat and Bruno fame) as Mercury, is due out next year and the musical We Will Rock You, based on the band's hit songs, has been seen by 11 million people worldwide and is still going strong.
Twenty years after his death, Mercury - born Farrokh Bulsara - is more famous than ever.
"I think it was because of Freddie dying relatively young and in his prime, although he was ill," says Jones on the phone from her London home.
"He was the first rock superstar to become a real James Dean figure. He was an icon. During the 80s, rock and pop became mainstream, as opposed to something for just young people, and Freddie became a major symbol of that because his music appealed across the board.
"But he was not just a James Dean figure, he was also a Judy Garland and a Marilyn Monroe rolled into one. And he also became a symbol of the Aids crisis."
Jones' in-depth biography traces Mercury's life from his birth by Persian/Indian parents in the East African islands of Zanzibar.
The 8-year-old Farrokh was sent to boarding school in India and, for the next decade, saw his parents just once a year.
Jones argued that it was an experience which had a profound effect on Mercury's life, leading to a lifelong, desperate quest for love and sex.
His first serious attachment was to a woman, Mary Austin, with whom he lived for six years.
But ultimately it was the hedonistic, promiscuous gay high life of the 1980s which attracted him - and eventually killed him.
"He had a completely dysfunctional childhood," Jones says. "At school in India he couldn't phone his parents or speak to them.
"That would destroy anybody, and you'd probably spend your whole life looking for that missing link.
"There's that need for adulation from a large number of people when you haven't had it from the two most important people as a child.
"He chose to live a gay lifestyle but he never found that true romantic fulfilment in his life, all of which influenced his song writing."
While researching the book, Jones interviewed Mercury's parents and is convinced they believed they were doing the right thing by sending their son away for a good education.
After the violent revolution in Zanzibar in 1964, the Bulsara family moved to Britain where the shy, buck-toothed Freddie studied graphic art and design.
But it was fashion and music in swinging London that excited him, and he was soon performing in student bands. He eventually met Brian May and Roger Taylor, and they formed Queen.
After several years of determined effort, the band achieved a breakthrough with the hit song Killer Queen. It was the beginning of a remarkable journey along the road of excess to super-stardom, culminating in Live Aid in 1985.
Jones toured with the band and witnessed first-hand the bacchanalian circus of champagne, cocaine, sex and star worship.
"Every day was a party. It never ceased to fascinate me. I don't think it's just nostalgia, because we were all in our 20s. I think there was something very special about music in the 80s.
"You could literally be anything you wanted to be. I took part, up to a point, and was invited into the inner sanctum. But I guess you could say I dipped my toe in the water rather than dived right in."
Mercury partied harder than most but he also enjoyed quieter moments away from the madness.
He liked to drink tea and play games. "I used to play Scrabble with him," Jones laughs. "He loved games. He was a genius at that."
The year after Live Aid, Jones met Mercury in a bar in the Swiss resort of Montreux. He seemed strangely troubled for a man with the world at his feet. "I think he knew he was dying by then," says Jones.
"He was aware of the fact his days were numbered. He was living very, very recklessly at that point. He had a bit of a death wish, to be honest."
But why would a man at the peak of his creative powers want to die? "Stars get to a stage where they have just had enough," Jones says.
"Freddie told the journalist Paul Gambaccini he was 'doing everything, with everyone'. It's like he's saying, 'I know it's going to kill me, but I'm going to do it anyway.'
"When you depend on wildness for kicks, you have to keep upping the ante to create that kick. He would have ended up as a fat, bloated old queen and he wouldn't have wanted that.
"He took great pride in his physical appearance."
Jones describes how Mercury had referred to himself that night in Montreux as a "monster".
"He had created this alter ego - how the world knew Freddie. What he was saying is, 'That isn't me.'
"Freddie was a really lovely person, so thoughtful and caring and humble and nice.
"He could put on stardom like you put on an overcoat. I think the monster just caught up with him."