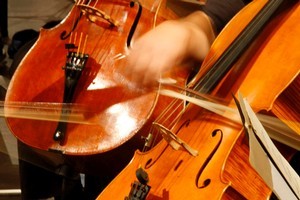 One of the dependable joys of Auckland Philharmonia Orchestra concerts over the past few seasons has been Roy Goodman's voyaging through the Beethoven symphonies.
On Thursday, the principal guest conductor offered the Eighth to start the orchestra's Choral Masterpieces, firing the audience for the hedonistic main bill - Carl Orff's Carmina Burana. Under Goodman's baton, Beethoven's favourite symphony was unstinting in its revelry.
The opening Allegro bounded from phrase to phrase, its shifts of tempo perfectly caught, with the conductor making much of the delicious rhythmic disorientations.
Beethoven's tongue-in cheek Allegretto bubbled with insouciance and precision, while Goodman took the Minuet out into the fields for a rustic romp.
The last time Auckland Choral presented Carmina Burana in the Town Hall, it was thwarted by the conductor's intrusive commentary, the limitations of Orff's pianos-and-percussion accompaniment and uneven solo contributions.
Not so this time, thanks to effective sur-titles, a fully primed APO and the participation of baritone Phillip Rhodes, tenor Ben Makisi and Australian soprano Penelope Mills.
Goodman was MC-with-baton, enticing us into the carnival of pleasures that Orff's scenic cantata presents. The opening O Fortuna was all choral stealth and sinister tam tam, ending in shimmering frenzy.
Welcoming us to the tavern scene, Rhodes brought the same dramatic acumen that won him the 2007 Lexus Song Quest, even if he was not always comfortable in some of the higher passages.
Makisi laid out the fate of the roasted swan, totally confident in a punishing upper register; the assured Mills had the unenviable task of reconciling eroticism with a top D - she did so, with only the slightest edge, after a most graceful ascent.
The singers of Auckland Choral were in fine form, discounting the occasional soprano strain. The men were commendably lusty in their swaggering Si puer cum puellula.
On the sidelines of all this, the youngsters of The Bellbirds and The Notables sang like angels and Venus herself was rousingly saluted by all.
Review
What: Auckland Philharmonia Orchestra
Where: Auckland Town Hall