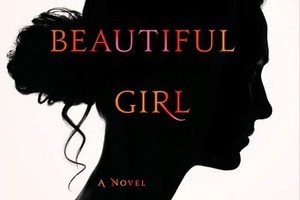 When I finished The Story of Beautiful Girl I felt like I needed a lie down.
The story begins slowly enough on a stormy night in Pennsylvania in 1968, when the lives of Homan, a deaf African-American man and Lynnie, a young intellectually disabled white woman, become forever entwined with elderly widow Martha, in whose farmhouse they seek refuge.
The first half of Rachel Simon's novel deals with the immediate aftermath of that night, following the three main characters through 1968 and 1969. Lynnie is dragged back to the State School for the Incurable and Feebleminded, where she will be punished for daring to escape. Homan is on the run and desperately trying to find his way back to Lynnie. Martha is left wondering how to care for and protect Lynnie's secret newborn baby.
This is where Simon's writing is at its best. She shows what it might be like to live a life where no one understands the way you think, and (almost) everyone underestimates your abilities.
Simon leaves the reader in no doubt that Lynnie knows what is going on around her, despite her classification by her attendants as a "low grade" and an "idiot". She pieces information together, making sense of her restricted world as best she can, holding back her tears and her voice to keep herself safe. She feels herself growing numb as she mourns the loss of Homan and her daughter, and compares this to how she felt after her mother's first and only visit to the school. "Lynnie", writes Simon, "remembered more numbness, when she caught on that Mummy was never returning. Ever since, Lynnie had wondered which was worse: the sudden good-bye you know is a good-bye, or the long good-bye you have to guess."
Then there's Homan, out there on the run, confused and illiterate, unable to communicate beyond his own form of sign language. He reads facial expressions to interpret others' intentions and relies on instinct to try and find his way back to Lynnie.
About half to two thirds of the way through the book, the tempo starts to speed up. Suddenly the story is advancing not in weeks or months, but in years. Chapters leap forward three years, then six, another three, then five, then five again, as the book hurtles towards its finale.
Along the way Lynnie changes too, but the pace is such that the reader doesn't get to see these changes unfold and must simply accept her growing abilities as each chapter passes. Both Lynnie's daughter Julia and Martha remain broad-brush rather than fully formed characters and several of the plot turns are a little too made-for-TV perfect for my liking.
However, the switch to a rapid pace does allow Simon to explore changing attitudes towards people such as Lynnie and Homan, and the wider story of the institutions in which doctors commonly advised parents to deposit their disabled children just a few decades ago.
This is a subject close to Simon's heart as her sister Beth has an intellectual disability, although she was never institutionalised. The book is dedicated to "those who were put away", and at times the cruelty of those entrusted with the care of vulnerable children and adults makes heavy reading.
It is a story full of impossible choices, and Homan, Lynnie and others must draw on tremendous strength and courage just to survive. A friend of mine warned that as a parent, she found the book "distressingly sad" in places.
But this is at heart a very readable love story. It's about how Lynnie and Homan find a way to connect without words, how they make sense of the world and how a few compassionate individuals can make the greatest difference for someone on the margins.
It would also make a great TV movie, as long as you don't mind a few very convenient plot resolutions along the way.
Next week we'll be introducing our October feature reads. I've opted for The Cat's Table, the latest from Michael Ondaatje. Bronwyn is reading The Sense of an Ending by Julian Barnes, the bookies' favourite for the soon-to-be-announced 2011 Booker Prize.