Nirvana visited New Zealand in early 1992 just as Nevermind blew up worldwide. To mark the 20th anniversary of that album's release, we revisit the Seattle band's sole Auckland visit.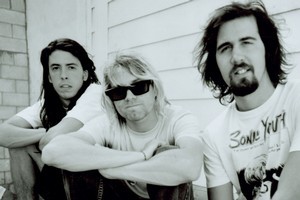 Doug Hood Remembers being the first New Zealander to hear Nirvana's Nevermind, before its September 1991 release.
Then the owner of the Looney Tours promotions company, Hood met Australian promoter (and now Modular Recordings boss) Steve Pavlovic at Auckland airport.
Pav, as he's widely known, had just been in America hanging out with Nirvana in the studio, and he had a cassette copy of the freshly mastered Nevermind.
"He said 'I'm going to play you a tape - listen to this'," Hood recalls. "It was the sound that was the thing that stuck. It wasn't the songs, it was the production and the ginormous sound. It was extraordinary. We drove up to the top of Mt Eden and listened to it."
Shortly after this introduction to the newly polished sound of the Seattle trio, as engineered by producer Butch Vig and mixer Andy Wallace, Pav booked the band for the inaugural Australian Big Day Out.
Hood booked an Auckland show to follow that tour, for 9 February 1992, to take place at the The Powerstation.
He says it was virtually the day Nirvana left the United States for Australasia that they became the hottest rock act on the planet.
"The record company (DGC) were spewing that they were down in this part of the world when all hell was breaking loose in the States," Hood says. "But they'd made this deal with Pav, and he was their mate so there was no way they weren't going to do it."
Because of the rapid chart ascent of Nevermind and single Smells Like Teen Spirit all over the world, The Powerstation show soon sold out. It was moved to the Auckland Town Hall, and finally to the Logan Campbell Centre as demand grew. While there was much anticipation of Nirvana's visit, the band was struggling. Front man Kurt Cobain was desperately ill throughout the Australia tour, and all the band were exhausted when they arrived in New Zealand.
"There were all these stories from Australia," Chris van de Geer says. His band Second Child was one of the local support acts, along with the 3D's.
"Kurt was sick, and I heard that he'd taken all this stuff just before they left Australia."
"I never had much to do with them," Hood reflects. "They were out of it the whole time they were here. They were drunk on stage, and I think the show was only 45 minutes, maybe 50 minutes. They were absolutely shattered from the Australian tour, and Kurt had really terrible stomach pains. He was really crook; he was wrapped in blankets, and looked pretty awful."
Popular opinion suggests Cobain's ailments were largely due to his heroin addiction. Despite his health woes, the singer managed a now legendary shopping trip to Real Groovy Records.
Shop founder Chris Hart served Cobain, who bought a record by Christchurch band The Axemen, among others.
"I didn't actually recognise him," Hart admits. "He was really quiet, and just brought the records up and paid for them. It was a quiet afternoon and Kirstine Gee (Pauly Fuemana's widow) and Ricky McShane who played in the Chainsaw Masochists were working. As he was leaving, Ricky said 'I think that might have been Kurt Cobain', so they ran after him and brought him back in and got him to sign a couple of albums each."
The support acts didn't have the opportunity to have anything signed though, as Cobain arrived at the Logan Campbell Centre slightly before playing and left immediately after Nirvana's short set.
A copy of the set list from the show, which was recently for sale for US $3000 on the recordmecca.com site, shows they played 18 songs.
That included the majority of Nevermind, four songs from 1989's Sub Pop debut Bleach, along with Aneurysm, Been a Son, and Sliver.
Although Nirvana were largely appreciated by those who attended, Hood says it was Dunedin's 3D's that people were most impressed by.
"They were excellent," he considers. "The 3D's blew them away, to be honest. Afterwards everybody was talking about the 3D's, and I think it was because Nirvana were exhausted."
While Nirvana's solitary performance and their 24-hour stay in New Zealand might not have been their finest moment, the visit has still left a lasting impression.
"We've had a lot of people through the shop over the years," Hart reflects. "But that seems to be one that people hang on to."
"When I talk to kids about Nirvana, it's like they're the Sex Pistols," van de Geer says. "And they go 'did you really support Nirvana?!'"
- Volume