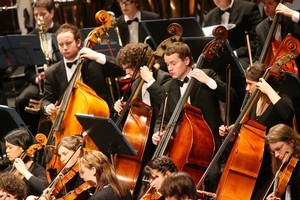 How courageous of the NZSO National Youth Orchestra, to open its Saturday concert with Alexandra Hay's An Atlas of Unfixed Stars.
Here was a talented young New Zealand composer writing music that makes no attempt to wow the audience with the computer-assisted rush-and-roar that is such a temptation today.
Without any words of introduction apart from a mysterious and minimal programme note, we were voyaging in a soundworld that started where Webern left off, subtly threading shafts of colour and timbral gestures.
Breathed sounds merged with pitched, dynamics ricocheted from thud to shimmer; conductor James Judd held it together admirably and concertmaster Olivia Francis dispensed some confidently brilliant solos.
The inclusion of organist Cameron Carpenter as soloist in Samuel Barber's Toccata Festiva was a twofold inspiration.
All spangled up for the occasion, in keeping with his registrations which cascaded from a whisper to a blast, he seemed to inspire the orchestra to make a wild dance of the piece, with Judd effectively marshalling the offbeat fun in the rhythm department.
Carpenter's encore tributed Liszt and promised to be fiendish, ecstatic and uplifting. Well, one out of three ain't bad, I suppose. It proved to be a piece of glitzy razzle-dazzle drawn from Liszt's First Mephisto Waltz, giving the Klais organ more than a few chances to emulate its calliope and Wurlitzer cousins.
In the second half of the evening, Rachmaninov's Second Symphony was given one of the most thrilling performances I have experienced, occasioned by the youth and commitment of the players.
The strings swayed as one with the grand passion of the big themes even if, here and there, one could imagine that various solos might gain lustre with experience. The sheer whoop of exhilaration when the exhausted players tore into the Finale, suggested that, yes, tonight we may have experienced a taste of the sound of tomorrow promised by the programme booklet.