Her albums have taken Nashville to the world and now she's headed here. As Taylor Swift's global tour lines up for Auckland, the golden girl of country pop talks to Tiffany Bakker.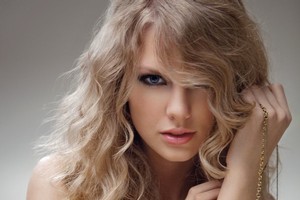 On a midnight train bound for Manhattan, the bright lights of, er, downtown New Jersey fading back into the distance, two teenage girls in identical fluorescent green hand-made Taylor Swift T-shirts (both featuring Swift-isms Speak Now and Stay Fearless) natter excitedly, still reeling from the show they've just witnessed their idol perform.
The girls, accompanied by their mums, retain excitement levels that can best be described as at fever pitch (and that's on the lower end of the scale).
"She's just so genuine," gushes 13-year-old Maggie.
"She's so beautiful," continues 19-year-old Kelcie. "You can just relate to her. You feel like she's your friend."
And that's why Taylor Swift, country-singer-turned-pop-superstar (in the course of her three-album career, she's already sold 20 million-plus albums, won a swag of Grammys and Country Music Awards, and last year, was anointed one of Time's 100 most influential people) has her legions of fans held in her delicate hands - she really feels as if her fans are her friends, and she treats them as such.
(Swift says she and her fans are "much alike", all "hopeless romantics. I write songs about love and those seem to be the kind of songs my fans like, too.") Earlier, Kelcie and Maggie had been part of a group of about 15 tweens and teens, hand-picked from the night's audience by Swift's mum, Andrea, and given the golden ticket to go backstage into the harem-like surrounds of the Swift-anointed "T-Room", where they rubbed shoulders with the object of their adoration. During the meet and greet, of course, various degrees of hysteria ensued.
Swift - who had just come off stage - did what she does every night of her tour, and greeted each fan warmly with a hug, lingering to chat. One teenage male fan, so overcome with emotion, sobbed openly in the singer's reed-like arms, as she patted him tenderly on the back, holding his arm to let him know that things would, in fact, be okay.
When TimeOut speaks to Swift at a luxurious Manhattan hotel the next day, I wonder if the level of intense emotion she attracts from her fans is a little too much for a 21-year-old to have to bear. She looks at me as if I've just run over a kitten (Swift loves kittens).
"It's something I really think is an amazing compliment, that these kids consider me a role model," she says. "These moms come up to me and they're so genuine when they say thank you and, to me, it's the sweetest thing - because they're complimenting your character and that's a wonderful thing to get a compliment on."
Swift's own role models veer towards the likes of Bruce Springsteen, Paul McCartney and Emmylou Harris - people she considers to have "lived beautiful lives" and "really appreciated their lives and everything they've been given, and in that sense they've also given back to their fans and to the world of music".
Those careers, she says, are the sorts she wants to emulate. Strangely, the weekend we meet, Amy Winehouse has just died, casting a depressing pall over the music fraternity. Where Winehouse appeared beset by a dark cloud throughout her short career, Swift appears the polar opposite.
She welcomes the endless touring, the often mind-numbing promotion, the intrusive media speculation into her romantic life (but more on that later). In fact, she embraces all of it. Indeed, she's getting ready to embark on her first tour of New Zealand, a prospect that's "incredibly exciting" for the singer. Ask her about the gruelling nature of touring and she merely shakes her head.
"It's not gruelling," she admonishes me. "It's so much fun, and it's just my life now. I remember, I put in a lot of hard work in the first couple of years as far as promo, and constant touring and being on the road for two months straight and never seeing home - I remember what that's like, so I'm not about to complain about [my life] because I understand what it is to really tour."
Swift says she prepared for a life in music from an early age. Initially, she started writing poetry, putting the words to basic guitar chords. She spent the first 14 years of her life in Pennsylvania, a place she says she never fitted in, mocked openly by her classmates for wanting to pursue a career in the arts.
Indeed, she may have the appearance of a model (in person, she's a willowy 180cm and stunningly beautiful), but there's still something about her that makes her relate readily to the outsider.
At school, she'll tell you, she was one herself. "I wasn't popular," she says. "It's that awful feeling when you get up in the morning and think, is anyone going to talk to me today?"
When her family (she also has a younger brother, Austin) relocated to Nashville to help her realise her dream, things changed radically. She was surrounded by kids whose parents either worked in the music industry, or who didn't put her down for wanting to realise her dreams. She started playing local fairs where her parents and brother would hand out home-made CDs.
Soon, she was signed to Sony Publishing where she started "earning a salary every year", and was given a quota of songs she had to turn over annually.
Even then, most of those songs focused on love, a topic that has continued to dominate her work since.
"I think [writing about love] gives me closure, and the ability to understand why I felt a certain pain in my life and why I had to go through a certain hard time - maybe I had to go through that in life because I was supposed to write a song about it - it's my own justification system. I always need to find the reason for what I learnt for each situation and a lot of times the answer is, well, I had to go through that, I guess I was supposed to write Dear John."
Of course, Dear John, from her most recent album, Speak Now, was rumoured to be about singer/guitarist John Mayer, who Swift allegedly became involved with when the two came together to write songs.
Swift's romantic foibles have long been well-documented. There was the relationship with tween heart-throb Joe Jonas (she's since intimated that he broke up with her in a "27-second phone call"), a brief liaison with Twilight hunk Taylor Lautner (apparently the subject of her song Back To December), and another with actor Jake Gyllenhaal.
Matters of the heart may not have gone her way so far, but the superstar remains ever optimistic about love.
"Yeah, of course I do," she says. "I think that that's always been my demeanour, and my ideas and attitudes toward love are you can be an idealist or a cynic and, for me, as far as love goes, I'm definitely an idealist and a believer and a day-dreamer about the whole thing. Just because it hasn't worked out so far doesn't mean it never will ...
"Then again, if it doesn't, it just means I get to write more songs about it."
LOWDOWN
Who: Taylor Swift
When and where: Friday March 16 2012, Vector Arena
Tickets: Amex pre-sale from Tues August 16, 2pm; Ticketmaster pre-sale commences Wed August 24, 1pm; general public on sale Fri August 26, 9am
- TimeOut