The reunion tour of touchstone Australian rock band Cold Chisel is crossing the Tasman. Graham Reid talked to the band, whose enduring songs are now being remastered and reissued.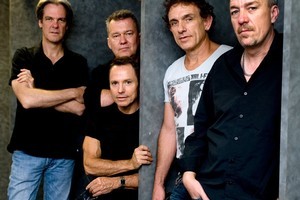 These days most bands - the Rolling Stones being an exception - don't do press conferences. They seem a hangover from the pompous 80s.
So when Australian rockers Cold Chisel - not known for, as the Australians say, "putting tickets on themselves" - held a press conference last week in Sydney's Hilton Hotel something was up.
Chisel - as they are commonly known - broke up in 1983 after a spectacular rise. Five studio albums in as many years; relentless touring in Australia and to New Zealand; frontman Jimmy Barnes swigging a bottle of vodka night after night; a volatile internal relationship; classic songs like Khe Sanh, Shipping Steel, Star Hotel, Cheap Wine, Forever Now, Flame Trees ...
Chisel - and Don Walker in particular - wrote songs which became cultural touchstones. "Australian audiences would take a bullet for these guys," says Midnight Oil's Jim Moginie.
However, since 1983 they had rarely reformed. But here they are, in the tasteful Marble Bar where the cover of their Breakfast at Sweethearts album was shot in '79.
"It was about six in the morning," laughs Barnes, "and we had to be out before nine. If you look at the cover we're all bleary and puffy-eyed. I think we came straight from the Cross, and the roadies were raiding the bar."
The reason for this equally early call is to announce the biggest archival reissue in Australian music history.
All their albums (including live releases) remastered and packaged up with rare and unseen DVD footage (some bought from eBay, says Barnes), and 56 extra tracks available only on digital download.
There will also be an extensive Australian tour which will cross to New Zealand for dates in early December.
Yet the excitement is tempered, because someone is absent from the microphones alongside Barnes, keyboard player/songwriter and band founder Walker, singer/guitarist/writer Ian Moss and bassist Phil Small.
Drummer Steve Prestwich died in January after brain surgery; the band had already started the reissue plans and were recording again.
The floor dropped out, says Walker quietly, and they were numb for a long time. Still are in many ways.
"The choice was, do the four of us never ever play together again? Or do we look at the other side of the list, that for so many years we could have played together but didn't because we always thought it could happen next year. Or it could happen in 10 years.
"[But] you don't have unlimited time, you've only got a little window. So after some discussion we decided to complete the plans we'd made with Steve, even the plan to play live."
In reality, Cold Chisel never went away after that acrimonious break-up: Barnes' solo career carried the torch and he was constantly asked if the band would ever reform.
They reunited for a tour and the album The Last Wave of Summer in 1998, and did a couple of one-off shows in recent years. Their songs had became the staple of rock radio. They sold a million albums up to 1983, three million after.
Cold Chisel drew its members from disparate sources: Walker, the quietly measured, cigarillo-smoking physics graduate from North Queensland whose brother and mother are renowned writers; Moss from remote Alice Springs; Barnes the tough Glaswegian son of a boxer; the equally tough Liverpudlian Prestwich; and bassist Small from Adelaide, schooled in Beatles-period pop and, like them all, an accomplished songwriter.
Five individuals but a common bond. A real gift says Walker, away from the press conference.
"How could you luck on to [Barnes' voice] and at the same time the other guys that we did? I pull that out and look at it in various stages in life and wonder, 'Were they just four guys who grew into the incredibly skilled people that they are? Or did I just win the lottery four times over?"' Barnes says he learned to sing in the band as Walker pushed his range, and they all became better musicians in each other's company.
Cold Chisel became a cultural reference point with lyrics that spoke to and from its working class audience. They knew their constituency.
"When we broke up we'd literally played to almost everybody in this country individually," says Barnes, recalling the slog in low-rent bars and clubs as they moved from being a covers band into channelling their audience.
"In the beginning I was the only writer," says Walker, "but I was just trying to write stuff we could do where everybody expected covers, and was not going to turn people off.
"Initially I thought a song specifically written for the people we play to about the world they know is going to eventually connect more than a cover. It grew out of that. I was just dealing with us, and the people in front of us, night after night.
"That fashioned our music, that's where the initial DNA of the band is."
The band also had an explosive internal dynamic - "Always volatile," says Barnes, "having a laugh at each other's stupid jokes and silly sayings, the next day we're swinging at each other" - but Walker says their relationship was also rare.
"For me, and what has fuelled the two reunions, is there are things the guys in this band can do that aren't available anywhere else. Firstly in terms of the singing by Jim and Ian, and secondly in the dynamics and pure power of the band. It doesn't take too long before you get curious about that when you're writing songs and think, 'Just how good could this be if I got these guys involved?'
With the tour and a new album promised next year (some songs by Prestwich) we'll find out.
Back at the press conference attention turns to the beautifully packaged reissues - unseen photos, excellent liner essays and the DVD footage - and they are asked which album they would recommend to someone coming to Cold Chisel for the first time. Moss and Small opt for their self-titled debut because of the raw enthusiasm it captured and which has been brought out in the remastering, Barnes picks the live Swingshift ("because we were a live band"), then attention turns to the likeably droll Walker.
He leans towards the microphone and, in a voice as dry as the red dust of the desert says after a long and thoughtful pause, "I'd get the lot".
* Earlier this week, following this interview, Barnes, who in 2007 underwent open heart surgery to replace a faulty aortic valve, fell ill and cancelled upcoming solo shows in Australia after being ordered to take it easy by doctors. He is expected to make a full recovery in time to begin rehearsals with Cold Chisel.
Lowdown
Who: Australian rock legends Cold Chisel
What: The complete back-catalogue of albums remastered with DVDs;, an additional 56 previously unreleased songs on digital download
Where and when: Shows at Wellington's TSB Arena (Dec 2) and Auckland's Vector Arena (Dec 3)
Trivia: Chief songwriter and Chisel founder Don Walker graduated as a physicist and was working on F111 fighter-bomber jet projects when he formed the band. He has also written a highly acclaimed memoir, Shots.
- TimeOut