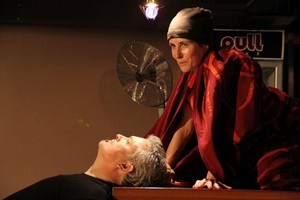 A basement bar in Karangahape Rd provides an appropriate venue for a highly original variation on the classic "man walks into a bar" scenario.
The drama Sexy Buddha sets up a challenging and often amusing encounter between a world-weary bartender and a Buddhist nun who is questioning her commitment to the monastic life.
Geoff Allen's script displays a keen appreciation of the absurd, a wry sense of humour and a refreshing avoidance of neat resolutions.
Although the characters function as clearly identifiable types, the writing is sharply attuned to the peculiarities of real people and both characters emerge as engagingly complex personalities.
Their dialogue has the digressive, unpredictable quality of a well lubricated bar-room conversation as it swings wildly between earthy humour and high-minded philosophy.
The drama is brought to life by the two characters who are polar opposites and the actors spark off each other with some finely choreographed verbal sparring.
Simon Clark establishes an easy going affinity with the audience with his take on a hard-case, heard-it-all-before bartender.
His contempt for the self-absorbed pretensions of his customers provides a provocative foil to the studied tranquillity of the Buddhist nun but his cynicism is leavened by a fierce commitment to his own existential philosophy.
Belinda Wylie's portrayal of the nun has an appealingly vulnerable quality in which religious certainty is strengthened by acknowledgement of doubt. Her delicate performance is given tension by recollections of a history that included participation in beauty pageants.
Director Jonny Hair's staging brings together a variety of styles with puppetry, naturalistic drama, forays into surrealism, film projection and flashbacks - blended together like a well-shaken cocktail.
Galatea Theatre has the attractive can-do enthusiasm of an independent company.
The result is a lively and life-affirming piece of theatre. With a 50-minute running time, $15 ticket prices and ready access to pool tables and a bar there is little not to like about this production.
What: Sexy Buddha.
Where: Pull Bar, 214 Karangahape Rd.
When: Until August 6.