American indie film's queen of quirk, Miranda July, returns with her second idiosyncratic film about love gone wrong. She talks to Helen Barlow.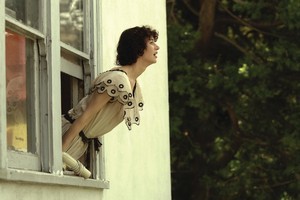 With her unassuming diminutive presence, curly locks and brimming smile, the multi-talented Miranda July is an original. A performance artist, writer and film-maker, she made her first feature film, Me and You and Everyone We Know, in 2005 and it was a success in Sundance before moving on to Cannes where it won the prestigious Camera d'Or for best first film.
It was the kind of movie that didn't look like much on paper - dorky girl meets dorky boy - yet as you watched it you were drawn into the lives of these two ultimately lovable people. Scrawny indie stalwart John Hawkes (Winter's Bone, Deadwood) had been the bloke, and even if he now says it wasn't easy - on set it was July's way or the highway - he owes her for helping to kick-start his now thriving career.
"Oh it's true," July admits of her controlling ways, as we sit down for a chat following the premiere of her second feature, The Future, in Sundance. "My actors on this film were saying that too. I think maybe it's from doing my own performances for so long where I am actually playing all the characters that I come in with a very clear idea of what words I think should be emphasised and what their body language should be like.
"I would love to be that kind of director who allows the actors to play with it, who gives more freedom. I know it is a lot more fun for them but that is not what I do, so far."
The 37-year-old's idiosyncratic film-making style is an extension of her performance pieces, video work, short films, short stories, audio pieces and music. She has created interactive websites where she invites people to contribute their own stories and videos, and has gained recognition from America's foremost modern art institutions, the Guggenheim, the Museum of Modern Art and the Whitney.
The characters she devises are usually derived from parts of herself. As with Me and You and Everyone We Know, The Future focuses on a romance, yet it's sadder because the relationship between herself and newcomer Hamish Linklater is falling apart.
Given that since making her first film, July has married video and artist film director Mike Mills (Thumbsucker) - whose latest feature, Beginners, is also in the New Zealand Film Festival programme - it's interesting that she should make the sadder film while she is clearly so happy herself.
What is perhaps most interesting of all is that there are now two directors at home. While her husband has a freer way of working with his actors - "Totally!" she admits - they both share a love for the confluence of art and cinema.
"I think we just admire each other. We give each other a lot of room. Most other people had seen his movie before I had. We were both editing at the same time and we weren't watching cuts of each other's movies. Finally Mike said, 'I'm almost done and I really want your feedback'. So I watched his film and I said, 'Okay, this means I get to show it to you once'. And that was all. We gave each other notes, which is nice. It's good because you trust the person."
Did she take any notice of his suggestions? "Some of them and not others! He would ask, 'Did you do that one thing?' And I would say, 'No, I know you think that is a great idea, but I am not going to use it.' And vice versa," she giggles.
The Future follows a slacker couple who are bored with their jobs and obsess over their upcoming acquisition of a cat called Paw-Paw, which is voiced by July and is the narrator of the film. Even if July's Sophie and Linklater's Jason seem like mirror images of each other, she ultimately leaves him for a much older, more conservative man.
"I really wanted this third person to seem like a total break from every way that she had identified herself," July explains. "But I don't see it simply as him being right for her. I don't think he gets her, although I do think someone totally different from you and out of your world can give you a certain freedom that you don't have in your little hothouse."
July's movies are not about the story she tells but how she tells them. They are put together more like artworks than conventional movies, yet are not boring in the telling at all. They are funny and amusing. The clothes she wears are often from vintage stores and op shops, and she came up with her best dance in the movie the day before filming. (It's somewhere between a cute bird trying to take off and Cleopatra-style dancing.)
"I am not a dancer but I love to dance for fun," July says. "I got to the point where I was like, if I am using myself I may as well just use the whole thing."
Born in Vermont and raised in Berkeley, California, July has been writing stories and doing performances where she plays all the characters since she was 16. Although born Miranda Grossinger she named herself after a character in one of her stories around that time.
Her parents are successful book publishers and exerted a huge influence, she says.
"They run a publishing company but they also write their own things so that was not only normal but it was kind of expected that you would make up stories and be interested in your own thoughts. There was this idea that what you come up with is valuable; I think they did a good job of enforcing that. I have this book that I wrote when I was seven that I have kept. I was showing it to someone recently and I suddenly realised how there are striking similarities between that book and this movie in particular. Either I haven't progressed that much since I was seven or I am just incredibly consistent."
She explains how she made no money at all from her first film yet the proceeds from the publication of her 2007 book of short stories, No One Belongs Here More Than You, which was published in 20 countries, were considerable.
"The first movie at least made it easier for my book to get published and that is what I basically lived off. That was really key for just surviving."
Of course her parents, who were not always encouraging of her earlier explorations, were incredibly proud. "Yeah I think that cut more close to home and had more meaning for them. To be published with a major New York publisher, they are like, 'Hmmm, that's okay'."
LOWDOWN
Who: Miranda July, director, actor and artist
What: The Future
When: Screens as part of the New Zealand International Film Festival at the Civic, today at 6.30pm and tomorrow at 1.30pm
- TimeOut