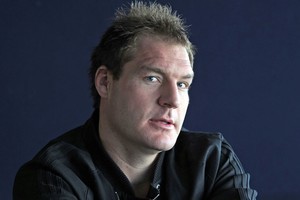 Ali Williams is doing the publicity rounds for his new book but he appears to have the blues when it comes to talking. Celeste Gorrell Anstiss discovers the former All Black is indeed utterly unreliable as an interview subject.
It's quite obvious from the outset that Ali Williams doesn't really want to be in this interview about his new book, Ali's Utterly Unreliable Guide to the 2011 World Cup.
After wandering through the eerily dark and empty corridors of Eden Park with the book publicist to find the right suite, I'm excited at the prospect of an hour's chat, including time for a photo session, with the great man of rugby.
I've cleverly negotiated half an hour extra on our allocated timeslot. Seventeen minutes later, it's all over. There was no point in prolonging the agony, so we left - exchanging knowing glances with the next media in line.
If ever there was a sign that things wouldn't go well it was when Williams unfolded his 2.02m frame from the head of the table, where he was sitting in the shadows, and shook my hand.
His years at King's College no doubt taught him manners but they forgot to teach him that looking at someone when you're shaking hands goes with the process. In fact eye contact was missing for much of the 17 minutes.
But handshakes aside, we were here to talk about the book. Williams made that clear when I dared to ask how he proposed to fiancee, cheerleader turned pole-dancing instructor Casey Green.
"That's private, very private."
And the wedding plans, have you started thinking about it yet, I ask? Anything to strike up a rapport. Bad move.
"Ah yeah ... we're thinking about things ... about the book."
Then he looks at the publicist who, like me, is obviously feeling increasingly uncomfortable. "Where's she going with this?"
Then, as though I've just asked him how many women he's slept with in his 30 years, he fixes me with a look, taps his copy of the book and shakes his head: "Young lady ... Jesus", (more shaking of the head) "you might have got away with that with someone else but not this kid. Worth a try, huh?"
He's clever this one.
So we really do talk about the book and why he wrote it. Or why his ghost writer, TV and film writer James Griffin, wrote it.
"The publisher, if the truth must be known," Williams says.
Williams admits his contribution to the 232-page guide to the RWC was limited to "five or six" sessions with Griffin, held over a beer. The pair, who have collaborated on two other books, one of them a best-seller, threw ideas around before Griffin got typing.
Griffin is one of the masterminds behind Outrageous Fortune, co-wrote Sione's Wedding and writes a column for the Weekend Herald. Griffin's distinct brand of humour jumps off the pages of Ali's Utterly Unreliable Guide. But Williams' fans might be disappointed if they expect an insight into the lock's mind or any sharing of special rugby moments. Instead the book's topics include "How to host your own party central", "How Russia can win the World Cup" and, ironically, "Conversational tips for conversing with rugby fans from many nations".
And so we move on to safer ground and talk about Williams' younger days when his neighbours gave him grief for playing soccer. "They thought I was a big poofter, I wasn't too happy with that suggestion."
And then as a young boarder at King's College, he remembers getting up grudgingly in the middle of the night to watch 1995 World Cup games and attending the King's 1st XV's rugby match against Auckland Grammar.
"They make it compulsory to go and you're thinking, 'Man what a pain in the ass, they don't do this for the soccer'," Williams says.
"It was funny, thinking back now to when I was watching. Almost every guy wanted to [play in the All Blacks] and I didn't really want to."
But then, at the age of 17, he saw the light. It was time to look for a girlfriend.
"I thought 'let's play rugby, because girls love rugby'." That move turned into a "passion" and, 13 years later, William has played 61 games for the All Blacks, including at three World Cups.
When we talk about the World Cup losses in 2003 and 2007, Williams strings together his longest sentences. "It's frustrating. Your emotions are all over the show. You look internally and say 'What could I have done better in that game'. In both games I thought I'd played quite well which made it even more frustrating. But, it is what it is. I suppose the opportunities pass you by, that's the bit that frustrates you. You never get another chance to right the wrongs. But life goes on the next day. If we all knew the result we wouldn't participate in it. You get on and deal with it. Kiwis love the game but I think we get a bit caught up in the results side of things."
Since then, he's fought back from several serious injuries and recently made a full recovery from a career-threatening Achilles rupture.
"You've got to do the hard work and it all came off. Now I'm as good as gold," he says. "Just like anyone else who's out there who's 30, you're a bit slower than the rest of the young boys."
It's not until the tape recorder is switched off that Williams opens up. He lets rip, telling me what he thinks of the Herald on Sunday and saying he's cancelled his subscription.
Williams' outburst might be related to a recent appearance in Spy's gossip pages and to the paper's investigations in April into his water company Water For Everyone and its promise to siphon a percentage of each sale into charity. A check on the Charities Commission Register shows the company has yet to file its latest accounts.
It's time for the photoshoot but, like the interview, it's not a long process. After six frames, Williams indicates "that's enough boss" despite the photographer indicating he hasn't got what he needs. There's no doubt who's the boss in this room.