Dana Delany talks to Jacqueline Smith about playing a doctor who cares more for the dead than the living.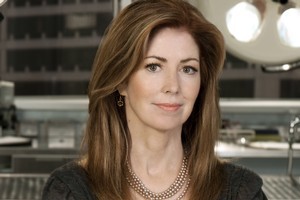 The female neurosurgeon Dana Delany met when researching her new role, was suspicious of the actress and her new television series.
"She was very trepidatious because she said she never likes the way female doctors are portrayed on television. But she walked in, and she was wearing the exact same outfit I wore in the pilot. The grey with the belt and the shoes, everything. High heels, the whole thing. Long hair. And I went, 'that's interesting,' and she goes, 'I know. This is all I had with me, but you're right."'
Delany plays Dr Megan Hunt, a neurosurgeon forced to give up the operating theatre because of injuries she suffers in a car crash. She joins a crime unit as a medical examiner, where she often steps beyond her job description to find out how the victims wound up dead.
She was offered the role while working on Desperate Housewives, where she played the very secretive Katherine Mayfair.
"It kind of came out of the blue. I got a call from the head of ABC saying, 'we've enjoyed having you. We don't know how much longer you're going to be on the show.' And then they said, 'but we have this other show we'd like you to think about'. And I was kind of taken aback, but I'm not stupid. I saw the writing on the wall, so I thought, 'all right. Why not?"'
The neurosurgeon she met when researching the role said the writers had got it spot-on. To become a neurosurgeon at Delaney's age, 55, would have been almost impossible, if you weren't, like her character, prepared to put career above absolutely everything else.
"She said that she could not get into any medical school because she wanted to be a neurosurgeon. They said, 'but you're going to want to get married and have kids, and you're not going to follow through. So we're not going to take you in,' until finally she got one guy to write her a recommendation saying, 'Okay, she's smart. She's passed everything. I'll write it, but she is a woman."'
In a way, despite the Prada bags and the high heels, Dr Hunt has spent her career overcompensating for her feminity by growing a very thick skin. But somehow, working with the bodies is slowly chipping away at that protective shell.
Delany says it is almost as though Dr Hunt has had such little regard for people when they were alive, that she now has double regard for them when die. She realises they lived a life, and now they deserve the respect in their final state on earth.
"I see Megan as a psychopomp, which is, in Greek myth, the character Charon, who takes people across the river Styx. I think that this new job is Megan's redemption, that the job of the psychopomp is to not judge, but to provide safe passage to the other side. I think that's what she does with these dead people.
"And that's why, at the end of almost every episode, we have her saying goodbye to them. And those people are not covered up until she knows exactly what happened to them."
The dead in the series are actors with a talent for keeping very, very still and Delany and fellow cast members observed autopsies before filming. "It was an honour to get to see these autopsies. I really feel that way, that we were given such a gift. I think when you see that body cut open and you see that the body is the proof, that you can see exactly how that person lived and how they died. It's all right there in their organs.
"You start thinking, 'My God, I've been given this gift of this body, and I want to take care of it. And it's completely up to me what I do with it, because it will be there when I die."
LOWDOWN
Who: Dana Delany
What: Plays a neurosurgeon in new medical series Body of Proof
When and where: Monday, 9.30pm, TV2
- TimeOut