NZ's latest drama series focuses on a group of friends at a pub quiz who are all also hoping for solutions to the bigger questions in life, writes Jacqueline Smith.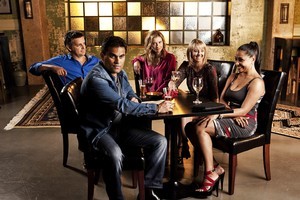 Pub quizzes are a Tuesday night staple. All over Auckland, hotch-potch teams assemble, bevies in hand, to "name that celebrity/vegetable/musical score" and recall "who has won the most medals in this obscure sport: A, B, C or D".
It's a bit of fun, and an excuse to drink with purpose, but it's also a mighty tough competition.
As Blair Strang, who plays a pub quiz regular on TV One's new series Nothing Trivial says, "social competition in New Zealand man, there's no such thing, we are a competitive lot."
The idea for a show about a group of characters in their mid-thirties and early forties, whose lives intersect at a pub quiz comes from Rachel Lang and Gavin Strawhan, who recently masterminded Go Girls and This Is Not My Life.
"We had some characters in mind but we couldn't quite find the right place for them to come together. And then Rachel went to a quiz night with her brother and thought 'ah'," says Strawhan.
"We thought an underlying theme could be that these people are busying themselves answering all the small questions and hoping the big ones will take care of themselves."
And so emerged the stories of Catherine (Tandi Wright), Mac (Shane Cortese), Brian (Strang), Michelle (Nicole Whippy) and Emma (Debbie Newbie-Ward), who are all in something psychologists call "transition phases" - ie they've either hit crossroads or a dead end and something must change.
They meet in a pub called, The Beagle which Strawhan says almost becomes a character in itself. It takes its name from Charles Darwin's ship and is adorned with Victorian collectables.
"The Victorian idea was going out in the world and trying to collect the examples of God's work so hopefully if you put it together you might come up with the big answers, so we called the pub the Beagle after Darwin's ship, and thought we could tie in the whole idea of second chances, and that stage in life when you want answers," Strawhan says.
Tandi Wright's character, Catherine, the solo mother and general practitioner who has given up her job and home in France to look after her supposedly ill mother, seems to be asking herself, 'is this it?'
Dressed in classic, inoffensive tones, Catherine is the kind of uncompromising woman who likes the idea of sitting alone in a bar with a good book and a glass of wine.
"What I love about Catherine is that she has self-esteem, so she doesn't feel like she needs to please people, she is prepared to sit and let people rabbit on, she's not going to mop up the conversation and make them feel comfortable. It's not that she's arrogant but I think some people might perceive her as that because she doesn't want anything from them," Wright says.
The first episode will see her appease her meddling mother by going on a date with a wealthy man named Richard, who does not tick all her boxes of passion and romance.
"I think one of Catherine's biggest things is passion. I think she realises she is missing passion. She is a real romantic and would love to be swept off her feet by someone she is going to have a really great time with. She's not going to settle for anything less than that," Wright explains.
"It's an interesting conundrum and she's in the process of working it out. Is she lonely, or is she fine?"
Meanwhile Cortese's character Mac is wilting after his wife left him for a younger, more muscular model, and is dragged along to the local watering hole by his womanising friend Brian.
Cortese says he loves that the show is filled with real-life stories about good people, and expects it will strike a nerve with many New Zealanders who have been through exactly the same thing.
"It happens every day in this country. When people in their 40s or whatever decide that their relationships aren't right or things have changed in their lives and are going through crises or whatever. Mac's left to pick up the pieces and hold the fort with the kids. And it's quite nice to see that from a male perspective, because quite a lot of the time it's the male that walks out."
Despite the pain of what has just happened to him, Cortese says it has been refreshing to play a character that is not driven by the dark side, "a bright, normal happy, man".
"He doesn't die, he's not a god of fire, he's not naughty, so it was fun," he says.
"I have been lucky enough to play some fantastic characters, but this one here, to me, is one that I would love to be. I would love to have the ethics and morals and life of Mac."
Strang won't reveal which aspects of his character Brian are like his true self but says there were definitely traits that he recognised in himself.
He describes his character as a hard worker, and good bloke who knows what he wants. Certain events in Brian's past mean he finds it difficult to commit, and audiences will get a better understanding of why that is as the series progresses. While Catherine specialises in the French and medical trivia, Mac excels at general knowledge and brands, Michelle aces the celebrity and entertainment questions and Emma the school teacher knows all about cooking and animals, Brian shines in the sports and retro music sections of the quiz. "He is a product of the 80s," Strang says.
As none of the actors were pub quiz afficionados, they attended one prior to filming, where Strang says he won points for a question about the early 90s film Father of the Bride. Wright admits her trivia retention needs a little work, and Cortese hopes next time he attends a quiz there are a few questions about airline codes, so he can draw on his previous career as a travel agent.
The team didn't win, but looking around the room, the actors saw Nothing Trivial had created characters that one could find in any pub quiz in Auckland.
"You will recognise these characters because they are you, they are your friends, it's a show people can relate to because they will go out and they will meet these people," says Cortese.
He thinks people are ready for a show that is heartfelt, honest, and not full of swearing, and Wright agrees.
"I'm pretty sure my mum will love it, I'm pretty sure my mother-in-law will and competitive men, too. It's about the things we all go through on a daily basis, it's about family life, the complications of having children and balancing that with a private life, it's about the yearnings that haven't gone away, and that time of your life when you go, hang on, is this all it is," Wright says.
LOWDOWN
Who: Tandi Wright, Blair Strang and Shane Cortese star with Debbie Newbie-Ward and Nicole Whippy in Nothing Trivial, a new series written by Gavin Strawhan and Rachel Lang.
When and where: Wednesday July 20, 8.30pm on TV One
- TimeOut