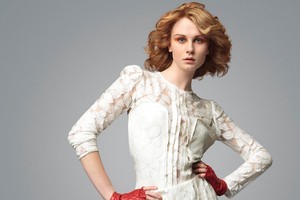 A contestant from last year's New Zealand's Next Top Model has taken to Twitter to have a crack at the current crop of wannabe models.
Lara Kingsbeer, who placed sixth, said the 2011 vintage made her "cringe". The 17-year-old wrote: "Omg watching top model ... Their posing on the runway made our season look pro! *cringe*."
But she and her fellow 2010 finalists were forgiving of some of this year's pretenders. Kingsbeer later tweeted: "Man Bridgette's b.e.a.u.t.i.f.u.l!!!"
The third cycle of the hit TV3 show is being picked up in countries as far afield as Estonia.
Executive producer John McDonald has just returned from filming in a "hot, exotic" overseas location with the contestants. "It was a great trip, we filmed several episodes out there."
McDonald said the competition was about to explode: "Keep watching. There are a few slow burners. If you keep girls in a confined space for a period of time, tensions rise."