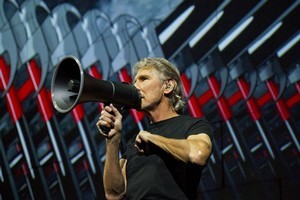 It's almost 32 years since Pink Floyd released their groundbreaking double album The Wall. Now its creator, Roger Waters, is resurrecting his towering creation with a spectacular live show, which he's bringing to New Zealand.
In July 1977, on the very last night of their In the Flesh tour, Pink Floyd's bass-player Roger Waters stood on stage, in front of a swarm of buzzing fans at the Montreal Olympic Stadium. It should have been the pinnacle of Pink Floyd's first ever stadium tour. Instead it turned into a debacle, with Waters spitting at a group of fans in disgust after witnessing their obnoxious, loutish antics all night long.
It was an episode that profoundly affected Waters, cementing his disillusionment with touring and fuelling his resentment of fans and fame. After that show, he confessed to music producer Bob Ezrin that he wished he could build a wall across the stage, to keep the fans at a distance when they played. His desire eventually laid the foundations for The Wall, a concept album that reflected Waters' growing feelings of alienation, disillusionment and despair.
"I got to the point where I just loathed playing in stadiums," he admits. "I kept saying to people on that tour, 'I'm not really enjoying this - there's something very wrong with this'.
"Then I got the idea of doing a show where the band's on stage and while they're playing, you build a wall in front of them, brick by brick, until it's finished - and that would be the end of the show," adds Waters. "Everyone said I was completely insane - that it was the worst idea they'd ever heard. Eventually, under pressure from the band, I softened my view and decided that maybe we could tear the wall down at the end, so at least there'd be light at the end of the tunnel.
"The more I thought about it, the more I began to explore the idea that there are incidents in everyone's lives that make them recoil a bit, like a snail, and that those become the bricks that we use to build a wall around ourselves, to keep bad stuff out," he adds. "The trouble is, a wall is not a filter - it keeps everything out. So, if you build a wall around you because you're frightened, then you also become isolated, cease to grow and eventually you petrify."
The more Waters pondered the idea, the more obsessed he became with it. The result was The Wall, a rock opera collection full of classic cuts like Comfortably Numb, Hey You, Run Like Hell, and Another Brick in the Wall, Part 2 that tell the tale of a character, Pink, who's paralysed by his feelings of alienation, abandonment, isolation and fear.
But Waters wasn't content with just a double album. He had much more grandiose plans. Consequently, he recruited director Alan Parker and cartoonist Gerald Scarfe - who had worked on the album's artwork - to help bring his vision alive on screen too, with their ground-breaking animated film. He also finally realised his ambition of performing The Wall in its entirety and having a 12m wall built, brick-by-brick, between the band and the audience, during the show.
It was a huge undertaking - and a costly one too. In fact, it was so expensive to stage that Pink Floyd lost nearly half a million dollars staging it in the 1980s because of its spectacular sets and extravagant props. Consequently, they performed The Wall only 31 times in just four cities. It's something Waters still regrets.
"I always wished we could have played more shows than we originally did but we lost a lot of money doing it because it was incredibly expensive to put together and, back then, people weren't prepared to spend as much on concert tickets as they do now," he admits. "Also, it was difficult to do, because we didn't have the technology we have now."
Fast-forward 20 years and Waters has decided that the show - and The Wall - must go on, at least for one more tour, across the globe, including New Zealand. But this time he's redesigned and rebuilt it with all-new materials and technology, making it a much bigger, bolder production than before.
"Technology has changed so much since we did the last tour. Back then, we were using a few old, rickety 35mm projectors stuck out in the middle of the audience and now we have 15 digital projectors, hung on trusses, which can project across all of the wall - and even on to a single brick if we want. That's amazing. It means we can use much more imagery in the show than before," he enthuses. "We're also using revamped versions of Gerry Scarfe's puppets, including his mother, wife and headmaster, so that's exciting."
From the outset, the result is a visual and aural feast, with a flurry of fireworks, pyrotechnics and a replica Stuka divebomber crashing into the wall during the show-stopping opener, In the Flesh. The rest of the show is similarly spectacular, with Water's famed creation rising brick-by-brick until it towers above the stage and obscures the band.
Scarfe's sky-high creations are equally majestic, especially his famous headmaster mannequin, which hovers menacingly above the audience during The Happiest Days of Our Lives and Another Brick in the Wall Part 2. Then, when the final brick is eventually inserted, during Goodbye Cruel World, the finished ramparts become a dizzying backdrop for a dazzling array of videos and visuals to be projected upon it.
Most poignant - and pointed - is a montage of hundreds of soldiers and civilians killed in various conflicts this century, including Gandhi, Iranian political protester Neda Agha-Soltan and Reuters' employees Saeed Chmagh and Mamir Noor-Eldeen, whose cameras were mistaken for weapons when they were gunned down by American soldiers in Iraq. Together, they highlight the horror, futility and waste of war.
Similarly, during Goodbye Blue Sky, planes drop bombs shaped as crosses, dollar signs, hammers and sickles, the Star of David, the Shell Oil sign and Mercedes-Benz logos, while during You Better Run and The Show Must Go On Waters and his band don neo-Nazi gear and hold a mock political rally, while Orwellian images and a giant, radio-controlled pig, with political slogans scrawled across its belly, rise above the crowd.
It typifies just how much Water's perception of The Wall - and its purpose - has shifted in the past three decades. No longer is it a simple, self-indulgent examination of one person's psyche and his real or imagined feelings of alienation and disenchantment. Instead, it delivers a hard-hitting message that's anti-war, anti-capitalism and anti-poverty.
"When we did this show before, it wasn't long after the Vietnam War, and right now we're in the middle of wars in Iraq and Afghanistan," explains Waters. "So, there is a very powerful anti-war message in The Wall now, just like then. But since I first performed this piece, 30-odd years ago, it has taken on some new meanings for me too.
"Back then I was angry and disillusioned: I found myself driven into defensive positions, because I was scared of things.
"Now I've come to realise that hidden away in the personal story, there exist far more general and universal themes about politics and society," he insists. "That's why I decided to try to create a new performance with this piece, while still using a lot of the things we had all those years ago."
When Waters conceived The Wall it was a way for him to distance himself from fans and fame.
However, the exact opposite has happened. That's because it's become one of Pink Floyd's most enduring, respected and beloved albums, with themes and messages that have united fans.
The enormity of its impact isn't lost on Waters who, these days, is much more animated, excited and charismatic than he's ever been. In fact, he's obviously revelling in the adulation showered upon him, especially at the end of the show when the wall comes crashing down and he's left standing, centre stage, performing Outside the Wall.
"You know, when I wrote this I maybe wasn't as excited, or appreciative of the fans or what we had as I am now," he admitted sheepishly during a recent show at London's O2 venue.
"Now I'm in a much better place - I'm happy, I can feel the support and I love it."
So do the fans, judging from their reaction to the show. Who can blame them? After all, The Wall is one of the greatest rock 'n' roll extravaganzas you're ever likely to see. And, with Waters nudging 70 by the time the curtain finally falls on The Wall's world tour, it's probably the last opportunity to see him perform it.
LOWDOWN
Who: Roger Waters, bassist/singer who left Pink Floyd in the mid-80s after being the driving force on 1979 album The Wall
When and where: Vector Arena, Sunday, February 19
Tickets: On sale Monday, July 11 (Ticketmaster pre-sale July 7, 3pm)
- TimeOut