American film giant Robert Redford talks to Peter Calder about his latest directing effort and his life in movies.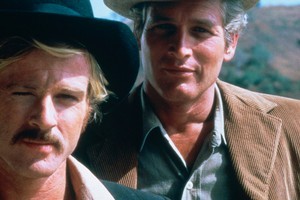 Fans of actor Robert Redford tend to forget he's also an accomplished director. His 1980 debut behind the camera, Ordinary People, won several Oscars including best director and best picture.
He also founded the Sundance Institute near his home in the Utah mountains, where emerging film-makers - including Taika Waititi, whose Boy got the Sundance treatment - develop their work. His latest film, The Conspirator, now in cinemas, is about the unjust conviction of a woman implicated in the Lincoln assassination and, by implication, the threats posed to the Constitution in times of national crisis. Redford spoke exclusively to TimeOut.
The Lincoln assassination is one of America's iconic stories...
Yes, and I like that about it, but when I thought the film was going to be just about Lincoln and the assassination, I wasn't interested because that story has been told over and over again. But this was a story beneath the Lincoln story that no one knew. The studio system had passed on it and it came to me as an independent film, produced by a company that wants to tell American stories [upcoming projects concern the ride of Paul Revere and abolitionist John Brown's raid on the Harper's Ferry armoury in the Civil War] and that's been my journey as an artist over the years.
The film has a political subtext which has echoes in the world after 9/11.
I tried to focus on the emotional arc of the relationship between Mary Surratt and Frederick Aiken [the lawyer who unsuccessfully defends her]. But it was Aiken who realised that the trial was a threat to the Constitution, to the laws that keep America balanced. There is always some special interest that wants to change the Constitution for ideological motives. This is one of the first stories that dealt with that. And there are a few lines in the film - at the end one character says to Aiken,"in times of war the law falls silent" and that's true.
A lot of your films whether as actor or director - Quiz Show, All the President's Men, The Milagro Beanfield War and your last one Lions for Lambs - have addressed the moral elements of public or political life. Would you regard yourself - and I mean the word in a positive way - as a moralist kind of film-maker?
Yes, I think so. Growing up in America I saw a lot of things happening that were threats to our moral base: McCarthyism, the quiz show scandals, the death of a president, Watergate, Iran-Contra. I lived through those and saw patterns that kept repeating themselves that were threats to our moral standing. And I think it is because we don't value our history; we have a short memory. I think I am a cynical optimist but I am an optimist and I want to believe that the moral foundation of our country can stand because if it doesn't I am not sure the country will stand.
You nearly became an artist and I know that you ended up in Paris and Florence in the 50s drawing on pavements. Did that time in Europe make a big contribution to the kind of person you became?
It absolutely was a huge change in my life. I had been kicked out of school - I was never a good student, because my mind was always outside the window; I wanted to be out in the world. Anyway, I was asked to leave and I saved enough money to last me for a year and I would travel in different countries and learn about other cultures. In doing that, I realised how little I knew about my own country. I would get challenged by students in France about US policies and I didn't have answers for them. I was sort of humiliated. And I began to look at my country from other countries' points of view and so when I returned a year later and landed in New York I had a much broader view of the US, the positives and the negatives.
Is it true that you spent your last $500 buying your first two acres in Utah?
Yes, it is true. I was in the theatre in the early 60s and I didn't have much money and I knew that someday that an important part of my life would be in wilderness. I now own 5500 acres there and they have been preserved for nature and of course also as the home of the Sundance Institute.
Our annual film festival is next month and of the American independent films in there, almost all have some sort of Sundance connection, whether they were worked on in a screenwriters' lab or premiered there or won a prize there. Has Sundance effectively become the gatekeeper of the American independent film industry - perversely a kind of independent studio?
When I started Sundance in 1980 I started with the labs to bring a new space for film-makers with new voices to work and develop. Then I realised that they had nowhere to go with their product and that led me to start the festival as a community where these artists could come to see each other's work. And then it grew and suddenly we had a platform to invite film-makers from other countries. Taika Waititi developed Boy at our lab and we premiered it at our festival. So it's become an international organisation now in which we help and support film-makers from other places.
Is the studio system doomed now to produce franchises rather than tell stories?
Well, I think the studios and the independent film industry are both going through a very difficult time right now because of the economy. The studio system has gotten more and more narrow over the years as they follow the money and the technology, and a lot are franchise films like Pirates of the Caribbean. As that happened I was concerned that they would lose the side of the cinema that interested me, which is the more humanistic side - real life and real situations. In Hollywood, it's very chaotic as they try to get to grips with the impact of technology - whether it be special effects or 3D or new forms is distribution involving the internet - and that's what you're seeing with some of the misfires in the mainstream.
What's your favourite Robert Redford performance?
I don't have one. There are so many films that I've made that I've liked for different reasons. The most fun I ever had on a film was Butch Cassidy - I just loved to be out in the West riding horses and I developed a good friendship with Paul Newman. And there were other films they said we would never get made. You'll never make All the President's Men because no one wants to watch a film about politics or Jeremiah Johnson because it was before cowboys and we don't know what to do with a film like that.
I read somewhere that you hate looking at your own performances, except the one in The Sting.
I don't like looking at myself but when I did that movie, most of the time Paul and I didn't know what was going on. The director, George Roy Hill, had this story with all these pieces to it and we never knew how it fit together. But it sure was fun to make and when I saw it I thought it was really good.
I see you got a lifetime achievement award from the AARP, which is the equivalent of our Grey Power.
Yeah, I said "wait a minute, what's this about? I'm not done yet".
You're 75 this year, but obviously not intending to sit in a rocking chair on the porch anytime soon.
Nope. The next film I am doing is about the result of what happened when the youth revolution collapsed on itself and all those radicals went underground to hide from the FBI. It's about what it was like living for 30 years without their true identity. It's another story that America has forgotten about.
Lowdown
Who: Robert Redford, actor, director and American movie maverick
What: The Conspirator
When and where: Screening at cinemas now
- TimeOut