This week's new Hollywood superhero movie has strong New Zealand connections - and not just because he's green. Michele Manelis reports.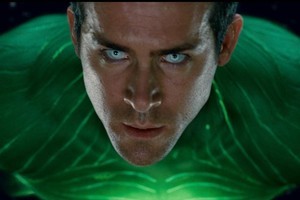 It's almost midnight on a hot and humid summer evening in New Orleans as director Martin Campbell takes a break from his shooting schedule to discuss the comic strip he's bringing to life.
The expatriate New Zealander has a reputation for helping reinventing pop culture figures on screen - he did the Zorro movies and the Bond game-changer Casino Royale. But taking on Green Lantern is quite a leap.
For one thing, it's the first movie for the cosmic character who is one of DC Comics' icons from the Justice League of America, which includes Superman, Batman, and Wonder Woman. But he's less well-known than the rest of that club and he faces competition at the multiplex from Thor, the X-Men prequel and the forthcoming Captain America.
Even Campbell was unfamiliar with Green Lantern's legacy when he was first approached by Warner Bros to do the movie.
"Well, Green Lantern's been around since 1940, but as I was brought up in New Zealand, I can't remember ever seeing it.
We read Superman or Batman."
And he admits it was an unusual choice for him.
"Yes, it's a comic strip, and I've never done a superhero movie before, but you have to treat it as seriously as though you were doing Shakespeare. Clearly, on a technical level it's very different from what I've done in the past. It's also very difficult, all of that, but I approach it as I would Hamlet."
With a budget in the neighbourhood of US$150 million ($183 million), a large New Zealand contingent was assembled and relocated to America's "Big Easy" (New Orleans). Originally intended to be shot in Australia, with the decline of the US dollar, it became apparent that funds would stretch further in Louisiana, which also provides an attractive tax-incentive program for film productions.
New Zealand actors Temuera Morrison (Abin Sur) and Taika Waititi (Tom Talmaku) were pivotal characters in the story, and behind-the-scenes staff included production designer Grant Major and Oscar-winning costume designer Ngila Dickson.
Says Campbell, "For a small country, there's a lot of New Zealanders in the industry. I don't know why, [there] just is."
Perhaps with Peter Jackson's status in Hollywood, it helped make these antipodean professionals in front and behind-the-camera, more employable?
"No, I don't think so, at all. Even before Peter Jackson, there was Roger Donaldson, and Jane Campion." He pauses. "But Pete certainly elevated everything to way up there."
For those uninitiated with the green-clad legend, the original was created in the 40s with Alan Scott, a young railroad engineer whose metal lantern was made into a ring of fantastical powers. However, sales of the comic series waned after World War II. It wasn't until 1959, when test pilot Hal Jordan stumbled across an alien ship which crashed to earth, that the series was reinvigorated.
There are many Green Lanterns in the Green Lantern Corps and they function as an intergalactic police force. Each member is in possession of an infinitely powerful ring which helps to enable them to protect and serve the universe.
Interestingly, the studio didn't jump at the origin story of Alan Scott. Explains Campbell, "Well, Hal Jordan is the most popular of the Green Lanterns. He's a fighter pilot, a shoot-from-the-hip maverick, and he's a little bit cocky - a la Ryan Reynolds. He was the perfect guy to do it."
The cast is comprised of Mark Strong, Blake Lively, Peter Sarsgaard, Geoffrey Rush, and Tim Robbins. None of these actors are what you'd describe as marquee names, however Campbell isn't fazed.
"Well, it worked for Spider-Man, didn't it? And it worked for Superman, actually, at the time. I don't think it matters who you have in the part as long as he's right and as long as he's good. Batman, let's face it - Christian Bale was no commercial name. Neither was Tobey Maguire. Neither was Chris Reeve at the time, and the same [with] this. In fact, you could argue that Ryan Reynolds is probably better known in some ways than a lot of those guys."
The physical requirements meant Ryan had to bulk-up for the role.
Says Reynolds, nine months later at Wonder-con, the comic book convention in San Francisco: "The training went on forever. It was exhausting. I started working out and going on the diet six or seven months before we even started shooting, so it was basically a year non-stop. I gained a good chunk of weight. I don't remember the exact number, but I can tell you that as big as I got, it disappeared in what felt like six days," he laughs.
"It was a relief when I could stop working out like that and then all my old clothes fit me again. When the shoot ended, it wasn't food I craved. All I wanted was a big, hot bowl of rest."
Inhabiting a comic book character brings some trepidation in terms of authenticity - especially when it comes to reciting "the vow" taken by each of the Lanterns.
Says Reynolds, "When I had to say the oath for the first time it was a little nerve-racking and it's something a lot of people know inside and out. I tried to handle it with kid gloves."
Unlike the bulk of celluloid comic book heroes over the past couple of decades, Thor, and now Green Lantern spend a great deal of time on other worlds replete with complex cultures and environments.
Says Campbell, "With most of the other superheroes, they're all confined to one city and the trouble with that becomes, of course, that you're kind of limited. Green Lantern goes to another world and has the universe to deal with. Superman barely ever gets out of Metropolis, and Spider-Man is always sitting on his ass."
Much has been made of Reynolds' "suit" or lack thereof, in that it wasn't a standard spandex creation. Reynolds explains, "Well they didn't paint anything on me. I wasn't doing a Vanity Fair cover," he laughs.
"I was wearing a motion capture suit instead. I knew going in that we were going to go the CGI route. The suit is made of energy because it comes from the character's mind. It's not a tactile fabric. I wasn't wearing a good, poly-cotton blend."
The suit is an important factor and for the hardcore aficionados, the stakes are almost as high as the credibility of the character itself. Says Campbell.
"Grant Major and Ngila Dickson came up with the concept of the suit. It's a very long process and there was a lot of discussion about the colour, the design, the look ..." He leans forward.
"After Catwoman, you'd better be bloody careful. That suit certainly helped to sink that movie."
-TimeOut