Shihad frontman Jon Toogood's solo album ended up being a collaborative project with some of our finest musicians. Scott Kara meets the Adults.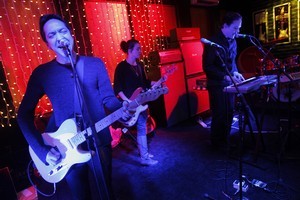 Shayne Carter and Julia Deans are a little vague about when they first met Jon Toogood. "I can't actually remember. When did I first meet you?" wonders Carter, looking across at Toogood who's slumped on the couch next to him in "the Beatles room" at Auckland's Backbeat Bar where they have been rehearsing.
The Shihad front man, now leader of new band the Adults, remembers straight away. "The first time we talked properly was back stage at the Palmerston North uni when Dimmer supported Shihad. I'm useless with dates but it was an Orientation show. It was quite a while back and you were going, 'You're an angry man Jonny Toogood. You're an angry man', because I'd kicked the [foot]ball on to the roof. But I was pretty well chuffed to be playing with you guys - and HDU as well."
And while Deans is a little more sure of their first meeting many years ago - "It might have been that tour we did with you guys and Weta," she offers - it's Toogood who has the details.
"Oh, The General Electric tour. You had a crazy haircut. Did you shave your eyebrows or something weird?" he asks.
"No, I used to wear mascara on them."
"You looked freaky."
These days the three know each other well and joke about sharing each other's "arse pain" and being "brutalised" during the making of the Adults album, due for release on June 20, and being the core of Toogood's new band because "we're the most talented out of all of them".
Although Deans isn't too sure about sharing a tour van with renowned farter Toogood next month, when the Adults hit the road.
"There are going to be some definite window-open-in-the-van-moments with Jon's arse being shoved out of that moving object," she laughs.
And in the past six months the trio have got to know each other on a whole new level during the writing and recording of the album which conjures up many different moods and moves from the looming lilt of Long Way Off to prettier, more poppy songs like A Part of Me.
It was a record that started out as a Toogood solo project and became a collaborative album with Carter, Deans, Moa and a host of others including Tiki Taane, Ladi6, Anika Moa, Warren Maxwell (Little Bushman), and drummer Gary Sullivan (JPSE/Dimmer), who has to be New Zealand's best sticksman.
"An amazing drummer. He's a man of taste. And he's got great taste with the parts he lays down," says Toogood.
Carter, who has played with Sullivan a lot in the past with Dimmer, says "all the beats he plays on this record are like phat Dr Dre loops, but being played live".
The experience of the Adults made 39-year-old Toogood feel optimistic about where his life as a musician is headed. While it's not his mid-life crisis album, it's certainly a revelation-type record.
"It made me go, 'right, I haven't tried that before, I haven't tried that before'," he says.
After 22 years in Shihad he had many songs to record for his debut solo release but once he started making the album he found the wishlist of collaborators he'd drawn up brought far more than their playing skills to the sessions. They brought their own songs and the will to write songs together.
"I didn't give a ****," he says of his songs falling by the wayside. "As soon as I started getting a feel for being in the room with someone else, and something new started happening, that whole not knowing what's going to happen was the bit where I went, 'Oh wow'.
"You go to sleep at night quite happy with the fact you are totally different from last night because it's all new again. That's what makes the future really bright to me."
When Toogood asked Carter and Deans if they were up for making music together they jumped at the chance.
"I really like playing with other people," says Carter, "because other parts of your musical personality come out. And it's really nice to play outside your own square and that's what being a musician is all about. It's like having a really good conversation and you don't have to say anything - which I actually really like," smiles Carter cheekily.
But for someone who prefers to let the music do the talking, he's chatty and open.
"I think people reveal more about themselves when they play music than they do when they're having a conversation - and it's a really satisfying and quite a deep way to communicate with another human being. Playing music is such a naked thing."
Toogood: "I was pretty intimidated coming round to your house."
"Well, especially when I was half naked as well," smirks Carter.
With which Toogood and Deans both crack up. They get along well and it comes through in the songs on the album, of which Carter has co-written five and Deans three.
Deans says it was the first time she'd written lyrics with someone else. "I find lyrics writing such an intense personal thing anyway, agonising over them for hours thinking this sounds sh*t, but working with someone else, and someone I respect too, worked out quite well."
And Carter describes a recording session at The Lab in Auckland with Toogood and Sullivan "as one of my favourite recording sessions I'd ever been involved in".
They were holed up there for two days improvising and came up with four songs on the spot, including the escalating primal rock of Nothing to Lose (with Ladi6 adding an incessant soul serenade), and Long Way Off, a duet that sounds like the perfect union of Shihad and Dimmer (although it perhaps leans more on the Dimmer side, which given Toogood is a big fan of Carter's music, is no surprise).
"For me," says Carter, "as a songwriter you spend so much time constructing songs and to actually sit down and create something on the spot that's what being a musician is all about.
"You are responding to the noise that's happening in the moment and that's when magic happens.
"And you can contrive music as much as you want but when you can grab it out of the air like that it's a really magical thing, and the songs sound really natural and have a life of their own."
Doing the album was timely for Toogood since he had some downtime from Shihad following last year's Ignite album. But it's also a way for these three - and many of the other collaborators - to keep music-making exciting and fun. "I really like making music with those three guys in Shihad. It's ******* awesome," says Toogood, "but when you're working with someone else they play sh*t that I'm not usually around and you have to respond to it as a conversation in a different way and use your brain."
"As opposed to working with someone who you can finish sentences for," adds Deans.
"Exactly, and that means you are super-tight which is cool, but it's really nice to be involved in the chaos of not knowing what the **** is going to happen."
The Adults reminded him of his time in SML, a fun band made up of Shihad and Head Like a Hole members that played around the traps in Wellington in the 90s. "There were no expectations because you didn't even know what was going to happen."
Carter: "Without being martyrish or suffering about it, songwriting can be quite a lonely occupation and you spend quite a bit of time in your own head and in your own room.
"It's actually really nice to go and work with other people, and realise that they find it a pain in the arse as well. It can be a difficult process so it's good to find other people go through that sh*t as well."
Toogood: "Also, I reckon chemistry is really important. You get different things from different people, and when you combine those different worlds you come up with completely different music and it's ****** great."
LOWDOWN
Who: The Adults
What: Jon Toogood and friends, including Shayne Carter and Julia Deans
Debut album: The Adults, June 20
Live in store: JB Hi-Fi, Queen St, Auckland, June 21, 12.30pm
Touring: Gravity Bar, Hamilton, July 14; Bacco Room, Auckland; July 15 & 16; Leigh Sawmill, July 17; Cabana, Napier, July 22. For a full list of tour dates see theadults.co.nz
-TimeOut