About to deliver a much anticipated new album, the Arctic Monkeys talk about surviving the overnight success of their younger years to Barbara Ellen.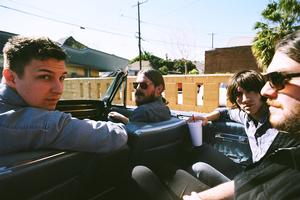 It's probably a good thing that when I interview the Arctic Monkeys I get to speak to their frontman, Alex Turner, three times. The first time, we meet in a private members' club in east London (where Turner lives with his girlfriend, TV presenter Alexa Chung) and he is quiet and reserved, with lots of silences punctuated by flashes of dry Sheffield humour. The second time, at the photo studios with the rest of the band (guitarist Jamie Cook, bass player Nick O'Malley and drummer Matt Helders), he seems more relaxed.
Clearly Turner is slow to burn with new people, as is the rest of the band.
It goes some way to explaining how, in the early days of their meteoric rise, the Monkeys gained a reputation for being difficult, uncommunicative - "mardy bums" if you like. But when I ask Turner about this, he describes it as "a bit of a defence mechanism that kicked in. When the first album blew up, we shut a lot of people out, just to try to keep some sort of control."
You were very young - was it a form of self-protection? "I suppose," says Turner. "It's quite unusual to have all these people asking questions. Still now, talking about myself is strange. If you do it for a long time, it puts you in a weird place."
You could become a raging egomaniac? "Yeah, that's it."
The Monkeys were barely 20 at the time of their 2006 debut, Whatever People Say I Am, That's What I'm Not. It remains the bestselling debut in British history, beating Oasis, going quadruple platinum and garnering Brits, a Mercury and an Ivor Novello award, not to mention that namecheck from Gordon Brown ("They really wake you up in the mornings.") Going on to headline Glastonbury in 2007, the Monkeys were the first of the MySpace bands to be promoted on the internet by fans, via free demos and file-sharing - and were credited with scaring awake a sleeping music industry. Then followed 2007's Favourite Worst Nightmare, 2009's Humbug, and now the release of their fourth album, Suck It and See. Everything considered, not bad going for what Turner describes as "not centre-of-attention kind of people".
In photographs, Turner's pale skin and huge brown eyes, peering up under mussed hair, can make him look almost Bambi-ish. In person, in leather jacket and skinny jeans, he's "indie-handsome", as can be confirmed by the many fan-blogs devoted to discussing his gorgeousness. (My favourite is the earnestly titled, "What do you love most about Alex?") At first when I speak to Turner, there are eerie pauses and a lot of "it's hard to recall ...", more than seems feasible for a 25-year-old. But when he warms up he is sharp, droll and, it turns out, genuinely bad at remembering certain details, such as writing the first lyric, giving the first autograph: "It all seems so far away now." His initial aversion to eye contact reminds me that, in the early days, rehearsing in his parents' garage - "Just wanting to make a row, make friends laugh" - Turner tried to find someone else to sing in the band.
Does he still find it hard to think of himself as a natural frontman?
"I've grown into it, though I don't think it was destiny or anything." When I ask him whether he was shy and quiet as a young boy or a tearaway, he replies, "Definitely the former." As a personality type, would he have been happier not being the frontman? "I'm not sure. I think I like the idea that I would have, but I'm quite a control freak." He grins. "There's a bit of that."
The good news is that Suck It and See is brilliant. Songs include Black Treacle, the first single, Don't Sit Down 'Cause I've Moved Your Chair, She's Thunderstorms, The Hellcat Spangled Shalalala and Love is a Laser Quest, and there's not a dud among them (except, perhaps, the monotonous Brick by Brick). It's full of tight melodies, prowling guitars and reflective yet pithy lyrics, bringing to mind everything from Captain Beefheart, the White Stripes and the Beach Boys to Nick Cave, the Jesus and Mary Chain and Iggy Pop (the group have become huge Stooges fans), all powered by a dark rock/country pulse.
It's a departure from the provincial roar of the first two albums, where songs such as I Bet You Look Good on the Dancefloor, Fluorescent Adolescent and The View From the Afternoon featured Turner's pitch-perfect lyrical reportage on youth culture in Sheffield (girls, mates, chips, cabs, local poseurs).
Suck It and See also differs from the more opaque, guitar-heavy third album, Humbug. Partly made in the Mojave Desert and produced by Josh Homme from the band Queens of the Stone Age, Humbug received what is politely known as a mixed reception. But Turner is adamant that it was necessary. Working with Miles Kane, the former frontman of the Rascals, on the side project The Last Shadow Puppets made him creatively restless. And while the Monkeys have recently "made friends" with their first album, for a time they couldn't face their earlier stuff.
In particular, Turner felt that Favourite Worst Nightmare was too much of a rush-job.
"It's fine, just not that considered. Though I'm really glad we did it - otherwise I might still be sitting around trying to write Hallelujah," he says, with a slight roll of his eyes. "After that, we all thought we needed to move on." Break with your past? "Yeah," he says. "If only to prove that it weren't all about those 12 songs about the chip shop."
It must be hard though, after that initial huge impact (awards, plaudits, bestselling albums by 20, Glastonbury by 21), to keep replicating that kind of momentum? The Monkeys just shrug - it's not an issue, it's still exciting.
According to Turner, there was never a masterplan anyway. "One thing just led to another until that thing became 'We're going to play Glastonbury'. That was a turning point. You do this thing that seems huge, you're really nervous, you don't think you perform well, it's raining, the sound doesn't seem loud enough. Then you come back down to earth." After Glastonbury, the Monkeys played a club in Oslo. "I remember this feeling of, 'That was it, you got to there, now where do you go?' And the answer is 'You go to Oslo'."
How does he feel about fame? "I've become more comfortable with that. At the same time, it's not like I'm Lady Gaga."
Fire and the Thud, on Humbug, includes the line "I'd like to poke them in their prying eyes" and I ask him whether it's a comment on media intrusion. "No, I wouldn't write songs about that."
Fire and the Thud is also supposed to be about Turner's decision to move to New York with Chung when she was working for MTV. Does he think their relationship magnifies the attention they get?
"I suppose it does, yeah."
Following your girlfriend to New York for her work is quite "new man" for a Sheffield lad, I say.
"I was glad she asked me to go with her."
But moving to America for someone is pretty special - really rather lovely.
"I didn't think of it like that. I thought, the pleasure's all mine." After a brief pause, Turner adds: "The first time I went to New York it was really exciting and I thought, given half the chance, it would be nice to live there - the same with London. So if you get something to give you the impetus that's great ..." His voice trails away, as if to say: "That's your lot."
Clearly Turner doesn't appreciate people nosing into his private life, which is fair enough. However, there is no denying his lyrics have changed - in places, become more thoughtful, tender - and part of the reason may be that he fell in love. There are songs on Suck It and See where he sounds in awe of one woman, others where he sounds in awe of all women. Certainly, there seems a difference between the sentiments of Love is a Laserquest ("I'm sure that you're still breaking hearts with the efficiency that only youth can harness"), or the title track ("Your kiss, it could put creases in the rain"), and a song from their first album, such as Still Take You Home ("I'm having a job talking to you").
In that track, the window on the male teenage brain is funny rather than offensive, but there's no doubting the song is more about testosterone than emotion. Would Turner agree that when he was first writing about girls, there was a lot more sexual aggression?
"I suppose so," he says, "but there's always been a hint of romance to the lyrics."
In the past, Turner thinks he used to put either too much of himself into the songs or too little. "I needed to strike a balance between the two, and hopefully with this album it's like that." For a self-confessed "control freak", is it hard to reveal feelings? "Yeah, but often there were things in the songs that'd mean something to me, but they're disguised - I'd hide stuff. I think it's because at first I used to write so directly and that bled into me wanting to reject
that and, you know ... just be the walrus for a bit."
There was also definitely a sense of social commentary in their earlier stuff - the kind of lyrics that could go into a space capsule to represent a moment in place and time. "While it was describing those situations, I wasn't necessarily offering an opinion on them," says Turner.
What do they think the job of a rock band is?
"Entertainment," says Helders. "I can't think what else it would be."
Really? There are other levels, surely. When discussing the human impulse to make a mark Turner says: "I remember Leonard Cohen talking once about wanting to move to New York to be a writer and, it's like, he just wanted to be good.
"There's nowt wrong with that, I think."
Certainly you get a sense that Turner has grown into more than just the singing. Four albums in, he has finally decided to publish his lyrics.
Oddly, considering his awards, and quite touchingly, he says it took him time to identify himself as a songwriter.
"I just misunderstood what it was, I think. But then I started to recognise that it was a craft, you know, something you could get better at. Then it dawned on me - I do write songs. That's me."
LOWDOWN
Who: Arctic Monkeys, former Britrock upstarts, still on the improve
What: Fourth album Suck It and See
When: Released on Monday
Hear it: We're streaming the new Arctic Monkeys album, Suck It and See until its release on June 6. It's a controllable stream, so you can start it when you like, and skip tracks forward or backward as you see fit. Find it here.
- TimeOut / Observer