How did the hirsute Zach Galifianakis become such Hollywood hot property in films like The Hangover and its sequel? Michele Manelis asks him.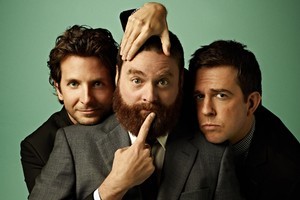 The wolfpack has returned for another night of debauchery in The Hangover Part II. The inevitable sequel to 2009's surprise hit, raking in US$467 million (NZ$588) worldwide, follows the quartet to exotic Thailand. It's a perfect backdrop for lead instigator Alan, played by Zach Galifianakis, to unleash another dose of mayhem on his buddies, played by Bradley Cooper, Ed Helms and Justin Bartha.
Galifianakis finds himself, at 41, Hollywood's latest go-to funny man. In person, the North Carolina-born actor/comedian of Greek descent, like most comedians, is low-key and quietly spoken.
"I got really lucky with this character. Alan's really easy to play and a lot of fun. He's dumb and has no idea about what's going on around him. I've always been an admirer of people like that. I love to observe people who aren't very self-aware, and Alan is certainly that. I don't know what it says about me, but it comes naturally," he laughs.
Fame brings some unexpected perks, and no one is more surprised than Galifianakis to see his bearded face gracing the US April cover of the glossy GQ magazine. Inside he's featured posing in various generic "cover boy" scenarios, from a tuxedo-clad "sophisticate", to the tongue-in-cheek, look-at-me-in-a-bathtub with strategically placed toy ducklings. Was this a commentary on the usual hard-bodied gym types foisted on the general public?
He laughs. "I don't really look at it that way, but I suppose it is. I guess, for cover boys like myself..." he says, stopping short, shaking his head. "That's not going to sound good, is it?" He laughs. "But you're right. They're usually svelte-y, pretty boy types. I don't think I'm that. So, it's a bit of a departure. But good for them. Good for GQ! It's probably the worst sales they've ever had."
The Hangover director, Todd Phillips, his biggest fan, cast him in last year's hit comedy, Due Date, opposite Robert Downey Jr, grossing US$211 million worldwide.
"It was only a matter of time until somebody was going to pop him," says Phillips. "Zach is a huge talent, and he'd been in other movies but I don't think he was ever used properly. I feel responsible in a good way, just in introducing him to a huge amount of people. But Zach is ultimately Zach. I loved doing Due Date with him, and of course the first Hangover. We've really had a good run together."
Dealing with the double-edged sword of celebrity doesn't come easily to Galifianakis. He says, "I don't deal with it very well. I don't like it. I think especially for a comic, to have people recognise you, isn't good. My energy now goes into trying to deflect people talking to me in restaurants.
"I'm not running for mayor. I'm just an actor and if I had my way I would rather be left alone."
He grew up a middle child in suburban North Carolina; his father was a heating oil vendor, and his mother ran a community centre for the arts. His grandparents emigrated from Crete, and he was baptised in his father's Greek Orthodox religion.
"I used to perform sketches for my parents, usually about the Iran-Contra affair," he says, of his first audience. "I know a lot of comedians come from an abusive family situation, but I had a great childhood, a really supportive family. My family is a bit strange in their own way, but both parents were very loving. Maybe too loving. There was too much love in my family," he laughs.
As a standup comedian, he has and continues to do live performances. He says, "I don't know how funny I am, but I'm still in coffee houses and clubs." He's also appeared in small but memorable roles in movies including: Dinner for Schmucks, and Up in the Air, and recently in a lead role in the comedy drama, It's Kind of a Funny Story.
Carving out a niche for himself, he also needs to be mindful of being stereotyped as "the funny fat guy". He says, "I've put on weight, probably 25 pounds in the last three years. I don't know if that's why I've got more work. I hope I have more to offer than just that, but it does help this character for the Hangover franchise."
Like a lot of comic actors, Galifianakis isn't "on" when there's no camera rolling. "I don't feel that kind of pressure. As a matter of fact, when I'm one on one, like now, I'm pretty quiet and reserved. When I get into a group of people, I can become obnoxious. I'm not sure what that's about."
Does Galifianakis fall into the classic category of the comedian who, underneath, just wants to be taken seriously?
He pauses. "I think I have a want to do serious stuff. I like getting emotion out of people, whether it be laughing, heartfelt, or sad. I hope people give me the opportunity to do different things.
"And, yes, like a lot of comics, I do want to be taken seriously. But comedy isn't about getting awards. People congratulate themselves all the time in this town, and that's the opposite of what comedy is about.
"You're not supposed to be accepting trophies. You're supposed to be in the back being mad that people are getting trophies."
LOWDOWN
Who: Zach Galifianakis
What: The Hangover Part II
When: Opens in cinemas 26 May
-TimeOut