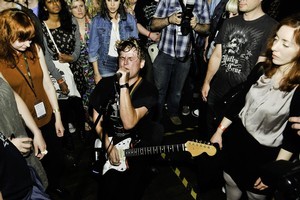 Great Escape has always been our favourite of those international 'music industry' festivals. It has a beautiful setting in Brighton and all the venues are within walking distance. It has this creepy party-by-the-seaside vibe to it, but also plenty of places to go hide if it all gets too much.
2011 was no different. We drove down from Birmingham in the early morning to make our 11am soundcheck for the New Zealand music showcase. We arrived in Brighton completely exhausted.
After sound check there was a queue outside waiting to get in already. Rodney Fisher opened the NZ show and was great (except for someone's phone going off through the PA speakers).
By the time we played the room was packed and there were about 200 people outside trying to get in. We were upset that people who had been queuing to see us couldn't get in... but I guess these things happen.
Michael (Prain, drummer) disappeared to park the van before we had to play but we managed to find him just in time and it was a great show.
It was nice to see people singing our new songs.
Phoenix Foundation played after us and it was great to see them in a small-ish venue. I haven't seen them in a small place since 2001.
After we played we had to do press. We chose to do this in a pub by the sea, which helped us relax after running down half the country and playing in a room where you could hardly breathe (maybe the last 45 shows were finally starting to catch up on us).
Doing interview after interview after a few drinks probably wasn't the best idea but I'm sure it will make for interesting reading. Some of us went to see a few bands play and some of us decided to stay in the pub till we had to play our next show.
When we got to our official showcase there were two bands before us and people still queuing to get in. We had a slight incident with the venue security convincing them to let in Michael's family due to capacity but it all worked out fine. Then we played our second show of the day and somehow they had managed to squeeze in double the number of people from the earlier show.
It made the venue almost impossible to breathe in and also impossible for our friends to get in. The show was really good other than that.
This was our third Great Escape and I think this was the best by far. Not only because it felt like all the hard work of the past few years was finally paying off in this fickle wee country, but also we got to see some great bands and sit by the sea and catch up with old friends.
Yeah that was a great escape for me.
*Die Die Die's latest album Form was released in July 2010 and the band are set to record their next album in the coming months between international engagements.