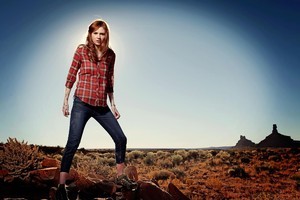 The new series of Doctor Who is darker than ever and the good Doctor is more wacky and erratic than usual.
But Karen Gillan, who plays the Doctor's fetching and fearless companion, can't really talk specifics about what's coming up when the Tardis resumes its travels next week.
"We've managed to keep a lid on the press over here by begging them not to say who dies," she laughs down the phone from her flat in Cardiff where the majority of the show is shot.
The PR people in New Zealand were in a similarly secretive mode at a recent screening of the first two episodes of the show which starts on Prime next Thursday. Cellphones were bagged, and taken away, and contracts were signed swearing those watching to secrecy.
So let's just say the latest season of the regenerated Doctor Who - which started again in 2005 under the guidance of producer/screenwriter Russell T. Davies following a 16-year absence - begins with Amy, her hubby Rory, time-traveller Dr River Song, and a mystery man being summoned to a meeting point in the middle of the Utah desert.
And that is about all that can be said without spoiling it.
Although, there is a cracking and hilarious scene inside the Oval Office with President Nixon.
"We've got Nixon, how cool is that?" says Gillan.
And, she teases, there is a "big huge twist" coming between Amy and the Doctor later in the series. "When I opened up the script I went, 'Noooo!'."
It's fair to say Amy faces a far more emotional and harrowing ride than last season - and there is a particularly heavy scene at the end of the first episode.
"I can't really talk about that. I just don't want to spoil it."
What 23-year-old Gillan - who joined Doctor Who last series at the same time as 11th Doctor Matt Smith - can say is that her second series on the show has been more challenging.
"First of all I had to put a change in there because the universe has rebooted and she now has two versions of her life in her head: one where her parents were gone and she is with the Doctor, and the other where she grew up with her parents and they met the doctor at a wedding. So that's going to change a person," she says. "But also, last year, Amy always had these walls up so she came across as feisty, but you'll see those walls come down and see her vulnerable side. Hopefully that's what I've done anyway.
"It is going deeper and deeper with Amy and I'm having to explore new territory. There was one thing in the series that was just so emotional, which has never happened to me, so I had to go and talk to people it had happened to."
The new series is also likely to transport you back to the days when the Daleks had you hiding behind the couch dribbling with fear. It's dark stuff.
"Yeah, it's quite scary," says Gillan. "But the kids will be fine. It's the adults we've got to look after," she hoots.
Gillan also reckons the writers are playing up to the Doctor's eccentric side a bit more. "Which is such a good side of him. And it is getting very dark at the same time so it's a nice contrast. It's just that the stakes are higher now and Amy is playing with fire too and she's in very dangerous territory."
The Pond character is a break-through role for Gillan following a career in modelling and some small TV roles, including a minor part in Doctor Who during 2008.
"That familiarised me in the ways of Doctor Who," she says, because she admits she was no "Whovian" and had to do her research before going for the role of Amy.
"It has completely transformed the possibilities of what I can go off and do now, which is a really nice position to be in, so I'm just trying to make the most of it."
The young actress is tight-lipped about whether she's in Doctor Who for the long haul, saying her fate is in the writers' hands.
"I know Amy's time has to come to an end at some point, and I'm sure she'll get a good send-off when it does."
But while Amy's days might be numbered she says the show could go on forever. "The key to longevity is reinvention and that's what Doctor Who is all about."
LOWDOWN
Who: Karen Gillan as Amy Pond in Doctor Who
When: Starts Thursday May 19, 8.30pm on Prime