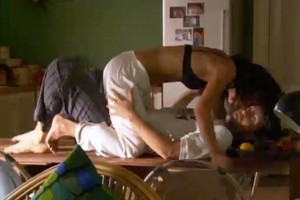 While I've only watched Coronation Street in passing over the years, from what I've seen recently, the murder plots, dodgy affairs (yes, Kevin, I've seen you in bed with that floozy. Poor Sally), and hot young things make it far more appealing than years past when Ena Sharples' creepy hairnet was the most intriguing thing about the show.
Coro's increasingly sordid story arcs and Home And Away's much-publicised raunchy romp during its 5.30pm slot has made what's too steamy for early-evening television a hot topic. There are calls for the networks to be more responsible with what they screen, which, let's face it, is never going to happen because ratings rule.
So, it seems, it's up to you and me to play chief censor.
Dealing with the new age of sauciness on the telly institution that is Coro is easy. The simple fact of the matter is: kids should not be watching Coro Street because it's not cool. Just imagine the schoolyard ridicule if little Charlotte piped up about Kev's romp in the sack - or at the office - with Molly.
Lame.
There are far more important things to discuss, like what cupcake bra should one wear to the Katy Perry concert. Or whether Murray and Vasa can keep their sordid affair under wraps on Shortland Street. Or what brand of vodka the kids from Skins are slugging. Argh. Crikey. Kids these days.
So while Coro is easily dealt with, the vetting of other shows is more complicated. The solution is to turn off the box if you don't want them to watch it (but that impacts on your own entertainment options). Then there's the "go read a book, listen to some music, or play on your iPad (just don't let me catch you surfing porn sites)" solution. And you could always talk them through why Home and Away's Liam and Martha are having a casual sexual relationship.
I have to admit this is fine for me to say, because I've got it easy at the moment. For starters, my little girls are still too young to fathom what the boys and girls from Summer Bay are getting up to and, thankfully, they wouldn't make sense of the puerile innuendo of Two and a Half Men.
But 3-year-old Mia loves TV. And I tell you, just as an aside, there are some worrying characters on little kids' telly too. That guy from Blues Clues is a little strange, the crazy freak from Yo Gabba Gabba is, well, crazy to the point of being hallucinogenic, and Diego's gallivanting ways on Go Diego Go makes him kind of like the pre-school equivalent of Hank Moody from Californication. But thankfully young Diego is a one-girl kind of guy and he doesn't wee in bunkers on the golf course.
Also making it easier for me is that Mia is in bed asleep by 7pm - and for as long as my wife and I can manage it, things will stay that way. Of course, that bedtime can only be applied for so long. The scary thought is what in the name of Hank Moody will my girls be exposed to when they are allowed to stay up later in the coming years? Because, as the saying goes, kids grow up so fast these days.
And here's an even more worrying thought: what will pop stars be wearing and singing about in years to come?
Being a dad, I'm almost glad I didn't go to Katy Perry, where many of the girls were apparently decked out in high heels, revealing tops, and tutus.
Then again, when you're young it's all about good old-fashioned individuality and empowerment, isn't it? And when you're talking about the candyfloss pop of Ms Perry, it's more about fun and frivolity than slutty exhibitionism.
At least I'd like to think so.
- TimeOut