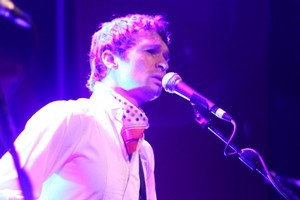 Andrew Keoghan got a little hot and bothered one day when he found himself talking to a model.
"I was feeling quite overawed by her beauty. I'd never talked to a model before," he says with a chuckle.
"But she had smarts and a degree in art history and, feeling she was always judged on her appearance, she was very keen to discuss topics related to her degree, which, as it transpired, gave us something to talk about. It saved our conversation."
He's quick to point out there was no romantic connection but says it was a "unique experience for me" and inspired him to write Arctic Tales Divide.
The song, an early 80s, Scritti Politti-style ditty, also became the title of the singer, songwriter and multi-instrumentalist's debut album, not so much because of the subject matter but as a result of the sonic mood it conjured up.
"The music I really like is mixed with lots of space, where you can hear everything, which always reminds me of the Arctic and the space there," he says.
"I like clarity and air, and it became a recurring theme. In the studio [what] we were trying to achieve was to layer things and add different elements but to still try to create as much space as we could so it didn't become cacophonous."
The album, that 30-year-old Keoghan recorded with producer and drummer Wayne Bell who plays a prominent role on the record, is a magical, multi-layered pop gem, with folky, classical and electronic influences throughout.
It's also an early contender for local album of the year with its revealing, honest and beautifully told tales about everything from love (on the touching serenade of I Have Only Eyes For You and the eddying pulse of Ca Va Bien Merci), to tearing up the dancefloor at a wedding on Floor's a Canvas.
"In the last couple of years I've come to realise honesty is something I really value in other peoples' songwriting, because to a point you can be coy and ironic but there is something to be said for when somebody lets it all go."
What makes the album more unique is that many of the songs bristle with Keoghan's violin - a family heirloom that belonged to his great-grandfather - which he strums and plucks rather than using a bow.
Keoghan is a late bloomer. He's always played music, coming from a musical family that includes older brother Phil, host of reality show The Amazing Race, who still plays a handy violin too, by the sounds.
Throughout his school days in Christchurch the younger Keoghan played in bands, and in his early 20s he became heavily immersed in the jazz scene in Wellington, playing shows by night and working as a news reporter at TVNZ by day. But when he was 24 the gigs started getting more regular and he had to make a decision about what he wanted to do.
"So essentially, music was really what I was enjoying more. Not that I had a bad job, it was a great job, but it wasn't a scary thing to give it up - it just felt like the natural thing to do."
Also around this time jazz took a back seat and he started listening to more pop music, and the likes of Bob Dylan and the Beatles. And since then he's been honing his sound, which is one of the main reasons Arctic Tales Divide has been a little while in the making.
"I think maybe why it's taken a few years [to establish his sound] was because I was initially writing songs that were all over the place, I guess because there were so many influences. But eventually the jazz started to subside and I started to focus on writing pop songs a little more."
Yet songs like the folky tranquillity of Spots on the Leaves and the rowdy hit-out of Floor's a Canvas are far from being traditionally structured pop songs.
"I sometimes like that with songs that they're not always going to go where people are expecting them to go."
And what about a collaboration with your famous brother? Surely that's a way into the American market?
"Oh dear," he laughs. "It's funny. He has said to me, 'How about we do a song sometime?' So I don't know, maybe one day when we're old. I know he wants to do a cover with Dad and me of Bob Nolan's western classic Cool Water."
-TimeOut