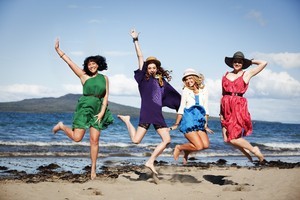 The third season of Go Girls went out on a high this week with TVNZ saying its high ratings make it New Zealand's most popular local weekly drama.
In total, more than 2 million New Zealanders aged 5 years and older have tuned in to Go Girls for this third series, and an average of 708,200 in the same age bracket tune in each week. It is consistently in the top 10 programmes among its target demographic of 18-39s and rates in the top 10 most-viewed programmes on TVNZ Ondemand this month.
Co-writers Rachel Lang, Gavin Strawhan and Kate McDermott say though it takes some time for a series to build an audience, they felt they had really hit their stride this season.
"Some of the stories got quite meaty and emotional. So when we were watching the cuts we were going, yeah, these are bigger, more grown-up stories. Of course all our characters are getting older."
The decision to bring Amy, played by Anna Hutchison, back on board this season has met interestingly mixed reactions.
"It's been hard for some of the audience to accept that she's back, but that's not surprising in a closed group of friends. Ironically she's in the same position Olivia was in when she came on board, but things will move on," McDermott says.
She slotted nicely into the script with Matt Whelan who plays Brad leaving to work on feature film My Wedding and Other Secrets half-way into the season.
The fourth season, which is in early-production stages now and is due to be shot later in the year is expected to follow the same tried and true quest formula and this week's dramatic cliff-hanger has left the writers with plenty to play with. It is due to screen early next year.
TVNZ's Commissioner of Drama, Kathleen Anderson, says she sees that audiences can relate to the storylines and characters. "I always knew that Go Girls was going to be a big hit with Kiwis as the characters are so loveable and their quests are similar to some of our own goals in life."
Jane Wrightson, chief executive of NZ On Air says the ratings are a credit to the local television industry and show it is able to produce drama series that equal the best international shows.
Meanwhile TV3 is celebrating high ratings for its new prime-time shows 111 Emergency and Drug Bust which are into their third week in the schedule. Mediaworks' director of programming Kelly Martin says the network knew reality crime shows would sit well with the audience but the show blew their expectations, becoming the top-rating TV3 shows by a long shot.
111 Emergency reached an 11.5 rating and a 25.8 share in the 25-54 age group this week while Drug Bust hit a 15.7 rating and 34 share. To put that in perspective, TV3's average ratings are now about a 7 or an 8 and their average share is about 20.
"Those numbers are massive, that's the biggest on our schedule by a country mile," Martin says.
She says programmers knew audiences liked watching real people get into trouble on television but the numbers far exceeded expectations.
The shows replaced Bigger, Better, Faster, Stronger and repeats of Million Dollar Catch.
-TimeOut