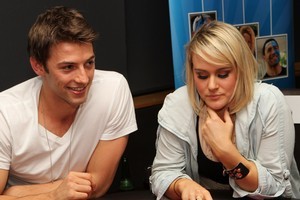 Christian TV hunk Ido Drent, who plays teenage lothario Daniel Potts on Shortland Street, is engaged.
Typically it was announced on Facebook. Drent proposed to girlfriend Mandy Hodges and the pair have set the date: December 9.
It's a rather quick hop to the "I dos" for Ido. The talented young actor met the buxom blonde at a celebrity poker tournament at SkyCity only a few months ago.
Could the rush to the alter have anything to do with the charge to cast off his virginity?
Friends say the TV star has signed up to a magazine deal, so expect to see the whole romance - engagement, wedding, honeymoon - splashed across the pages of a glossy. That will go some way to paying for the nuptials.
Also expected to reveal her good news in the glossies is former TV3 weathergirl Toni Marsh, who gave birth to a baby girl by caesarian section last week.
Sources tell me Marsh and her husband Paul Gunn are thrilled with their little bundle, as is Marsh's father Barry who is delighted with his first grandchild.
Another friend of the pay-for stories, Miriama Kamo, who bleated to a rag that she was high-tailing it to Germany and to another that she was staying put, is facing a challenge on Sunday nights from her nemesis Mike McRoberts.
TV3's 60 Minutes current affairs show will move from Wednesday to Sunday to compete against TVNZ's show on that night - unimaginatively called Sunday. It will be McRoberts Vs Kamo and we know who our money will be on.
McRob, who anchors TV3's nightly news, is the television broadcaster women most lust after. Whether in a flak jacket in a war zone, a designer suit in the studio or strumming a guitar for charity on Telethon, let's face it, McRob ticks all the boxes.
Also doing her bit for charity is Rachel Hunter, who is tipped to make a surprise appearance at the Telethon for Christchurch event on May 22 alongside some of our biggest global exports.
Anna Paquin, Kylie Bax, Helen Clark, Jonah Lomu, Jemaine Clement and Martin Henderson are rumoured to be beaming in on love crosses from around the globe, which will undoubtedly add much star-studded glamour to the televised event.
Mayor Len Brown will also be participating in the Telethon next month, despite the discontent that continues to quietly brew among his ranks.
Six months on in the life of the Auckland Council and it appears Brown still has the numbers but chances of a power play are growing. Sources tell me Waitemata councillor Mike Lee is fast becoming Auckland's real powerbroker, superseding Waitakere's career councillor Penny Hulse, who is Auckland's Deputy Mayor.
Lee, the former leftie chairman of the Auckland Regional Council, is reportedly working well with the council's left and right. Some are saying he would have the numbers to mount a challenge to be deputy mayor.
But Hulse is on the warpath. She apparently refuses to deal with the likes of Lee and the Citizens & Ratepayers councillors, and her inner circle and influence is shrinking.
She has locked herself away in the Auckland Town Hall while all the other councillors are based across Aotea Square in the Civic Administration Building.
With former running champ and right-winger Dick Quax likely to win next month's local body byelection for Howick, Hulse and Brown's headaches will only get worse.
The gloss may be coming off the Auckland mayor, but he maintains a majority around the council table.
The big surprise is the fact that his political allies beneath him are now turning on each other.
-Herald On Sunday / View