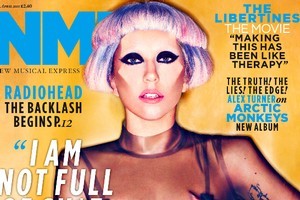 Eccentric pop star Lady Gaga bares her soul (and then some) in a candid interview with British magazine NME.
The Judas singer, whose meat-wearing, wig-toting, subversive and scantily clad antics continue to fascinate and grate in equal measure, is in a defensive mood.
Gaga adorns the mag's cover (be warned, it's rather risqué) clad in a full-body, see-through latex suit, complete with strategically placed zippers to cover her modesty. Her increasingly present prosthetic face horns and purple wig complete the look.
She's a modest little devil is our Gaga.
In the accompanying interview Gaga, who recently debuted the second single, Judas, from her upcoming Born this Way studio album, also has a message for her detractors.
'Mother Monster' lets rip with a potty-mouthed rant in the mag because, according to her, people just don't "get" her. Despite the quirky clobber and theatrics, she's not some manufactured gimmick - she has oodles of artistic integrity.
Or as Gaga so eloquently put it:
"Let me tell you something. If you f***** rip my hairbow and my wig off my f*****g head, my shoes, my bra, every single thing on my body, and you throw me on a piano with a microphone, I will f*****g make you cry," she fumes.
"I feel I have been probed endlessly about who the f**k I am. I have been quite open about it. And still nobody seems to have a clue."
She also has a pop at big-name producers and songwriters who continue to send her streams of new material to record. She writes and produces her own material, thanks.
"I'm not going to start churning out what you expect. If you're looking for me to be something that isn't there, STOP LOOKING. I am not that. I am not created," she rants.
"If you want me to be a manufactured act, you can f*** off."
Elsewhere in the interview, Gaga compares herself to John Lennon.
"I am perpetually unhappy with what I create," she says. "Even though I might tell you that Edge of Glory is a pop masterpiece, when it's all said and finished there will be things I dread, and every time I listen to it I'll hear them...
She adds: "In John Lennon's [1980] Playboy interview he talked about how he hated certain songs because of the way they were finished. And they might be my favorite songs, but Lennon couldn't listen to them."
Gaga's also sparked controversy with the video for new single Judas.
We've seen nary a single frame from the promo, but that hasn't stopped the uproar.
Gaga will star as Mary Magdalene in the video, with actor Norman Reedus taking the titular role of Judas, reports The Sun.
The Catholic League for Religious and Civil Rights has slammed Gaga over the promo, and accused her of using shock tactics to advance her career.
Bill Donohue, the group's president, told HollywoodLife.com: "This is a stunt...Lady Gaga tries to continue to shock Catholics and Christians in general: she dresses as a nun... she swallows the rosary. She has now morphed into a caricature of herself.
He continued: "She is trying to rip off Christian idolatry to shore up her talentless, mundane and boring performances. Another ex-Catholic whose head is turned around... Is this the only way to jet up her performance? This isn't random, we are getting closer to Holy Week and Easter.
"Maybe if she had more talent we'd be more offended."
Listen to Gaga's Judas single below:
So there you have it, readers. What do you make of Gaga's latest antics? Shock or shlock?
Blogger Bites Back
* Read more celebrity news and gossip from Myrddin Gwynedd (MG) here.