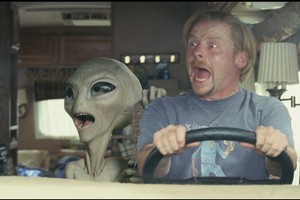 MOVIES
It might be nearly school holidays but the arthouses are busy with new releases including Sarah's Key, Mozart's Sister and The Illusionist.
But over in the popcorn department we get two alien movies, the 3D kiddie flick (and US box office disaster) Mars Needs Moms as well as Paul, the spectacularly named ET farce from Simon Pegg and Nick Frost.
TV
As TV3 continues its Sunday night experiment - seeing how many times it can play the same old movies in prime time, it has at least added some new shows to a Monday night line-up big on sex, drugs and crime.
There's the local cops' reality double-header of 111 Emergency and Drug Bust from 7.30pm (hmm, if only they'd got Tiki Taane to do the theme music) and at 9.30pm, the slot left by the end of The Almighty Johnsons is filled by the fourth season of Californication starring David Duchovny and Natascha McElhone.
LIVE
It's like the Grammy Awards roadshow is hitting town on Monday.
At Vector Arena it's Bruno Mars, the singer-songwriter who had seven nominations and won "Best Male Pop Vocal performance" for his hit Just the Way You Are.
He was also up for Record of the Year and Song of the Year but those went to wholesome Nashville country-pop trio Lady Antebellum for their hit Need You Now. And the threesome of Charles Kelley, Dave Haywood and Hillary Scott are at the Civic on the same night.
So it seems though Mars has the bigger audience here, Lady Antebellum has the bigger silverware collection. Could make for an awkward moment in the lift if they end up staying in the same hotel.
OR...
Reacquaint yourself with the pleasure of browsing record stores on Saturday which is global Independent Record Store Day.
-TimeOut