Local record shops are cranking up the volume this weekend for a day celebrating their continued existence - helped by a new young generation of vinyl junkies. Jacqueline Smith reports.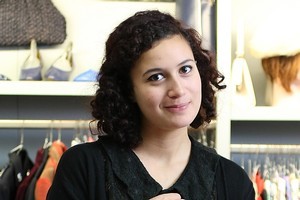 Record Store Day is growing by the year with international artists scheduling special vinyl releases for the event.
Sarah Williamson, store manager of Real Groovy Records on Queen St says it reflects the resurgence of buying vinyl, fuelled not only by die-hard vinyl enthusiasts but also young people who treasure the sound of a bygone era.
Comedian, presenter and student Rose Matafeo, 19, has been collecting records since her early teens and now has an impressive collection of Burt Bacharach and other such gems. She admits she often buys the records with the most beautiful cover designs, and then surprises herself with the music inside.
Breakfast at Tiffany's was her first, and she discovered Nancy Wilson by accident. Another time she splurged $30 on a Steve Martin album, then decided to collect every other Steve Martin vinyl recording she could find.
"And I own too many Burt Bacharach records. I own the Royal Navy Band doing Burt Bacharach songs.
You wouldn't find that anywhere," she says.
Her parents' vinyl collection and record player started her off, but she now has her own player and speakers, bought off Trade Me, which she says take up about a quarter of her tiny room.
"I think it is certainly a thing that has a lot of influence from your parents because if [they] actually have records then it's easier to start a collection," she says.
With the exception of the Steve Martin album, Matafeo wouldn't usually spend any more than $10 on a record, but she'll cart several kilograms home from a visit to Real Groovy.
"For me it's the range of unknown music I can find on vinyl. Sound doesn't matter too much to me, but it's finding more obscure music from people I love, stuff I generally wouldn't be able to download or even find on CD. And also to find a crazy Mexican singer who I had never heard of but I bought it because it had a good cover."
She's a hoarder so envisages keeping her finds forever - they are the sort of thing she would save in a fire.
"It feels nice to have something tangible that I will never give back."
Williamson says it is not only the tactile quality of records that is luring young people back from the MP3s. Some are drawn to the superior sound.
"And it's the nature of listening to music that they learn about. The process of sitting down putting a record on and sharing it with other people; this whole sort of "in ear" headphone culture is making music less accessible I think. It's too private."
While Real Groovy's clientele spans a vast range of ages and musical interests, Williamson says she has definitely noticed more young collectors spending their pocket money on retro albums.
"I've seen kids who look like they could be 11 or 12, they are the raddest little kids. They know what they want, they look around, they buy stuff."
The figures back up Williamson's argument. Last year, vinyl sales rose by 33 per cent in the United States, compared to a rise of just 8.3 per cent in digital track sales, but there's still no doubt that digital is taking the bulk of the consumers.
Tanya Perrie, the frontline marketing manager for Universal Music says though there will always be some demand for vinyl, especially for classic artists, it is difficult to justify the cost of ordering it in for new releases.
Metallica and Rolling Stones repackaged and re-issued heavy-weight vinyl which was been popular with fans in New Zealand, but they still sold in small quantities compared to CD and digital copies.
Perrie is a self-confessed vinyl lover so will always believe it is important to offer certain records in the format despite the minimal sales return. But as most of Universal's releases are aimed at mainstream audiences, many aren't even manufactured on vinyl in the first place, and are generally not on collectors' radars.
Auckland DJ Nick Dwyer, who has spun many a record in nightclubs and on George FM, once spent hundreds of dollars each week on records - for his personal use as well as his DJ sets - but he is sad to admit that when when technology took a turn about 10 years ago, and DJs started playing off CDs, and later MP3 files, it greatly curbed his vinyl consumption. "Sadly vinyl is very much on the way out for DJs, but for collectors, there has been a really big surge," he says.
That's not to say that Dwyer has stopped poring over his enormous vinyl collection.
"There's nothing like looking at a bookcase of records and seeing all the beautiful colours, then putting on an album.
"Nothing beats that and I love it. Analogue sound is just warmer, it has almost human emotion in it. And when you are a DJ you play with such passion when you are playing vinyl. I put it down to a couple of things. One is that there is a story attached to it, you remember travelling to a record store and hours and hours of searching. When you play it in a club you play it with such passion and spirit that you feel towards that record. I always felt it came out in the way you played it. With [computer-based vinyl emulation software] Serato you just flick through your iTunes and lose a bit of the soul that came with being a record collector."
He is also laments the demise of the social side of record collecting due to people file-sharing on the internet instead, but Dustin Lindale, who works at one of Dwyer's regular haunts, Conch Records on Ponsonby Rd, remains positive - the fraternity is still ticking along.
And as well as the regulars, there is always a new wave of young people searching through his records, he says. The difference is that, increasingly, people know what they want when they enter the store, as they have familiarised themselves with the music on the internet.
"People only purchase stuff on vinyl when they really want to, when they feel it's a quality tune. So we wouldn't call it an upsurge. Just people are more discerning," he says.
Back at Real Groovy, Williamson says savvy bands know fans are willing to own their favourite records on vinyl and the "alternative" vinyl section, which covers indie and rock bands, has exponentially grown in recent years. She has made a gradual switch towards complete vinyl collections, and she knows others who have done the same.
"Vinyl is really trendy, but it will also last. It's making such a big comeback that it's not only trendy for kids, but also those die-hard fans out there as well."
And though he buys less of it these days, Dwyer agrees, "Vinyl is the best. It will never die and nothing will beat the feeling and sound of it."
LOWDOWN
What: Record Store Day, an international celebration of the shops that deliver our records, especially vinyl.
What's happening:
At Real Groovy Records, 438 Queen St: Local bands and personalities play DJ sets from 11am until 6.30pm followed by a Red Cross Appeal gig at the Studio from 8pm featuring Avalanche City, Ivy Lies and High Society, among others.
At Conch Records, 115A Ponsonby Rd: In-store performance by Isaac Aesili (with Karlmarx), Submariner, Manuel Bundy and Cian from 10am until 5pm.
Beat Merchants, at its new location 555 Great North Rd, Grey Lynn: A range of DJs including a possible international act, as well as a live graffiti artist installation from 11am until 6pm.
-TimeOut