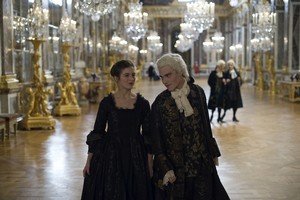 An extremely enjoyable period drama that speculatively fills in the gaps in the ignored life of a sidelined sibling, this independent French production achieves miracles on a reportedly tiny production budget. It paints a detailed portrait of a musician's life in pre-revolutionary France and drenches it in a soundtrack that brings thrillingly to life what might have been.
Maria Anna Mozart (director Feret's daughter, Marie), whose family nickname was Nannerl, was the elder sister of the more famous Wolfgang.
The young genius idolised her, with good reason: she was a prodigious musical talent herself and, as this film opens, is the headline act in a travelling show in which their father Leopold shows off his kids in the royal courts.
The film superbly evokes the life of the travelling player and the performance parent: arduous and expensive travel on an uncertain income playing for capricious aristocrats who don't know the difference between tricksy showmanship and genuine skill.
But the plot thickens as Nannerl, approaching marriageable age, is banned by her father from both performance and composition, unladylike activities that might deter desirable suitors.
Quite how the story develops is best not divulged here, though it is worth remarking that the film's major speculations, whatever their dramatic logic, have no historical basis.
Commendably it becomes an interesting rumination on the restrictions imposed on women, without ever adopting a stridently or even overtly feminist position.
Unlike, say, Sofia Coppola's tedious Marie Antoinette, it does not raise a knowing 21st-century eyebrow at an 18th-century problem: rather it accepts the characters as creatures of their age.
Nannerl befriends one of Louis XV's children (Lisa Feret, another family member) and the cleverly constructed story that develops, complete with cross-dressing pretences, is a neat reference to the operatic conventions Wolfgang would perfect.
Sadly not a note survives of the music that Nannerl almost certainly composed, but a speculative score by Marie-Jeanne Serero fancifully fills in the gaps.
This is a film that classical music lovers will adore and many more will and should enjoy.
LOWDOWN
Stars: 4/5
Cast: Marc Barbe, Marie Feret, Delphine Chuillot, David Moreau, Clovis Fouin, Lisa Feret
Director:Rene Feret Running time: 115 mins Rating: M in French with English subtitles
Verdict: Enjoyable drama about the thwarted talents of Wolfgang's sister
-TimeOut