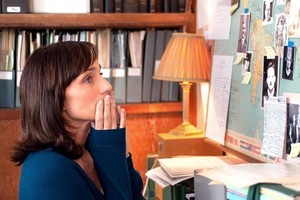 The past catches up with the present to potent and sometimes shattering effect in this moving French film that hints at the wartime horrors it revisits without ever explicitly depicting them.
It is one of a clutch of recent French films - last year's Korkoro and the upcoming La Rafle (The Roundup) are others - that confront the truth of the country's shameful complicity with the occupying Nazis.
Yet unlike La Rafle, this film does not seek to minutely document the events of the infamous Vel d'Hiv roundup of Jews in July 1942, one of the most appalling episodes of the war; rather it explores the way the ripples of those events spread through generations and how silence can turn family history into a corrosive force. In doing so, it occasionally becomes expository and schematic, but that is a small flaw in an elegantly crafted and superbly acted movie.
Scott Thomas - as assured and emotionally lucid as ever - plays Julia Armand, an American journalist based in Paris and married to a Frenchman (Pierrot).
Researching an article about the Vel'd'Hiv, she stumbles upon information that links her to a young girl, the Sarah of the title, who was eight years old at the time.
As she slowly pieces together Sarah's story, she becomes the viewer's witness in the process of terrible discovery, and the representative of an entire generation that kept the truth of those dark days locked away.
I use the term "locked" deliberately because Sarah's key is a major motif in the film: the lock that it fits is a powerful narrative element, but in a sense the whole film is about locking and unlocking.
Based on a best-selling novel by Tatiana de Rosnay, the film unfolds its secrets slowly, flicking back and forth between 1942 and the present. The two stories are held together by two fantastic performances: Mayance, as the young Sarah, is quite astonishing and Scott Thomas, lending an American accent to both her English and French, is superb. The reliable Arestrup puts in a good turn as a farmer who helps Sarah.
The last 10 minutes are slightly ponderous and mechanical - director Paquet-Brenner, who co-wrote, even allows one of the characters to intone "We are all a product of our history" - but this is a fine piece of work that lends an original inflection to a familiar genre. Recommended.
LOWDOWN
Stars: 4/5
Cast: Kristin Scott Thomas, Frederic Pierrot, Melusine Mayance, Niels Arestrup, Aidan Quinn
Director: Gilles Paquet-Brenner
Running time: 111 mins
Rating: M (adult themes) In English and French with English subtitles Verdict: An original take on a familiar genre
- TimeOut