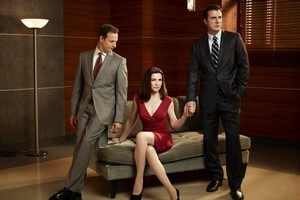 Other than what's-his-name, that forgotten Nat MP - who the PM, before giving him the boot, said had been "making a nuisance of himself toward women" - I can't think of a scandal involving a New Zealand MP and a member of the other sex - or of the same sex for that matter.
That "making a nuisance of himself towards women" is a hilariously tantalising statement, which made you think of all the ways in which a fellow might make a nuisance of himself towards women. The potential is mind-boggling, the reality probably rather dull.
The Americans and the Brits do the political sex scandal brilliantly. These (always, as far as I can recall) involve a male MP who gets a bit, or bits, on the side, gets caught out and then gives a press conference with the wife standing stoically by his side.
Until after the cameras leave, presumably, when she - you do hope - vomits all over his expensive shoes and tells him to get the bit on the side to clean the sick out of his socks.
I do love those press conferences. Nowhere is it more apparent that politicians take voters for fools. As if those images of Hillary and Bill, with Chelsea holding each by one hand, crossing the White House lawn could have erased those icky images of what went on in the Oval Office.
Power equals sex scandals, and sex scandals equal titillation dressed up as tsk-tsking. So the only conclusion you come to is that our politicians are just ... not very sexy. And if they are, we don't want to know about it, thank you very much.
Which is by way of saying you couldn't make The Good Wife (Sundays, TV3) about a male NZ politician and his wife. There was a clever, and funny, moment in the second episode of the new season, where the good wife Alicia watches, guiltily, appalled - but also, possibly, a little titillated by somebody else's scandal - the unfolding of a sex scandal echoing that involving her politician husband in series one.
She's watching the press conference in which - for want of anything more to say about a sex scandal involving a politician - some news producer, on a "serious" news channel, has dragged in a body language to expert to comment on ... the direction the wife's feet are pointing.
This was followed by clips of other famous sex scandal press conferences, including Hillary and Bill, and the fictional one which is the premise, and, apparently, the idea behind The Good Wife.
The good wife rolled her eyes - and later checked which way her feet were facing - away from, towards, or one away and one towards - her not yet bit on the side, law partner Will. There was a kiss last season.
This season there was a press conference with the politician and the wife, which Will watched before leaving Alicia two voice messages. The first said, "forget it", the second said, "don't forget it", that he loved her.
She never got the second message because the slimy Eli Gold (played with relish by Alan Cumming) had her phone and wiped the message. Eli Gold is a brilliant character based, supposedly, on Obama's former chief of staff, Rahm Emanuel.
Ari Gold (played with relish by Jeremy Piven, in Entourage) is supposed to be based on Rahm Emanuel. This could be a bit confusing, but they are both terrific characters: self-important, bad-tempered, devious.
The Good Wife is really a courtroom drama - the good wife gets cheated on and publicly humiliated, so she goes back to the law firm and works her way up from the bottom.
This ought to be a bit corny - and it can be, but the cast is good enough and the writing is sometimes smart enough to just about get away with the odd plot groaner. It is also a bit rude.
The call girl releases a YouTube video about the good wife's bad husband - with really raunchy lyrics. That could really happen. So could a serious news channel employing the services of a foot language expert. And Eli Golds really do exist. Just possibly not in New Zealand. But one lives in hope.
- TimeOut