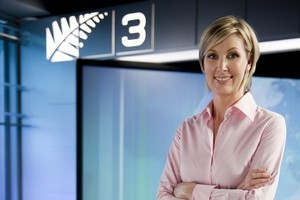 It is hard to watch TV3's new breakfast news show Firstline without thinking about the NZ Herald's big scoop this week that we taxpayers had given TV3's owner a $43 million loan. Aren't we generous, eh?
It makes one feel a bit proprietorial about the broadcaster. So Mediaworks, what are we getting for our largesse? From this week, thankfully, we received a big dose of host Rachel Smalley from 6am to 8.30am.
Firstline is a real news show which doesn't have segments about whether Marmite or Vegemite is better or wacky banter about fruity reporters' private lives.
I have to disclose, straight up, that I am not one of those news snobs who say they read only The Economist and watch the BBC. I can appreciate good reporting, whether it is highbrow, lowbrow or dirty old tabloid. I thought Paul Henry was really funny. Most of the time. But the New Zealand news landscape has changed since the Christchurch earthquake and all of a sudden the bubbly, breezy tone of TVNZ's Breakfast show, wrapped around serious news - as though viewers need a spoonful of sugar to help the medicine go down - seems wrong-headed.
TV3's promise to offer "Just the news, ma'am" without rictus-grin repartee seems more respectful of viewers' intelligence. And I am not saying this just because I have a girl-crush on Rachel Smalley. Smalley, who returned to New Zealand from a newsreading gig at Sky News UK, has a Hitchcock-blonde intelligence that seems to give our news the gravitas it deserves. So Firstline promises to be grown-up news.
Even local journalists used to scoff at our parish-pump news judgments; cats up trees, holiday snaps shown so the owner of a lost camera can be found. But not any more. The Christchurch earthquake has "blooded" us and the news will never be the same.
Even so, it is a ballsy call by the TV3 news bosses to go with "naked" news. They unashamedly recycle the material in Firstline across the 2 1/2 hours. I'm not sure why the networks have been squeamish about this before. Who has the time in the morning to watch TV for 2 1/2 hours straight? Unless you are a reviewer, of course.
I did just that and found the content much less po-faced than the purist bulletins I had expected. "They're not people and they're not churches but don't underestimate what they mean to the people of Christchurch," opened reporter Ali Ikram in a quirky piece about arborists chopping down trees which had been damaged by the quake. A live cross by Smalley to reporter Hamish Clark saw the Christchurch-based journalist joking about yet another aftershock. "We rattled, rolled and rumbled. It was a good one, although I shouldn't laugh," said Clark, laughing.
After a serious story about UK entrepreneur Hamish Egston donating $4 million to earthquake recovery, there was another offbeat piece; an investigation into Christchurch mayor Bob Parker's parka. The brightly coloured anorak even has its own fan page on Facebook.
Sometime-poet and TV3 reporter Richard Langston waxed lyrical next in an item about Scott, a Christchurch locksmith. "Scott is more than a locksmith, he is also a counsellor," said Langston. Scott: "You feel quite buggered at the end of the day but you're helping people."
About now Firstline went to an advertising break. I rather wished they hadn't. The only ad was for the Ab Circle Pro, a device that B-grade reality TV star Audrina Partridge, whoever she is, depends on to "stay red-carpet ready". I am ready to bet class act Smalley doesn't get on this ridiculous contraption before coming to work.
C'mon Mediaworks advertising department! With a substantial commitment from management to proper news and $43 million of "our" money, surely you could come up with some better backing than this? Perhaps an ad for the Government: "This news broadcast was bought to you by you. Cheers, thanks a lot."
* Firstline plays on TV3, weekdays from 6am to 8.30am.