Go Girls' sidekick Matt Whelan gets his chance to shine on the big screen as a sorely tested suitor in the Kiwi romantic comedy My Wedding And Other Secrets.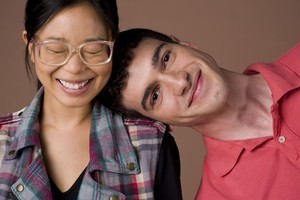 New Zealand has an unlikely new heart-throb. In the wake of actors like Martin Henderson, Cliff Curtis and Marton Csokas, all of whom have flown the coop to Hollywood, comes 26-year-old Matt Whelan, a Christchurch-born talent suddenly filling our television and movie screens with his wide smile and earnest eyes.
Though the name may not be familiar, the face will be. Whelan is a core cast member of TV2's hit dramedy Go Girls, now in its third season, and the male lead in this month's upcoming Kiwi feature My Wedding and Other Secrets, a comedic cross-cultural love story.
Edging towards 1.9m tall, with Gallagher-brother eyebrows, the gangly Whelan has an easygoing manner befitting the characters he has played to date.
Add to this his humble acceptance of his rapid rise to leading man status and you have the makings of a bona fide star, albeit one who struggles to find words to describe his good fortune.
"I get so focused on the project I'm working on that I sometimes don't think about how well my career is going," he says, after a long silence. "I feel really blessed to have had this momentum."
Since graduating from the country's premier drama school, Toi Whakaari, in Wellington in 2007, Whelan has appeared in Boy director Taika Waititi's debut feature Eagle Vs. Shark, Show of Hands, co-starring Melanie Lynskey and Craig Hall, C4's 40-episode two-minute drama My Story and TVNZ's reality show Tough Act, which followed the lives of the students from Toi Whakaari's 2005 intake.
It's a lot of work for someone who never dreamed of being a professional actor, now capped off by high-profile roles on Go Girls, My Wedding and Other Stories and the film he's shooting at present, The Most Fun You Can Have Dying.
"Small was the operative word there," laughs Whelan, referring to his role in Eagle Vs. Shark. "I'm just a blur in the background in a bus stop."
Still, the filmmakers and TV producers who subsequently hired him clearly saw more than that. . . Rachel Lang, co-creator of Outrageous Fortune, Go Girls and new TV3 drama The Almighty Johnsons, considers Whelan "a god".
"Matt is handsome, clever, generous, intuitive and very funny," she gushes. "He's also incredibly grounded and very modest."
Filmmaker Roseanne Liang, writer-director of My Wedding and Other Secrets, is equally effusive in her praise of Whelan - who plays a fictionalised version of her real husband - revealing he's the object of more platonic crushes than she can count. She admits she has started watching Go Girls again because of him and it suddenly dawned on her why he is described as a heart-throb.
"He has the giraffe-like grace of Jim Jarmusch, the comic timing of Jeff Bridges and the sneak-up charm of Michael Cera morphing into Javier Bardem," she enthuses. "He looks like a cross between my husband, Wes Bentley and Pete Sampras." Phew.
In Go Girls, the patently silly yet surprisingly successful TV2 comedy-drama about a group of dysfunctional friends, Whelan gives resident dreamboat Jay Ryan, aka Kevin, a run for his money.
His character of Brad Caulfield, introduced in season two, is a boyfriend with a heart of gold who nevertheless has to confront unexpected curve balls. In other words, he's the kind of guy girls adore and it's a performance substantial enough to earn him Best Supporting Actor at last year's Qantas Film & Television Awards.
"When I'm creating a character, it's a mix of my own experiences but also my perception of what this character might have gone through," says Whelan. "There will always be something of yourself in the character."
Lang definitely sees certain parallels between the two. "Matt is a nice chap from a nice home, who gets along with everyone. He's also very responsible," she says. "Brad's strength and flaw is that he always wants to do the right thing, which I think is a bit like Matt. But I don't think Matt has ever worked in finance, been a builder or married a witch!"
Whelan does indeed come from a good Cantabrian family. His father John is a high school teacher, his mother Julie teaches at primary school and his three siblings are each following their own path in life.
His parents were in Dunedin the day of the devastating earthquake in Christchurch, visiting Otago University, where his younger sister is studying Physical Education.
Whelan says growing up in and around Christchurch was a light-hearted time devoid of the infractions of a boy racer or anything else troublesome. "Funnily enough, I wasn't a boy racer," he laughs. "Definitely there were a lot of them when I was down there."
Instead, Whelan discovered the thrill of acting in high school plays. Then, after entering a broadcasting course in Nelson, he was admitted to the Hagley Theatre Company in his home town, eschewing sound engineering and digital media courses in Invercargill. A year later, he joined Toi Whakaari.
"I managed to get an audition for Show of Hands while at Toi, and the movie dove-tailed on to the end of finishing drama school, which was really exciting," recalls Whelan.
Fast-forward just a couple of years and Whelan has his second major film opening here on March 17. He recently spent a few days shooting in Hong Kong, following locations in Paris, London, Munich, Berlin, Venice, Monaco, Nice and Hamilton to complete production on Kirstin Marcon's debut, The Most Fun You Can Have Dying.
Whelan aided his chances of securing the role of James in first-time feature director Liang's film by introducing himself in fluent Mandarin at the audition. Five years at high school studying the language left him well suited to play the Kiwi love interest of a Chinese girl who keeps her student allowance-induced marriage a secret from her traditionally minded parents.
"Everything about the character seemed to fit for me," says Whelan. "He's based on a real guy and it's a true story [adapted from Liang's highly praised 2005 documentary Banana in a Nutshell about her cross-cultural romance]. Our physicalities are similar, we both speak Chinese. It was fun to be able to apply some of the things I learned a long time ago to this."
As for the future, Whelan's ambition is simple yet pure. "I'd love to continue making films and working in all the mediums of the industry. I love them all," he admits.
Liang has no doubt he'll be a star. "I think he'll succeed because he's the real deal rolled into the generous, kind, platonic crush-generating guy that he is," she says.
Meanwhile Lang, whose words have given life to some of New Zealand TV's most memorable characters, deserves the last word on Whelan: "He's a gem in his own right."
* My Wedding And Other Secrets is out in cinemas March 17.