English actress Keira Knightley puts aside the matinee roles for Never Let Me Go, a provocative film-of-the-book about the sanctity - or otherwise - of human life. She talks to Des Sampson.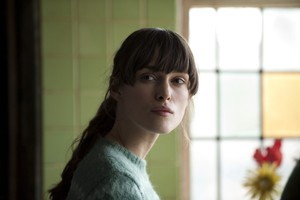 She may be best known for her playful performance in Bend It Like Beckham and swashbuckling turns in The Pirates of the Caribbean, but Keira Knightley insists that she'd much rather be remembered for her grittier, more challenging parts in films like Atonement, The Edge of Love and Domino.
Her latest role, in Never Let Me Go - reaffirms her stance. Based upon the celebrated novel by Kazuo Ishiguro - who also penned The Remains of the Day - it's a deeply disturbing, dystopian tale of love, life, loss and longing which focuses on three friends - Ruth (Knightley), Kathy (Carey Mulligan) and Tommy (Andrew Garfield) - who, as clones, have been born and bred purely to be organ donors for an ailing populace.
Initially, however, their childhood at a prestigious boarding school seems fairly normal, with Ruth and Kathy establishing a tight-knit friendship. But their bond begins to unravel when Ruth tempts Tommy away from Kathy, while their interwoven lives become increasingly surreal and sinister as the reality dawns upon them that they are being groomed to become donors for so-called "originals", who require organ transplants.
At times it makes Never Let Me Go a bleak, unsettling examination of morality and mortality, particularly the penultimate scene when Knightley's character is lying on the operating table and "completes" - Ishiguro's euphemism for death - during her third organ donation, the removal of her liver.
"Yeah, it's quite grim, isn't it," admits Knightley, squirming uncomfortably in her chair and giggling nervously as she recalls the harrowing episode. "My brother actually ran up to me after the premiere, patted me on my stomach and said, 'it is still there, isn't it?' because he thought it was so realistic."
It's a scene - and role - that are testament to the 25-year-old's determination not to be seen as a peripheral eye-candy, despite her modelling contracts, and instead be centre-stage and taken seriously as an actress - hence her preference for meaty roles rather than candy-fluff puff.
"I'm not looking to feel comfortable in what I can do, I'm looking to challenge myself and get better," she asserts. "I'm not interested in doing something easy, that won't stretch me. I want things that are thought-provoking and that I find difficult.
"I've always felt that way, but it's become ever more important for me lately," adds Knightley. "It would be a terrible thing if I felt I didn't have anything left to prove.
"I want to be able to sit here and say, 'I put my heart and soul into this' because I find the rewards of doing that to be huge."
Her determination to be seen as a serious actress is partly why she's decided to return to theatre, starring as Karen Wright in The Children's Hour, for which she's received glowing reviews. It's her first foray back on stage since she appeared in The Misanthrope, as Jennifer Celimene, a role that earned her a Laurence Olivier Award for Best Supporting Actress.
"I love performing on stage. It's both exhilarating and daunting, all at the same time. I love the fact that everything isn't set in stone and is so spontaneous."
Her philosophical - and professional - view is, admits Knightley, the reason why she turned down the chance to reprise her role as Elizabeth Swann in Pirates of the Caribbean: On Stranger Tides, the fourth instalment of the Hollywood blockbuster that made her a household name.
"I spent a lot of time doing Pirates. I was 17 when I started the first one and 22 by the time the third one came out. That's quite a significant chunk of anyone's life, really," she sighs.
"It was an amazing experience and I was incredibly privileged to do it and work with an extraordinary group of people but three was always going to be enough for me," adds Knightley, demurely. "I said as much when the second one came out. I told them [the producers] that I wasn't going to do more, which is probably why they didn't ask me to do the last one.
"I don't want to just do the same thing all my life. That's why I'm an actress, I like changing and doing different things. With the time that I have to spend in this world - going back to the mortality theme of this film - I want to do a diverse mix of films that I really believe in. That's why I've done films like Domino and Atonement, as well as Pirates, Pride and Prejudice and The Jacket."
However, she concedes that her choice of films, at least in the beginning, weren't part of a master plan. Instead, they were a happy set of coincidences that led to her starring in a jumble of genres and roles.
"To tell you the truth, I just took what I was offered because I didn't have any other choice," she laughs. "I was really fortunate because I got offered amazing things like huge, Hollywood movies that people would kill for, as well as arty, low-budget films.
"Don't get me wrong, I'm not averse to doing another Hollywood blockbuster, because I like those big, old, rollicking pieces of fiction where you can switch your brain off, eat popcorn and go, 'woah, look at the explosions!' But I also want to do films that challenge me and give me the chance to change in some way."
With Never Let Me Go, she's been given the opportunity to star in a provocative film, which tackles tricky topics like life, death, hope, despair, love, hate, science and religion - themes that that have made her question her own mortality.
"It is a hard-hitting, thought-provoking movie," she says. "One of the main reasons for doing it was the opportunity to examine all those themes within the book, especially mortality because, let's face it, death is the only certainty all of us have so we should think about it more and maybe seizing every moment we have."
Another reason why Knightley decided to star in the film was the chance to work with her friend, Carey Mulligan, who she first met on the set of Pride and Prejudice.
"We've been mates since we were 19, so getting to work together on this was definitely a big attraction," she says. "It's actually very rare to get the opportunity to work with a friend in films, let alone playing characters, like these, who are more like siblings than friends. I think the fact that we were already good mates really helped too, because at least we didn't have to fake that aspect of it.
"But, ultimately, what was interesting with this film, for me, was trying to understand my character's emotions and her motivations for being so manipulative, deliberately malicious and causing great hurt and harm to both the people she loves the most and to herself.
"Normally, if I met someone as horrible as her I'd turn around and walk in the other direction," she admits. "So, it was an interesting process trying to empathise with her, see the world through her eyes and realise that the reason she's behaving so badly is because she's completely consumed by fear and jealousy, craves affection and needs to be the centre of attention - probably because she was raised without any kind of parental love."
But eventually Knightley's character Ruth tries to right the wrongs she wrought.
"It's something I spent a lot of time talking to Kazuo Ishiguro about, to try and reconcile the feelings I had towards my character. He basically reinforced what I was already thinking: that at the end of your life, what's really most important is love, friendship and trying to right any wrongs. That's actually a very beautiful look at humanity and, for all the bleakness in the story, an extraordinarily generous and uplifting message to have."
LOWDOWN
Who: Keira Knightley
What: Never Let Me Go, also starring Carey Mulligan and Andrew Garfield.
Directed by: Mark Romankek from the novel by Kazuo Ishiguro
When: Has previews at Rialto Cinemas on March 7 and opens on March 17.
-TimeOut