Cathrin Schaer, a New Zealand journalist living in Germany, blogs from the 61st Berlin International Film Festival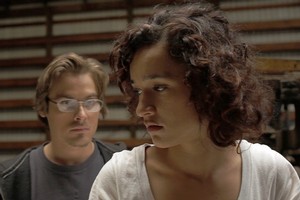 If you haven't seen a movie that makes you feel nauseous in a while, you may want to check out Keisha Castle-Hughes' latest film.
Vampire, which is directed by cult Japanese film maker Shunji Iwai and which premiered at the Berlin film festival this week, is all about a school teacher who enjoys the taste of blood - and especially, it seems, the blood of young "emo" ladies.
Mostly the school teacher meets these misguided unfortunates through a suicide-wannabe website: he befriends them and then suggests that if they really want to kick their buckets, he could, y'know, help them out.
The film stars a veritable bevy of up-and-coming Hollywood beauties as his victims, including Kristin Kreuk, Adelaide Clemens and Rachel Leigh Cook alongside our Keisha.
The high school biology teacher himself is played by Kevin Zegers, whom some may know better as the nefarious drug dealer Damien Dalgaard from Gossip Girl.
Wow. So this sounds like it could give the Twilight series a good run for its squealing teenage dollars.
But think again, people. In fact, this slow paced, slightly odd movie about freaks, geeks and weirdoes who either want to top themselves, or who go around admiring vampires and serial killers, lands in a dark and downright creepy place somewhere in between the sadomasochistic love affair that was the brilliant 2002 movie Secretary, the odd naivety of 2001's Donnie Darko and something altogether more experimental.
Adding it all up afterwards, Simon the serial killer school teacher ends up as one of the sweetest, most normal characters in the movie - apart from a desire to drink a little blood and the problems that this desire entails, of course (he tends to throw up when he does).
Although the film has had a somewhat critical reception in the US, and a lot of people did seem to be walking out at the press screening (they're the press, they didn't pay, it's what they do) the movie eventually crept into one's brain, then just sat there, being strange and even a little sad.
Apparently some people were also upset that there were no real vampires in Iwai's movie.
But as one reviewer on the US website Screen Crave, also noted, "this film is a remarkable critique of the different nodes of vampire culture in America. We come across guiltless murderers, cape-wearing posers, a woman who believes in vampires, and a woman obsessed beyond reason with a man she hardly knows for no apparent reason."
Forget about the name, and any accompanying preconceptions, for just a minute and this may just be - dare we say it - a cult classic in the making. And frankly, the scenes with Castle-Hughes are actually some of the creepiest in any movie, ever - especially if you feel squeamish about needles. Look away, kids, just look away.
Castle-Hughes must have been in the mood for a total change of scene after that because she also appears in another movie premiering at the Berlinale.
Australian-made movie Red Dog is described as a family-friendly story that tells the tale of a kelpie-cross dog who hitch hiked around the outback and won the hearts of the local populace.
Berlin Surprise for New Zealand Director
There's a little bit of a nasty surprise in her short film and when it finally arrived at the screening in Berlin, even New Zealand director Jackie van Beek was surprised.
"Everybody just started screaming and screaming. It was a great response," she says, exceedingly pleased.
Van Beek herself had seen the moment so many times during the editing process that she had forgotten its shock value. But clearly, the mostly German, mostly teenage audience were not prepared.
Van Beek's film, Go The Dogs, was one of three New Zealand short films chosen to screen at the Berlinale this year. The film, which was shot in Melbourne and surrounds, focuses on a 12-year-old girl called Brittany with special needs.
"I was working at a special needs development school at the time, doing a drama module and I wanted to cast one of the kids there because they were so brilliant," says van Beek, who is also an actress and who was living in Melbourne until recently - she and her partner and two children just moved back to New Zealand.
The Australian star of the film, Brittany-Anne Romijn, 12, is actually disabled but not in the way that the film's character is. In Go The Dogs, Romijn acts the part of an autistic girl whose family are supporters of the Western Bulldogs, an Australian football team.
When Brittany sees a bulldog outside the house during a televised game, she decides that she must follow it. She slips out of the house and ends up miles away, in an abandoned farmhouse in the countryside where a teenage runaway is squatting. The 14-minute film follows their friendship as it develops.
The shoot, van Beek says, "went brilliantly. I already had a relationship with her [Brittany] as I knew her from school. But I was pretty nervous about meeting her family. I needed their permission and I needed them to be excited about the project. Luckily they loved it. And they actually ended up acting in that first scene."
Along with Tammy Davis, the other New Zealand short film maker who has his work screening in the Generation section of the festival (Davis may be best known as Munter from Outrageous Fortune), van Beek has been attending all the showings of her movie.
She's also managed to see a few movies and even attend some of the festival parties.
"The parties seem to be pretty low key but they have a great vibe," a satisfied van Beek reports back on the glamour factor. "A lot of people attend them and I have met some great people, lots of other film makers too."
Days of the Round Table
Round table interviews: these sound like something that medieval knights might have used when they were trying to work out who should be allowed to join their sword-swinging club.
But in fact, this century these are what entertainment journalists are often invited to take part in, when they are interviewing a star actor.
Basically what a "round table" entails is anything from three to ten journalists sitting around with a celebrity and firing questions at them.
As one might imagine, it can be the best of experiences or the worst. If you're shy, or maybe if you don't know much about the actor or actress and you haven't seen the film, a round table can be a bonus - because other people will ask questions for you.
Then you can watch the film or do the research, or take a public speaking course, later.
On the other hand, you may have some questions you want to put to said celebrity and you may not by shy about posing them. But what happens when you get stuck in a group full of gung-ho entertainment journalists, all of whom are frothing at the pen, to get their queries in? A frightening, occasionally funny experience, that's what.
A recent experience here in Berlin involved six reporters and two young female stars from America, one of whom had been Oscar-nominated.
Everyone in the group was lovely - except, ahem, one apparently slightly insane Spanish woman who insisted on dominating the conversation.
Whenever anyone else said anything she would arch her eyebrows menacingly, turn around, and blast the other journalist with an "Excuse me, but pleeeeese will you let [the star] feeneesh?"
This got so ridiculous that the other writers there began rolling their eyes at one another while the Spanish woman was screeching. One of the stars was forced to say, "actually I have finished," and the other muttered soothingly, "I think it's OK, everyone will have a chance to ask their questions."
Afterwards, the Spanish woman stormed off. Out of earshot of the rest of the reporters the two young stars laughed. "What a bitch!," they giggled.
"We thought that was going to get nasty," they told their PR minders.
It's an interesting experience and, like so many here at the Berlinale, it does make one wonder about the value of these sorts of celebrity interviews.
Yes, of course, it is the nature of the business. Just as with other industries, it is the journalist's job to ask questions and the interview-ee's job to reply to them in a way that will allow a story to be written.
"Doing press" is part of every movie star's job. Obviously though, it's not exactly an in-depth experience during which two strangers connect, emotionally or intellectually. It's just professional.
On the other hand, it is true that you get a better idea of a person when you meet them in person, even if it is just as part of a group. Body language, eye contact and all that.
It does make you wonder though: Should we be asking for less quantity and more depth and quality? Or maybe nobody really minds as long as they get some news of their pop idols?