In the beginning there was Kyuss, and then came Queens of the Stone Age. Scott Kara talks to the leaders of both bands about their respective nostalgia trips and tours Downunder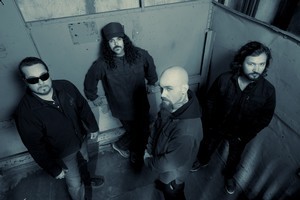 John Garcia has no shame revealing the real reason Kyuss - the great, and sadly mostly unheralded stoner rock band of the early 90s - is back together.
He lets out a devious cackle before admitting it's a good marketing teaser for Garcia vs Garcia, a solo project which will see him release an album later this year.
"I made no bones about it to Nick [Oliveri, bass player] and Brant [Bjork, drums] that this is my plight, that this is what I need to do to let people know not to kick me to the kerb just yet, I'm not done with music. And what better way to celebrate what is about to happen than by celebrating and revisiting my past?"
You see, he didn't stop playing music when the band from Palm Desert called it quits in 1995, but recently he's been focused on working in veterinary medicine. So what better way to get the musical juices flowing than playing songs like Green Machine and Thumb? And for rabid Kyuss fans - of whom there are many - who might think he's cheapening the band's legacy by using it as a promotional tool, then fear not. It's clear - and not to get too sentimental about it - that Kyuss means the world to Garcia.
"I'm very lucky to have been a fly on the wall to see Josh and Brant write songs - it was really something else. And one of the other good things about Kyuss is that we were a simple four-piece, we didn't try to get too bitchin' with solos, and vocals, which is some of the reasoning behind all the instrumentals. It was spontaneous, and pretty simple stuff."
It's the real deal Kyuss he's got back together too, with Queens of the Stone Age frontman and Kyuss co-founder Josh Homme the only absentee from the classic line-up of Garcia, bass player Nick Oliveri and drummer Brant Bjork that came up with 1992 classic Blues For the Red Sun. Homme has been replaced by guitarist Bruno Fevery for the tour which hits Auckland's Powerstation on May 14 (sold out) and 15.
Garcia says he didn't even bother asking his mate Homme to be part of the reunion. "I know what his answer would have been. It would have been, 'no'," he laughs. "For Josh it's forever forward."
The Kyuss sound combined the heaviness of Black Sabbath, the staunchness of punk bands like Black Flag and Bad Brains and, while it's not obvious, the groove of a band like Earth Wind and Fire (one of Garcia's favourites). "Sometimes when you put melody over something that's hard and heavy sometimes it marries well. So I just think it was four young punks hanging out and jamming in Brant's bedroom, Josh's garage, or my garage."
It all ended in 1995 when Homme and Garcia sat down at a little bar in Palm Desert in 1995 and decided "it was time".
"We got to a certain level and then it was time."
-TimeOut