Maritime troubadour Jimmy Buffett is dropping anchor in the city of sails next weekend. He talks to Graham Reid.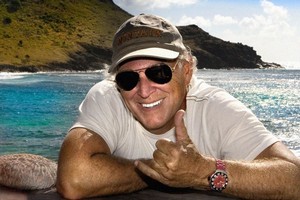 Those highly paid CEO guys with expensive yachts and holidays on exotic islands would seem to have it all. But who's the guy they would wish to be? Two words: Jimmy Buffett.
American singer-songwriter Buffett attracts the envy-crowd because he's got the boat and the island getaway - and a few private planes, among them a glamorous 50s Grumman Albatross seaplane. But unlike those CEO money guys, Buffett actually gets to enjoy them.
He has homes in St Barts in the Caribbean and Florida, counts presidents and rock-star types like Bono among his friends, and travels the world singing about tropical sunshine, the ocean and the stars, good times and "wasting away in Margaritaville".
While others are in suits or on conference calls, Buffett always gives the impression he's in walkshorts and a Hawaiian shirt, just metres away from the ocean and filling in time until cocktail hour with his Coral Reefer Band.
When tickets for Buffett's Australian concerts went on sale before Christmas, the promoter Michael Chugg said they immediately had monied people from Dubai, Singapore and all around Australia wanting to block-buy. He enjoyed telling the West Australian head of a multinational, "no", he couldn't get any tickets, they were all sold out.
"But I don't see myself doing much different than I did 40 years ago. Things kinda worked out, you know?" laughs Buffett, a man who laughs a lot.
"A little hard work and a little luck, it still is amazing. The great thing is [our audience] runs from those CEO guys who come out and have a good time right down to the average fan who's been to 35 shows. We've done this for so long - but there are people still getting turned on to this."
And "this" is the escape from the mundane and problems of the world ("Iraq, Iran and Afghanistan, we got a lot to drink about" as he sings). Buffett provides a precious release for the duration of an easy-going show where he celebrates the world's absurdities along with its natural beauties.
In the absence of chart hits or interest from radio, Buffett has just kept on keeping on, singing "turn up the heat and chill the rose" and inviting you to take a holiday from life, if only until the end of the encore.
"You get it or you don't, but we were pretty much trained to be good performers - and that goes for not only me but whoever is still out there over 60 or 70.
"It is a huge amount of who is selling tickets, and all of sudden people have discovered that touring is where the money is. Duh! It was a way of survival for me because I wasn't one of those record acts, so the road has always been what I counted on.
"I now find myself in a pretty comfortable position alongside compatriots who've been doing this a long time because we know how to put on good shows. In the last 20 or 30 years, because of the way the music business has been run, you could be a success by being on television. But that didn't rely heavily on what you did when you got on that stage.
"And now that it does there are a whole lot of people trying to catch up with being good performers because they didn't have to be for so long."
Buffett, often in shorts and bare feet, has performed in all kinds of places, most often within hearing distance of an ocean (his Live in Anguilla CD/DVD of two years ago shows him and the band singing an impromptu set on a beach to a dozen or so people) but he's also played the White House for Bill Clinton and more recently the '09 Festival in the Desert in the Sahara, which was pretty sandy, "but different".
Buffett is also a successful author - one of the few whose fiction and non-fiction books have topped the New York Times best-seller list - and considers himself "a toymaker" who makes songs for others to play with.
Certainly people have adopted the idea of songs like Margaritaville (also the name of his restaurant chain), Cheeseburger in Paradise (ditto) and One Particular Harbour.
"As a toymaker I don't ever think these songs belong to me, you are like Geppetto but once Pinocchio gets some strings he's a whole different animal. So the songs belong to the people out there. That's truly where the great connection lies. You put it out there and people take them and they become the background music in these people's lives in these places and times that can be so frightening. People need to relax or feel a little better about themselves."
And in Buffett's hands a song can celebrate the natural beauty of Marilyn Monroe in a swimming pool or blue crabs in a rock pool. In the case of his Beautiful Swimmers, both.
"I love that song. I thought it was a challenge to put Marilyn and blue crabs into a song because they are two of the most beautiful things on earth to me."
He refers to Mark Twain who "lit out into the territory" just to see what was out there as a credo, loves that ProTools technology has allowed him to record (albeit remotely) with Malian kora player Toumani Diabate and slide guitarist Sonny Landreth, but acknowledges - like those CEOs - he has to take care of business. He has a typically Buffett analogy.
"As musicians you're kinda schooled in not doing business because somebody else took care of it, because the business wasn't about the artist making money or having longevity. We were the disposable commodity.
"But like it or not, if you are captain of the boat you better know where the navigator is going. I've done nothing but run things like a ship anyway because that's the only thing I know anything about. So that's the way we run this business. There are certain times to play and certain times you need to have your eye on the compass."
And the man who recently sang "what's up with this recession, I refuse to participate" is always an optimist. Despite the Gulf oil spill he opened another Margaritaville in Pensacola last year and the economic downturn which has hurt concert turn-outs has gone right by him.
"When times are kind of hard and money is tight [people] want to spend it wisely and they know we're a pretty good bet. They know they are going to get the best bang for their buck and a good show and that comes from years of having done it, being easy to work with, having a great band and crew, and," he laughs, "generally doing what entertainers are supposed to do - which is make people feel happy when they take their money.
"We're still at the top of our game and I just turned 64 ... so I don't see any career change at this point."
Lowdown
Who: Jimmy Buffett and the Coral Reefer Band
Where: Te Wero Island, Viaduct, Auckland. January 29
Trivia: In January 1996 Buffett's seaplane Hemisphere Dancer, which he was piloting, was shot at by Jamaican police who suspected he might have been smuggling drugs. Buffett got the song Jamaica Mistaica out of it.
- TimeOut