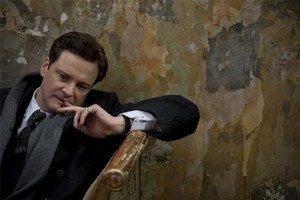 The royal family's darkest days have already been brought to life on the big screen in the The Queen, with Helen Mirren winning an Academy Award for her portrayal of Elizabeth II.
Now the struggles of her father as monarch have inspired a movie that is also headed for an Oscar coronation, with Colin Firth's portrayal of George VI tipped as a leading best actor contender.
The King's Speech has become an awards season frontrunner, having already received the most Golden Globe and Screen Actors Guild nominations of any film. The film focuses on George VI, who, reluctantly crowned King after the abdication of elder brother Edward VIII, struggled to overcome his speech impediment with the help of Australian therapist Lionel Logue (Geoffrey Rush),
But this this humble Australian-British co-production was never designed as a prequel to The Queen. It started life as just another film struggling to be made from a script that had been a writer's dream project for decades.
The film's director is Tom Hooper, who has developed a reputation for making history come alive in everything from television's John Adams and Elizabeth 1 to the football movie The Damned United.
Even if he's Oxford-educated and grew up in England, Hooper, whose mother Meredith comes from Adelaide, wears his Australian heart very much on his sleeve.
"I was brought up in an Anglo-Australian household in London and I'd always wanted to tell a story about that culture clash," the boyish-looking 37-year-old explains. "It is only because I have an Australian mother that I happened upon the material."
Meredith, the author of 70 non-fiction books, attended a fringe play reading of David Seidler's The King's Speech in London. She contacted her son immediately afterwards to tell him how good it was. Once Hooper completed the arduous John Adams shoot, he contacted Seidler, who as a boy during the war had an uncontrollable stutter himself.
"David used to listen to King George VI on the radio to reassure himself that if the King could get over it, then so could he. When he became a screenwriter he dreamed of writing about King George VI. He wrote Tucker in 1979 quite early and thought, 'Well, I have sold a screenplay maybe I can now make my film'.
"He heard about the Australian speech therapist, Lionel Logue, and thought that was a great way in. He found that Logue had a son in London and that there were these diaries sitting in his attic."
As it happened, George VI had died in 1952 aged 56, from lung cancer, thanks to his heavy smoking. So Seidler wrote to Buckingham Palace asking permission from his wife, Queen Elizabeth, the Queen Mother, to turn the story into a film. The King's stutter and his efforts to control it were, however, a family matter.
"The Queen Mother wrote back and said, 'Please not in my lifetime, the memories of these events are still too painful'." Hooper says.
"David, bless him, said, 'Okay, I won't write the script. I will wait.' Little did he realise that the Queen Mum would live to 101!"
Indeed, when the Queen Mother (played by Helena Bonham Carter in the movie) died some 30 years later, Seidler, who by then was battling cancer, decided it was now or never.
After he initially wrote the story as a play, Rush, the first actor to be cast, insisted it be turned into a film.
Hooper: "The irony was that David was by then living in California and he couldn't track down any of the Logues. So he had to write it without the diaries. Then, eight weeks before the shoot, my ferociously obsessive production design department discovered Logue's grandson, Mark Logue, whose aunt had papers, including what turned out to be the diary of the king's therapy, in her attic. There was even the medical report card describing the King's weak diaphragm."
Seidler madly rewrote some of the material, though was pleased to find that he had mostly gotten it right. "We were able to make it more accurate, and also to make it funnier," recalls Hooper, "because a couple of the funniest lines in the film come directly from the diary. At the end of the speech when Logue tells the King he still stammered on the 'w', he says 'Well, I had to throw in a few so they knew it was me!' That is a quote from the diary. Theoretically writing credits should be David Seidler and King George VI, which would be cool!"
Hooper couldn't go past Firth as the King even if the actor is twice his actual size. "The real Bertie [George VI's family name was Albert] was small and slight and rather sickly looking, and initially I went through the odd worry about Colin's physicality. But in the end I felt that Colin's similarity in spirit was more important. An actor who is physically more alike might have too much testosterone or be too masculine. You couldn't cast Colin as an action hero, even if he's quite a big guy."
The balance Hooper achieves between his two very tall protagonists is astounding. They worked as a close-knit trio, with Hooper indulging his love of the close-up.
"I think there is a lot of love for the characters and that's partly because I am incredibly fond of Geoffrey and Colin," Hooper concedes. "They are now really good friends and the film helped portray that. Colin has this indestructible core of niceness, a great moral compass. When you are scrutinising an actor that closely you think, 'Well, you can't fake that', and I felt the film revealed that niceness and it's one of the reasons why people are touched by it."
For Firth, the role comes after his 2010 Oscar nominated role in A Single Man. This year, though, he hasn't got last year's sentimental favourite Jeff Bridges as competition. Firth is the frontrunner for other best actor awards as well.
"If people are throwing baubles at you, it makes up for the years of rotten tomatoes," Firth says in his inimitable fashion. "You take whatever you can get."
There's no doubt that A Single Man has helped Firth move up another level, away from comedy or heartthrob mode - he excelled as Mr Darcy in Pride & Prejudice and in Bridget Jones Diary - to become a fully-fledged lead in a dramatic movie, where he admits he feels more comfortable.
But that's not to say that his King George VI isn't funny or even a little dashing. To play the complex real-life character, the 50 year-old Firth had to draw on all the skills he has perfected during his 27 years in the profession. Certainly the stutter was something he worked hard to achieve.
"It had to be quite personal and specific to this individual but it also had to be carefully monitored for the sake of drama," Firth explains. "If this guy takes 20 minutes to get a word out, it could affect the pace somewhat. So I had to find something authentic and not let it slide into some kind of pastiche, which might alienate the audience. We had to work out how much we could afford to dwell in painful silences and then also to pick up the pace and the humour."
Ultimately the best consultant in this regard was screenwriter Seidler, with his history of living with a speech impediment.
"David was so compelling regarding what you do in life to negotiate around speech problems," explains Firth. "It has a profound effect on your identity because you don't do what you want to do, you do what you can do.
"You make choices according to your limitations."
The film is not just about the obstacles the King faces in his speech but in his dealings with a commoner - and indeed an Australian. Certainly it helped that Firth had a great ally and foe in Geoffrey Rush.
"One of the things I admired most about the structure of the piece is it doesn't pivot on one moment," notes Firth. "Like any credible relationship portrayal it ebbs and flows, has breaking points and is cyclical. The general arc is like a marriage - boy meets therapist, boy loses therapist, boy gets therapist. You see that trust being tussled over the whole time. What fascinated me the most was the possibility of one human reaching out to another. You'd love to be able to reach in and take away their pain.
"For me the film is about Logue's pursuit of that, but given that he is dealing with a member of the royal family, there is an exclusion zone that makes it difficult. He couldn't even call him by his first name; he had to plough through a bunch of titles.
"Ultimately I suspect that Bertie was intrigued by this man's nerve. He really stayed in the room so long because I think the mischief appealed to him. I think it was love at first sight, quite frankly."
The mischievous Rush is naturally hilarious on the topic. "At the climax of the film after the King makes his speech and he knows it's worked, he comes over to Lionel and says, 'Thank you my friend', and I say, 'Thank you, Your Majesty'. At that point Colin leant over and said, 'We should have kissed!"' Rush laughs at the memory.
The two men became fast friends during filming and share a left-leaning sensibility.
Firth says Bertie's inability to speak properly was hindered by the strictures of 1930s' society.
"The speech of the time was very clipped and very precise. To me it speaks of discipline, a no-nonsense life from the head up and just jolly well smartening up and no messing around! So for a man growing up in that environment a stutter is not a huge surprise."
The actor admires George VI for his love for his daughters, Princesses Margaret and Elizabeth.
"I had only four scenes with the girls, but I wanted to make sure that his love was established in every scene because I think it was authentic," says Firth. "It's also potentially interesting as another story, because if you look at the different way Bertie's parents were with him, compared to the way he was with his daughters, it could not have been more extreme."
LOWDOWN
What: The King's Speech starring Colin Firth, Geoffrey Rush and Helena Bonham Carter
When: Opens at cinemas on January 20
-TimeOut