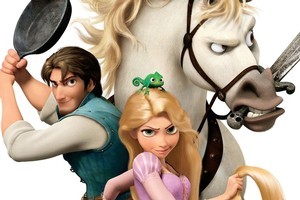 Rapunzel is the latest in a long line of fairytale characters to get the Disney treatment in an animated feature - but this time the creators have really let their hair down.
The Disney version is a princess, not a pauper, and she tosses her 21 metres of magical golden hair around the cinema in 3D. Nathan Greno and Byron Howard, directors of Disney Animation Studio's 50th cartoon feature, Tangled, say it's exciting to be part of something that could become an archetype.
"There's something so cool about when Disney brings these classic stories to life. When you say Snow White to people, they usually think of the Disney version, or Beauty and the Beast, the same.
"The opportunity was there to create a film that would become the definitive version. The power animation has over live action is that the movie could potentially survive forever, and this movie felt like it had that potential," Greno says.
Byron was directing Disney's sci-fi animated comedy Bolt when he met Disney storyboard animator Greno and says he knew instantly he wanted to work with him when Rapunzel's story fell into his lap.
The pair were tasked with making the computer-generated and 3D animation in two years - half the time it usually takes to put produce a feature of its calibre, with the added complication of making it suitable for 3D.
Disney's take on the traditional German fairytale makes Rapunzel a princess who is kidnapped just after birth by an old woman who knows the baby's magical, glowing blond hair will give her eternal youth. Rapunzel is raised by this woman, Gothel, who she calls mother, and is confined to a tower, forbidden to leave lest something terrible happen to her.
The princess' saviour arrives in the form of a strapping, self-obsessed bandit named Flynn Rider.
He is on the kingdom's most-wanted list - this time his good looks have failed to get him off petty crimes. The supporting characters who join them on a wild adventure to the kingdom include a police horse who is suffering an identity crisis, a wise chameleon and a pack of brutish louts who like to sing and play musical instruments.
Predictably, the protagonists end up living happily ever after. Not-so-predictably, in order to get to this point Flynn must chop off Rapunzel's magic blond locks, thus leaving her with a brunette bob - which Flynn admits he prefers anyway.
The film's working title, Rapunzel, was switched to the less-restricting Tangled when the directors realised Flynn's story arc was just as important as Rapunzel's.
Their brief was to develop his character into "the legendary hot man".
"We knew that we had to make Flynn the most attractive animated male who had ever come out of computer generated imaging and so we asked the ladies in the studio to come in and advise us on who were the hottest men in the world. We brought in pictures of actors, anyone you could name right now was up there, and no one was perfect, they started ripping them apart. And then they started attacking us," he laughs.
In the end he believes they created the most handsome animated character to walk the big screen. "We've had girls tell us that Flynn Rider is so hot, but he's a cartoon character."
While the main characters were drawn up before Mandy Moore and Zachary Levi were cast to voice them, the similarities between animation and actor are rather uncanny.
Howard puts this down to the actors' vocals influencing the mannerisms - the characters' facial expressions were tweaked to fit the delivery.
Moore says the most difficult aspect of the role was conveying the multiple actions of her character - like tossing 21m of hair and singing while baking, painting and twirling.
"My goodness, the first song I had to sing in the film was filled with so many words, along with so many activities she was supposed to be doing. I was like, gosh how do you do this without collapsing and hyperventilating? But there's something very freeing about doing all the effort sounds - the crying, heavy breathing, using a frying pan," she says.
Levi was juggling his Tangled work with playing the lead in the NBC TV series Chuck, so he and Moore recorded their voices separately and met for the first time when they recorded the climatic song I See The Light.
Moore says it was fascinating to be involved in an animation so detailed that years of work that went into creating the character's hair.
"It's so much to comprehend how many people bring this to fruition, it's something that as a kid you are never aware of," she says.
A whole team worked on creating Rapunzel's golden locks alone, as no animation studio had ever worked with such an enormous volume of hair before. Hair experts found ways to bring her hair to life, and together with the visual effects, technical and animation teams, developed new techniques for realising the filmmakers' ambitious ideas.
"It had to have volume, sensuous twists, graceful turns, breaking strands and a trademark swoop in the front. For every shot, we had to pose and simulate the hair according to those guidelines. The technical team would animate 147 different tubes representing the structure of the hair, which would then be rendered into a final image with up to 140,000 individual strands of hair," says computer generation supervisor Jesus Canal.
Then there was the issue of translating the hair, and everything else to 3D.
"We have all been through a 3D film where you are like, 'why did I just pay the extra money to see this movie in 3D?' We didn't want that. We decided if people were going to see something in 3D it had to be worth it," says Greno.
The directors kept that in mind as they addressed storylines, and used scenes that could make use of flying objects, such as the 50,000 lanterns released into the sky during Rapunzel and Flynn's duet.
"When you see it in 3D and the lanterns are all over you, it just is so immersing. Movies and film are all about escapism anyway right. And 3D adds to that."
Behind the images
Mandy Moore, 26, best known for her career as a solo pop artist, her role on television series Entourage and starring in teen movies such as A Walk to Remember and Chasing Liberty
On voicing Rapunzel:
"For most little girls it's the fantasy of a lifetime to be a princess. So to actually have that come to fruition is really so crazy to think about."
On her character's journey:
"There's a multitude of themes but the thing that got me the most was that Rapunzel always thought the thing that made her special was her hair, but it was something within her the whole time, just like everyone else. It's what's happening inside that matters the most."
Zachary Levi, 30, best known for playing Chuck Bartowski on American TV series Chuck
On voicing Flynn Rider:
"It's a big win-win all way round. I couldn't believe in the movie more - it's fantastically done."
On his character's journey:
"Flynn has thought that growing up it was his fake name, Flynn Rider, that made him special, but really it was the person he was before who won the heart of the lovely damsel.
I think at the end of it there's a lot of self-sacrifice - on both Rapunzel and Flynn's part. She's willing to give up her life for him, and he is willing to give up his life so she lives."
LOWDOWN
What: Tangled, Disney's 50th animated feature
Starring: Mandy Moore as the voice of Rapunzel; Zachary Levi as the voice of her beau, Flynn Rider
When and where: showing in 2D and 3D from January 6.