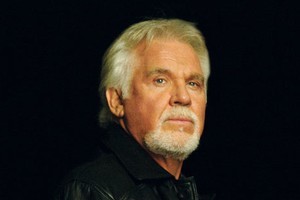 As Kenny Rogers prepares to return to New Zealand on his 50th anniversary world tour, Russell Baillie checked in to see what condition his condition was in...
Kenny Rogers' gravelled tones are coming down the line from somewhere in Canada where the 72 year-old singer is having a day off between dates in Quebec City and Ottawa. He sounds bemused by his efforts at comedy in the French-speaking provincial capital the previous night: "They just don't get it but I have learned to laugh at myself and keep going but when it was all over they gave me one of the largest standing ovations I have ever had ... I can't wait to see a review from there. The problem is it will probably be in French."
Canada figures in our own appreciation of the bearded countrified crooner - it was a Toronto-filmed variety show featuring Kenny Rogers and the First Edition which screened on New Zealand television in the early 70s which made him a household name here years before his post-band solo career took off in the latter half of that decade. Rogers sounds chuffed to be reminded we were early adopters of his talents ...
"I would really love for somebody to tell me what songs they know down there from the First Edition. Because I would love to do them. But if they don't mean anything ... it's hard to do."
Well, Something's Burning would be huge down here and you can't go past Just Dropped In (To See What Condition My Condition Was In).
Okay. What about Love Will Turn You Round, the song from Six Pack?
Sorry don't know that one. I was a kid when the show was on TV here so I only remember a couple of the songs.
That's so cool.
That was the old power of television when those variety shows were on.
When you control one channel you've got it all. It's funny I was talking to Wyclef Jean [of Fugees' fame] and he was saying he was such a big fan and he's from Haiti. How on earth would you know my music? And he said at the peak of my career they only had one radio station in Haiti and it was armed forces radio and they played me to death so that is how they learned about my music.
So as you head out on your 50th anniversary tour, how is the health?
Well they asked me to do The Gambler 6 - you know the movies. Did they show those down there at all? The Gamblers?
No.
They're the longest-running TV series in American history up here. And I told them my body's falling apart and in order to do it I told them in the opening scene somebody would have to shoot me in the left leg and the right shoulder. Then I can do whatever you want me to do. They're writing a show where someone does that.
You've got to know when to hobble away and when to run.
That's right, yeah. Change all the words. But I feel good. I've got a bad knee and a bad back and shoulders. Other than that, I am doing great.
And the voice?
My voice seems to be doing really well. I'm really lucky. I have made a lot of money with a bad throat. I do the same thing I've done before.
Your voiced changed in the 70s. It was smoother in the First Edition days and then it gained some gravel. How did that happen?
It's stylistic you know. What happens is when you sing for a living you listen to people and that is how styles develop. Someone will say "I don't like it when you do that, so don't do that any more" and some will say "I really like it when you do that gravel". So I started looking for places to add the gravel.
Were you modelling that on anybody?
No but I do think that songs dictate that. Like on The Gambler, on the opening line "On a warm summer's evening ..." I think it just happened and I thought that adds a lot to the texture.
And it helps becomes the voice of the character in the song
Yeah, cos he's kind of grizzly.
Of the songs you are known for and you probably have to sing every night, are there some you don't like that much?
No, you know why? Because I went to see Ray Charles once and he was a buddy of mine and he didn't do Georgia On My Mind and it really made me mad. Because I had gone to hear that. So that's my commitment and obligation to the audience who comes to these shows. They don't care what I want to sing. They want to hear the songs they know and they have heard since they were kids. To me it's artillery. It's a great thing to have these songs in your bag. If you do a new song, the audience has to work - "Do I like that song? Do I like how he does it? Do I agree with what it says?" So that is a lot of subliminal stuff that goes in there. But if I put a hit before it and a hit after it, they don't mind me doing that.
You'll have an orchestral backing with your show in New Zealand. Is it a good fit to your music?
I was in jazz for 10 years when I first started in the music business so I love the music from the 30s and 40s. Usually when I work with orchestras or symphonies I do a couple of songs from that era so that the orchestra really gets to play something beautiful. So I am excited about that. The other thing is when you perform it is always nice when you leave the stage and people know something about you they didn't know when they came - the fact that I was in jazz for 10 years, very few people know that.
How did you end up in country then?
From jazz to country? When I was a kid my mom used to listen to country music so I was raised on country music. I'm from Texas and this guy who was blind and about a year younger than me when I was 19 said "Come join my band" and I played guitar and he wanted me to play bass ... so he kind of took me under his wing for 10 years and we were incredibly successful. From age 19 to 26-27-years-old we played every night, seven nights a week and became very good at our trade.
And that eventually led to the First Edition. But when the TV show ended and the band split up, did you ever consider giving music away?
That was never an option for me to get out of music because I don't have any other skills. What happened was when the First Edition broke up, I was going to Nashville for some purpose - I don't know what it was and I met a guy called Larry Butler and he was a big producer and he produced Coward of the County, Lucille all of that stuff. So I just kind of walked into a goldmine.
It's the same with Lionel Richie - he produced Through the Years, Lady, and a couple of other big hits, and then I started using Barry Gibb from the BeeGees and he did Islands in the Stream and a couple of others. So I have always been lucky at making these transitions from producer to producer but keeping a common denominator.
I'm really a country singer with a lot of other influences. So when I do songs they have the essence of country music which is the heart and the storyline.
Your 50th anniversary tour also marks an even longer time on the road. Do you still enjoy the touring?
I do. I have identical twin boys [with fifth wife Wanda] who are 6-years-old now and they come out with me from time to time. They love coming on stage so to me it's a great thing to be able to give them this opportunity - these memories that they will have when I'm gone.
So looking back, do you think you would have had the success you've had without the beard?
You know? I don't know. I grew it when I was in the First Edition and I was considerably older than the other people and I thought I needed to do something to make me younger-looking. So I grew a beard and put an earring in my ear.
Now it's been 50 years of distinguished good looks.
Distinguished looks, I accept.
LOWDOWN
Who: Kenny Rogers
When and when: With the Auckland Philharmonia (and supported by the Topp Twins), Vector Arena Friday January 21
Trivia: Rogers is an accomplished photographer who has had books of his pictures published and he will be taking photos on this New Zealand and Australian tour for a forthcoming volume.
-TimeOut