Seen any good movies lately? TimeOut's reviewers have - here are the 20 flicks they consider the must-sees of 2010.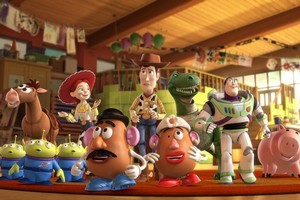 1. TOY STORY 3
Director: Lee Unkrich
It's inevitable that the third and last of the adventures of Woody, Buzz and the rest of Pixar's plastic fantastics will pick up the Oscar for best animated movie in a month or two. After all, the first Toy Story pretty much got this golden age of computer animation rolling way back in 1995.
But how about giving it Best Picture too, oh esteemed members of the Academy? Because not only was it the perfect end to a great trilogy (like Return of the King), and a dazzing immersive world rendered in 3D (like Avatar) and the last hurrah for Tom Hanks in his most enduring role, it was also an affecting study of adolescence, obsolescence, loyalty and mortality. Effectively, it might have been about toys, but it was as much of a contemplation of the human condition as any on this list, as well as being a white-knuckled escape thriller delivered in a story that was the smartest, deepest, funniest and darkest of the trio. Did we mention it was a technological marvel too? (RB)
2. THE SOCIAL NETWORK
Director: David Fincher
The Social Network wasn't really about Facebook's progression to online ubiquity but a movie about how ideas come to be and how social standing can diminish the potential of even the smartest guy the room. It was also a really good time at the movies, care of screenwriter Aaron Sorkin's zinger dialogue and its clarity of storytelling showing the curiously ruthless rise and rise of Facebook's supergeek founder Mark Zuckerberg, as portrayed in a riveting performance by Jesse Eisenberg. (RB)
3. ANIMAL KINGDOM
Director: David Michod
This portrait of a Melbourne crime family, a remarkable film from debut director Michod, arrived at a time when even audiences on this side of the Tasman were suffering Aussie underworld fatigue in our entertainment and news diet. But that didn't stop Animal Kingdom being a chilling, bleakly funny, taut, twisting, and claustrophobic psychological thriller. It was one packed with superb performances (expect Jacki Weaver's matriarch Janine to pop up on the Oscars radar) which made them utterly believable as characters whose pack dynamic rang all too true to the film's Darwinian title. (RB)
4. WINTER'S BONE
Director: Debra Granik
The US indie stunner of the year, an adaptation of Daniel Woodrell's striking 2006 novel, exuded a bone-chilling cold from every frame. Jennifer Lawrence's Oscar-worthy performance as Ree Dolly, the 17-year-old thrust into the role of mother to her two young siblings, created one of the most improbably charismatic lead characters in recent memory. Granik's watchful direction, equal parts ethnography and fable, highlighted the mythic nature of the story, but it was deeply satisfying just as highly charged drama. (PC).
5. BOY
Director: Taika Waititi
Taika Waititi's second feature hummed with ambivalence about his own childhood, but as a coming-of-age story, it managed to be both hilarious and heart-rending, sometimes in the same frame. The pitch-perfect tone derived from a judicious mix of anarchic humour and a sure sense of the uneasy relationship between absent fathers and adoring sons that has been the great malaise of recent generations. The performances, including Waititi's own, made for a film of mighty heart that deserved every bit of its success. (PC).
6. UN PROPHETE
Director: Jacques Audiard
This Oscar-nominated French prison drama by the coolly brilliant Audiard virtually reinvented the genre because it concentrated on character, not plot. Its central figure, a 19-year-old North African Arab who arrives in prison as an illiterate loner, blossoms before our eyes into something very different. A gripping, deeply naturalistic drama that defied easy classification, it exploited the conventions of the genre while simultaneously subverting and sublimating them and became to jail films what the Godfather series was to mafia pictures. (PC).
7. LEBANON
Director: Samuel Maoz
Another Israeli film-maker interrogated his country's problematically belligerent recent history with a visceral, soldiers'-eye view of the 1982 invasion of its northern neighbour. Like the animated masterpiece Waltz With Bashir, it did not address rights and wrongs, but showed that in war perpetrators are victims too. Taking place entirely within the turret of a tank, it was a film of jaw-dropping mastery which managed, by dint of having no polemical intent at all, to be a powerful anti-war statement. (PC).
8. STILL WALKING
Director: Hirokazu Kore-eda.
A contemplative unhurried study of a family weekend which found intense human drama in the ebb and flow of everyday life, this was probably the purest cinematic pleasure of the year. The Yokoyama clan's annual gathering, to remember the death of the eldest son many years before, unfolded as a series of telling vignettes, which reminded us how families are comprised mostly of shared memories and unspoken thoughts. An exquisitely calibrated masterpiece. (PC).
9. HOME BY CHRISTMAS
Director: Gaylene Preston
No film-maker has a better record than Preston of telling us our own stories, and her reconstruction of her father's war and return was that rarest of things - a newly minted work that instantly became a precious cultural artefact. Tony Barry delivered an acting masterclass, riffing on audio interviews that Preston had conducted with her father before he died and bringing to life not just the man but an entire generation. (PC).
10. WHITE RIBBON
Director: Michael Haneke
Michael Haneke's Cannes winner proved the most austere and formally precise work yet from a film-maker whose thematic concern has always been the violence that sustains bourgeois life. Shot in colour digitally altered to make a deliriously rich black-and-white, the film anatomised a small German village in 1913 and provided a grim and bleakly brilliant portrait of the corruption of innocence. One of the toughest films of any year, but a high-water mark of the century so far. (PC).
11. THE SECRET IN THEIR EYES
Director: Juan Jose Campanella
The Oscar-winner for best foreign film may have benefited from a vote split between Un Prophete and The White Ribbon, but it was a damn fine film anyway. For all its considerable surface allure as a thriller, it was a film about memory, an attempt to rescue a forgotten piece of Argentina's troubled history, which displayed plenty of noirish visual bravura. (PC).
12. BRIGHT STAR
Director: Jane Campion
Jane Campion gave only one press interview here - to a women's magazine - to publicise this film about the short and probably unconsummated love affair between poet John Keats and girl next door Fanny Brawne but the movie did the talking for her. The paradox was that its exquisite restraint and patient composure made it, like Brief Encounter, almost unbearably passionate. Radiant performances from Ben Whishaw and Abby Cornish graced a movie that deserves to be remembered as one of the best ever about love. (PC).
13. EXIT THROUGH THE GIFT SHOP
Director: Banksy
The screen debut of the British graffiti artist known as Banksy was nothing if not playful, an extended piss-take that was deliberately enigmatic but quite without pretentiousness. It offered plenty of clues as to what was going on, not least the title - a phrase typically encountered on a sign in an art gallery - but its charm resided in its plausibility and it was always going to be more fun approached credulously rather than sceptically. (PC).
14. KICK ASS
Director: Matthew Vaughn
Not just another comic book movie, Kick Ass took the superhero satire of its source material and turned it into something hilariously, squeamishly entertaining. As "Big Daddy", Nicolas Cage relocated the crazy man mojo which made him once so fun, while as his daughter-sidekick, wee Chloe Moretz was a wonder as lethal potty-mouthed tween "Hit Girl". But the film belonged to Aaron Johnson's fanboy-turned-superman of the title. He gave us a have-a-go-superhero - or, at least, a well-meaning dork in a wetsuit - to believe in. (RB)
15. INCEPTION
Director: Christopher Nolan
After reviving the Batman franchise, Nolan returned to the mind-bending style of his earlier works like Memento and The Prestige in a big-budget film which had Leonardo DiCaprio as the leader of a team of industrial saboteurs, invading the dreams of their targets to instill or steal an idea. That made for a brilliant, often baffling, action thriller set in dreamworlds where the laws of physics were able to be bent to the director's whim, all the way to its note-perfect ending. (RB)
16. BALIBO
Director: Robert Connolly
Given its subject matter - the murder by Indonesian troops of five journalists in East Timor in 1975 - this gripping Australian drama was remarkably understated. David Williamson's urgent script cleverly narrated two stories in parallel: a hard-bitten journo tried to uncover what happened as we watched it happening. Connolly struck a perfect balance between the dramatic and the political and his film commanded a greater sense of outrage as a result. (PC).
17. WELCOME
Director: Philippe Lioret
Another movie that boiled with quiet rage, this nuanced French drama distilled the plight of the refugees who gather in Calais into a parable about a world in which it is forbidden to offer acts of kindness to people with nothing. Vincent Lindon, the craggy French Everyman who has had a busy few years, was the emotional heart of a film too smart to offer us the comfort of a happy ending. (PC).
18. LEAVING
Director: Philippe Lioret
The French cinema is the natural home for Kristin Scott Thomas who was dizzily passionate and heartbreakingly vulnerable as a woman driven wild by passion. This lean romantic thriller was, in aesthetic terms, the polar opposite of the similarly plotted Italian melodrama I Am Love - it had all the headlong heated rush of its lovers. (PC)
19. PRECIOUS
Director: Lee Daniels
Working from the novel Push, director Daniels created a devastatingly raw and moving film that was more heartbreaking than it is heartwarming - a grim, harrowing and dark social commentary on illiteracy, incest and abuse set in Harlem in the 80s. But thanks to the resilience of its young protagonist Claireece "Precious" Jones (an utterly convincing Gabourey Sidibe) there was a sliver of hope here, too. (FR)
20. JOAN RIVERS: A PIECE OF WORK
Directors: Ricky Stern & Anne Sundberg
Surely the documentary of the year, this was no fawning celebration of the legendary American comedienne but an often eye-wateringly revealing portrait of a fading star. Stern and Sundberg, versatile and intelligent documentarians, spent almost two years (Rivers' words) "following me around, hoping I would die". It was an edgy, raw and brilliant film in which the sense of the artist's mortality underpinned every one-liner. It was impossible to tear your eyes away. (PC)
* Reviews by Peter Calder, Russell Baillie, Francesca Rudkin.