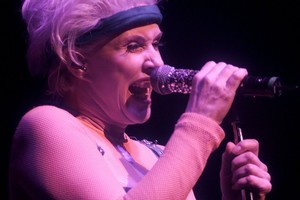 MUSIC
Tonight, we at TimeOut are predicting the likely audience for Blondie and the Pretenders at Vector Arena may somehow resemble the Cheryl West lookalike contest. One thing's for sure, it will be a mighty fine double bill.
Then on Saturday, modern-day soul sister Sharon Jones struts and hollers her way into town for a show at the Powerstation; and on Tuesday cartoon band Gorillaz saunter in for their first New Zealand concert at Vector. While it will be great to see 2D, Murdoc, and their bandmates up on the giant screen, this show is also a rare - if not a once in a lifetime chance - to see the guy from Blur, two guys from the Clash, and soul man Bobby Womack on the same stage together.
TV
For Shorty Street fans the fiery - literally - cliffhanger is on tonight so be watching; on Friday night Gwyneth Paltrow stars as substitute teacher Holly Holiday in Glee; and there will also be plenty of drama of the doggy variety over on Prime tomorrow night at 7.30pm when our canine friends are put through their paces on Crufts: The World's Greatest Dog Show.
Finally, though not as riveting and provocative as Facebook film The Social Network, Inside the Mind of Google (History channel, Friday, 7.30pm) tells the story of how two Stanford University graduate students, Larry Page and Sergey Brin, changed the world forever with their powerhouse search engine.
MOVIES
Buckle up lads - and ladies if you're keen - because Tron: Legacy defies gravity and zooms its way into cinemas this week. The sequel to the first Tron may have taken nearly 30 years but it's worth the wait - and the 2010 "light cycles" sound cooler than ever.
Also starting is Somewhere, the Sofia Coppola-directed film about Hollywood bad-boy Johnny Marco who is living it up at the Chateau Marmont when his 11-year-old daughter, Cleo (played by Elle Fanning, younger sister of Dakota), interrupts his partying.
OR ...
... do some Christmas shopping because I don't want to see you back here this time next week when you've still got to buy Dad his socks and Mum her Nigella or Annabel cookbook. Okay?
-TimeOut